Stock Watch: Beckett outdoes even Wainwright; Red Sox OFs sinking
Sunday's no-hitter might be more than a fleeting moment of glory for Josh Beckett, whose former club is hamstrung in the outfield.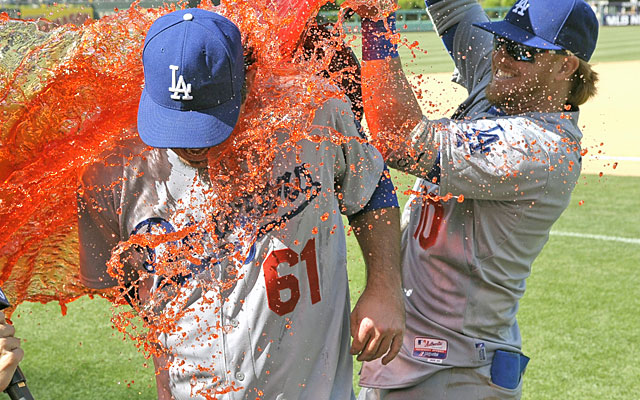 Josh Beckett is very likely only a Dodger because Los Angeles wanted Adrian Gonzalez, and the Red Sox wanted to be rid of some big contracts, like Beckett's and Carl Crawford's.
The veteran also is quite likely only pitching effectively because hardly anyone is tougher, mentally especially. Beckett, perhaps best known for closing out the 2003 World Series with a five-hitter at Yankee Stadium on three days' rest as a brash 23-year-old, has had two surgeries in the past 10 months -- including one few return from, the thoracic outlet operation.
Yet there he was Sunday, at 34 and in his 14th season -- the 321st start of his career -- throwing his first no-hitter.
Beckett may not have the stuff he once did, but he still can pump it up to 94 mph, as he did on pitch No. 128 to Phillies star Chase Utley, the fastball at the knees that secured more history for Beckett. It was the 24th no-hitter in the history of the storied Dodgers franchise, the first since Hideo Nomo threw one, just as improbably, at Colorado on Sept. 17, 1996.
The remarkable Beckett, who relies now mostly on breaking stuff and winning the guessing game, leads the Bulls in a week with some tough competition among great players. There are, as usual, a few Bears.
1. Josh Beckett , SP, Los Angeles Dodgers : If Beckett, who had six strikeouts and three walks (and caught a break when umpire Brian Knight called a strike on pitch No. 127, a curveball that may have encircled the outer portion of the plate and could have been ball four to Utley), can pitch anything like this, the Dodgers will be even more formidable. With Clayton Kershaw , Zack Greinke (whose streak of 21 straight games allowing no more than two runs, the longest such streak in exactly 100 years, ended last week) and Hyun-Jin Ryu , they already had perhaps the best top of the rotation in the game.
While the rotation isn't as deep as some others and wasn't going deep into games early, it probably carries more potential to dominate than any other besides that of the Tigers, especially if Beckett is anything close to his former self. Another plus: Beckett was showing positive signs even before the no-hitter. He has actually allowed no runs in four of nine starts and is 3-1 with a 2.43 ERA and 52 strikeouts vs. 20 walks overall.
2. Adam Wainwright , SP, St. Louis Cardinals : This Bull Market mainstay established himself as the early Cy Young favorite with a brilliant week, even by his standards. Wainwright (8-2, 1.67 ERA) threw a complete-game one-hitter against the Diamondbacks, then tied a career high with 12 strikeouts while tossing eight shutout innings at Cincinnati. For the week, he allowed six hits and one walk while striking out 21 in 17 innings.
3. Victor Martinez , DH, Detroit Tigers : Martinez continued his hot hitting with a 9-for-19 week that moved him ahead of Miguel Cabrera and $240 million Mariners import Robinson Cano to the top of the AL with a .337 batting average. The one piece of negative news is that two strikeouts since his last home run have left him with one more whiff than dingers, 13-12. Though it has been done 25 times, according to John Lowe of the Detroit Free Press, only one player since the mid-'50s has hit 30 home runs while striking out less frequently in a season -- Barry Bonds in 2004 (45 homers, 41 strikeouts), and word is Bonds may have had some help. There was a clue Martinez might have a big year, as he led the majors with a .361 average after the All-Star break last season following a poor first half. But even in that great second half, he had six homers and 18 strikeouts, a more typical one-to-three homer-to-strikeout ratio.
Honorable Mention: Robinson Cano, 2B, Mariners; Ian Kinsler, 2B, Tigers; Carlos Gomez, OF, Brewers; Lonnie Chisenhall, DH/1B, Indians; J.J. Hardy, SS, Orioles; Chris Davis, 1B, Orioles; Adam Jones, OF, Orioles; Adrian Beltre, 3B, Rangers; Jose Altuve, 2B, Astros; Garrett Jones, 1B, Marlins; Dallas Keuchel, SP, Astros; Alex Gordon, OF, Royals; Alex Rios, OF, Rangers; Jonathan Lucroy, C, Brewers; Michael Brantley, OF, Indians; Justin Upton, OF, Braves; Jimmy Rollins, SS, Phillies; Pablo Sandoval, 3B, Giants; Phil Hughes, SP, Twins; Ryan Vogelsong, SP, Giants; Jeff Samardzija, SP, Cubs; Chris Sale, SP, White Sox; Dellin Betances, RP, Yankees; Jered Weaver, SP, Angels; Kyle Lohse, SP, Brewers; Felix Hernandez, SP, Mariners; Corey Kluber, SP, Indians; Jaime Garcia, SP, Cardinals; Travis Wood, SP, Cubs; Juan Carlos Oviedo, RP, Rays; Will Smith, RP, Brewers; Tyson Ross, SP, Padres; Kelvin Herrera, RP, Royals; Seth Smith, OF, Padres; Wade Davis, RP, Rays; Julio Teheran, SP, Braves.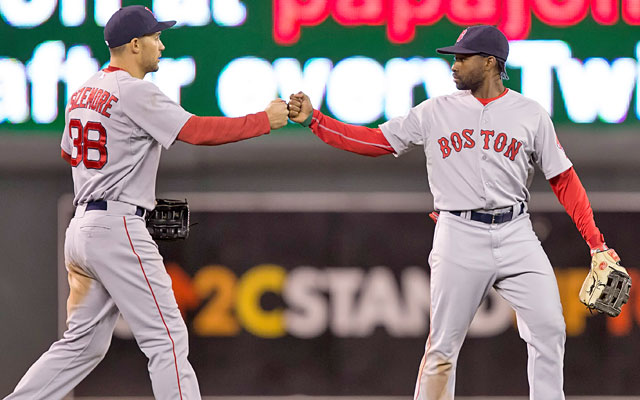 1. Jackie Bradley , Grady Sizemore , OF, Boston Red Sox : There's a question how much longer the Red Sox -- losers of a hard-to-believe 10 straight games -- can go with Bradley and Sizemore (with Shane Victorino back on the disabled list with continuing hamstring trouble, these two may get a bit more of a reprieve). The defensively strong Bradley is down to a .197 average with a .576 OPS and no home runs, three stolen bases, only 16 walks (low for a player known for his patient approach) and 47 strikeouts. Sizemore is slightly better at .220 with a .633 OPS, two home runs, three stolen bases, 14 walks and 28 strikeouts. It's a plus that Sizemore has made it back to play in the majors after injury issues, but those numbers only look good compared to Bradley's.
2. Raul Ibanez , OF, Los Angeles Angels : He gets big points for staying productive into his 40s, but perhaps his slow second half last season was a sign he's finally slowing. Ibanez is at .158 and his May (.162) was slightly worse than his April (.165); he was 0 for 4 in March to explain the .158. The Angels say they are sticking with him. But how much longer?
3. Dan Uggla , 2B, Atlanta Braves : If not for having another year at $13 million on his contract, his time quite likely would be up. Uggla remains at .177 after sitting out two games following a three-strikeout performance Friday. The OPS is down to .565 (which doesn't even look good next to Bradley), and he hasn't homered since April 14, the game he hit both his homers this season.
Dishonorable Mention: Ubaldo Jimenez, SP, Orioles; Wei-Chung Wang, RP, Brewers; Jake Peavy, SP, Red Sox; Lyle Overbay, 1B, Brewers; Anthony Rendon, 3B, Nationals; Starlin Castro, SS, Cubs; Wil Myers, OF, Rays; Ryan Howard, 1B, Phillies; David Ortiz, DH, Red Sox; Justin Smoak, 1B, Mariners; Domonic Brown, OF, Phillies; Chris Tillman, SP, Orioles.