Stock Watch: Brewers' Gomez in MVP picture based on WAR? Not here
Stat geeks, who ignore mundane matters like winning or HRs, tout Brewers CF Carlos Gomez for MVP, based on the WAR metric. Please.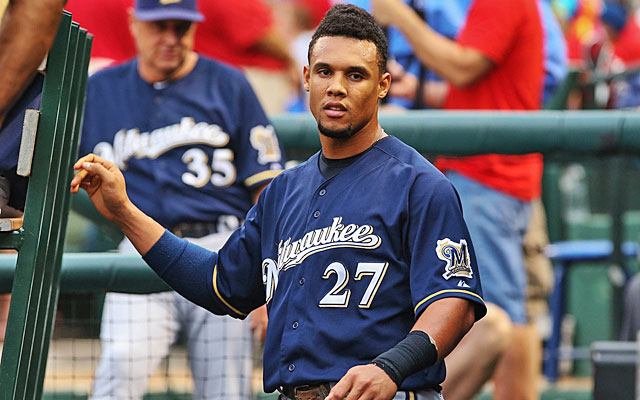 Many folks have been trumpeting Carlos Gomez for serious, legit MVP consideration, apparently largely because of a stellar 6.6 WAR, which is the second best mark among position players in the National league.
The WAR stat definitely has its place. But let's hope it's not to recommend very good -- though not great -- players for MVP.
Gomez deserves plaudits for his excellent season. So does Brewers GM Doug Melvin for locking up Gomez for $24 million over three years. At the time, that deal seemed like a gamble. But Gomez has progressed immensely as a player, so that's surely a major bargain.
Gomez surely deserves praise for his improvement -- though not major MVP support based on an imprecise, imperfect number.
Andrew McCutchen is very likely the favorite for NL MVP, and it isn't exactly a coincidence he leads in WAR.
But as for Gomez, his WAR figure might be somewhat fluky. WAR isn't a precise stat. It depends on the judgments and valuations of the people who set it up. And it's hard to imagine Gomez deserving exactly a 6.6 based on the WAR figures of other players having better and in some cases much better seasons.
McCutchen (.317/.385/.501/.896) has an obvious offensive edge over Gomez (.286/.341/.508/.848) overall and is as good defensively in center field. Yet McCutchen only leads him by 0.2, at 6.8. It is possible Gomez is having a better year defensively (he has certainly made some highlight catches), though WAR -- as an inexact stat -- can't prove that.
Then there's the curious case of the Carlos Beltran/Gomez comparison. Beltran (.310/.343/.522/.865) leads Gomez in every offensive category save stolen bases, yet has a WAR barely more than one-third of Gomez's at a rather pedestrian 2.4. That seems to make little sense.
To believe that's fair, you would likely have to think Gomez is three times more valuable based on better defense, meaning defense is that much more important in this calculation than offense. Beltran plays right field now and his defense isn't what it was because of his knees and age, so Gomez definitely is much better in the outfield these days. But does that alone make Beltran only one-third as valuable as Gomez? Maybe, but not likely.
You would also likely need to assume the majority of Gomez's WAR number is based on defense since his offense is at best equal to Beltran's, and Beltran has only a 2.5 figure. Gomez gets some points for more steals, but that shouldn't account for the difference, either. And let's not forget that Gomez also is a guy who runs into outs while Beltran's instincts are as good as anyone in the game.
WAR is an important tool because it attempts to approximate a player's all-around value. Yet, it would appear to need some refining, especially on the defensive side of things.
Who's to say these defensive figures are precise? Teams don't believe they are perfect, or even close. So why should we?
The stat may overrate certain center fielders, and it surely doesn't seem to have a good way to account for the value of a superb defensive catcher. For instance, Yadier Molina's WAR of 5.0 is well below that of Gomez. That has to be because there's no great way to quantify handling a pitching staff or even shutting down a running game.
So why put so much stock in a stat that's better for some positions than others?
Molina (.329/.367/.468/.856) is having a better year than Gomez with the bat, and it's a tough case to suggest Gomez is worth much more than Molina based on steals and defense. In fact, I would suggest the opposite, that Molina's defense is of greater value.
Also, Gomez's great theoretical number has been compiled for a team that has been out of the race almost from the start. So even if you believe the WAR guess that he has won more games than anyone but McCutchen, he has won meaningless games.
I doubt Gomez is worth as many wins as McCutchen, more than Molina nor certainly many more than Beltran. But the other players' wins have come for first-place teams. Stat guys don't care whether contributions lead to team contention, and that's OK for them, but "most valuable" still suggests that wins mean something.
Gomez has been compared on occasion to Mike Trout, whose candidacy last year was in part based on a monster WAR number. It's possible Trout's big WAR was overdone a tad (again, some center fielders seem to get a bigger boost than they should), but there's no doubt Trout was having a special season. He also had that season for a contending team, and one that became much better as soon as he was promoted.
Gomez is no Trout. And that is no insult. Trout is a historically great player.
Gomez is having an extremely good year for an also-ran. But I can't see him as a major MVP candidate -- though based on blogs and opinions I've seen and heard he will get plenty of support.
Gomez's rough August (.197/.301/.268) likely has dropped him down on most lists, but it'll still be interesting to see how closely some stat guys cling to a big WAR number to support Gomez for MVP in the face of all the other considerations that say otherwise.
Here are all the Bulls and Bears in another awards edition of the Stock Watch.
1. Yu Darvish, SP, Rangers: The #killthewin folks likely now see him as their best hope to beat Max Scherzer (19-1) for AL Cy Young and become the darling of the stat guys who want to further deemphasize the win (and for that matter the lack of loss). Darvish's big August (3-1, 2.51 ERA, 64 strikeouts) would appear to position him as a very viable candidate. He has put together a season similarly superb to Scherzer (save the won-loss mark), and while I see Scherzer as the current Cy Young leader, I agree that Darvish has put himself right into the middle of the conversation with an overall 1.02 WHIP (second-best in the AL to Scherzer) and 2.73 ERA (also second-best, to Anibal Sanchez). And he's getting better; five of his past seven starts have produced double-digit whiff totals.
2. Craig Kimbrel, RP, Braves: Dodgers megastar Clayton Kershaw has basically nailed down the NL Cy Young Award, but Kimbrel has turned himself into a candidate to receive votes in the Nos. 2-5 range with continued dominance. A closer is going to be hard-pressed to win the award in years where the starters are having stellar seasons, but Kimbrel should get some support, especially after an August when he converted 12 of 12 saves with zero runs allowed. In fact, he hasn't allowed a run for 25 straight outings and is a key part of why the Braves have the best record in the NL
3. Hyun-Jin Ryu, SP, Dodgers: The two favorites in a fascinating and deep NL Rookie of the Year race are are surely Marlins young star pitcher Jose Fernandez (who was absolutely dominant in August) and Ryu's teammate Yasiel Puig (who had another three-hit game the day after Don Mattingly benched him last week). But Ryu continues to be nothing short of excellent. In August he was 4-2 with a 2.61 ERA and had 34 strikeouts compared to only four walks. He has also thrown big innings in Korea and should be able to keep pitching while Fernandez, who just turned 21, is expected to be shut down after another two (or so) starts.
1. Carlos Gomez, OF, Brewers: Gomez's two-hit game to start September might get him back on the right path. But he was derailed in August to the point where he shouldn't be a serious MVP candidate (see above). Gomez hit .197 with one homer and three RBI (and .569 OPS) in the month.
2. Felix Hernandez, SP, Mariners: It has been a very un-Felix-like stretch for one of the game's very best pitchers. He has lost three straight and looked nothing like himself while compiling a 9.64 ERA. Overall, he's down to seventh best in ERA (2.97) and has a 1.135 WHIP as he has gone from perhaps the Cy Young favorite (or co-favorite with Scherzer) to something of a long shot.
3. Matt Harvey, SP, Mets: It would be great for baseball if Harvey can avoid surgery and make it back successfully from his elbow injury. His awards standing is the least of his concern, of course, but with his season over he won't be able to add to his totals. Fairly, he was the second-best starting pitcher in the NL this season, though with 169 1/3 innings instead of the 200-210 targeted for him, he may not finish as high as he should in the NL Cy Young vote.
Kinsler is a free agent next winter

Opening Day will be Thursday, March 29 -- the earliest opening day in MLB history

The World Series champion and big-time wrestling fan was on hand Sunday night
The Brewers have very few payroll commitments moving forward

The new, lighter hats will replace embroidered logos with beveled rubber badges

Chipper Jones and Jim Thome join holdovers Trevor Hoffman and Vladimir Guerrero