Stock Watch: D-Backs get run over while ex-No. 1 pick Upton leads Bulls
Justin Upton, the D-Backs' former No. 1 pick, single-handedly dominates the Nats, while the Dodgers Adrian Gonzalez obliterates Arizona's starting pitchers.
More MLB: Power Rankings | Expert Picks | Latest news & notes | Fantasy news
The Diamondbacks couldn't have had a much worse week.
Arizona, a team with pretty good talent and pennant aspirations, now has 11 defeats when no one else has more than eight in a start that otherwise looks like an ad for sport-wide parity (to be fair, the D-Backs and the Dodgers played two games ahead thanks to the start in Australia).
Plus, D-Backs and players with D-Backs connections populate this year's second Stock Watch.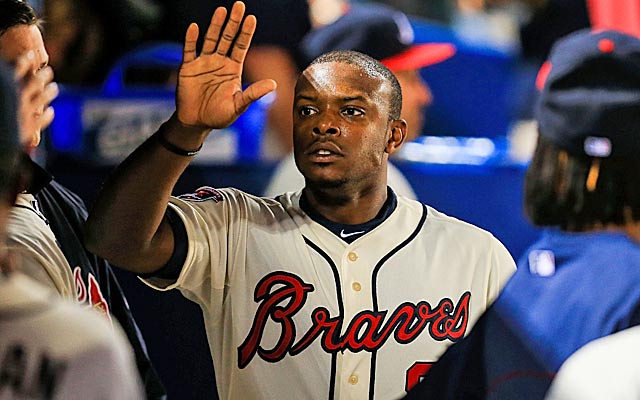 Justin Upton, the former No. 1 overall pick traded away in a blockbuster by the Diamondbacks before last year, takes top honors in the Bull Market by practically singlehandedly lifting the Braves to a sweep over the Nationals in an NL East showdown.
It's true, Upton served notice that the Braves aren't about to easily give up the divisional crown just because everyone's picking the Nats again, dominating a series (he was eight for 10 in the three games) and a week like few players have.
Upton is 11 for 14 in his last four games with four homers and nine RBI, and had an MLB-best 1.881 OPS for the week.
Upton didn't really have any direct effect on the D-Backs this week. But maybe they miss him.
And while we're at it: How's that for gritty?
Adrian Gonzalez, meanwhile, did real damage to the D-Backs and gets second place, as Arizona pitchers were decimated by him in a three-game weekend series that the Dodgers swept in Phoenix. A-Gon was 7 for 13 with three homers and 10 RBI in the three-game sweep. It got so bad that his three singles almost seemed like moral victories.
Gonzalez's heroics also led to an appearance by no less than a quartet of Diamondbacks starters in the Bear Market category.
Rough week indeed.
On the plus side for Arizona, the Dodgers passed on a prime chance to dive back into the Chase Field pool. Good for them.
1. Justin Upton, OF, Braves: Even on that rare occasion where the Braves don't make a good deal, they balance it out. Struggling B.J. Upton made an appearance in the Bear Market last week and looks like he'll struggle to show he's worth his $75.2-million, five-year deal, but lo and behold, brother Justin, acquired later in a trade to team with his brother, is a one-man wrecking crew. The way he's playing, he's worth what they're paying him and brother B.J. combined. This week he hit .591, got on base at a .654 clip and slugged 1.227, all league bests for the seven days.
2. Adrian Gonzalez, 1B, Dodgers: Gonzalez just killed the rival D-Backs, posting hit after hit while helping re-establish baseball's best-paid team as the NL West favorite. With Yasiel Puig mostly nursing an injured digit and Andre Ethier struggling, Gonzalez took over.
3. Yu Darvish, SP, Rangers: It almost isn't fair to include Darvish in weeks he has a start against the Astros, who simply can't hit him. Darvish is always a threat to throw a no-hitter when facing Houston, and this time was about par for the task, as he allowed one hit and one walk over eight scoreless innings in that start. For the week, Darvish threw 15 scoreless innings, and helped bring stability to the Rangers' makeshift rotation in probably the league's most painful, injury-wracked start.
Honorable Mention: Alexei Ramirez, SS, White Sox; Jose Abreu, 1B, White Sox; Ryan Braun, OF, Brewers; Zack Greinke, Sp, Dodgers; Freddie Freeman, 1B, Braves: Aramis Ramirez, 3B, Brewers; Carlos Gomez, OF, Brewers; Charlie Blackmon, OF, Rockies; Dee Gordon, 2B, Dodgers; Sonny Gray, SP, A's, Alfredo Simon, SP, Reds; Michael Morse, OF, Giants; Brandon Crawford, SS, Giants; Chase Utley, 2B, Phillies: Adam Eaton, OF, White Sox; Francisco Rodriguez, RP, Brewers; Chris Tillman, SP, Orioles.
1. Brian Roberts, 2B, Yankees: He went 1 for 17 for the week, then went out with a back injury. With Derek Jeter also out and Francisco Cervelli, who was filling in for the injured Mark Teixeira at first base, going down with a hamstring injury, Kelly Johnson at third was the only healthy starting infielder. Carlos Beltran, who has shocked folks by staying healthy after overcoming a serious knee injury a few years back, got to make his first pro appearance at first base.
2a and b. Jordan Zimmermann and Ryan Zimerman, SP and 3B, Nationals: Jordan Zimmerman had a 27 ERA for the week ,and he was the luckier one of the two. Ryan Zimmerman, who was hitting up a storm and didn't make the Bear Market on performance, is out four to six weeks with a broken thumb. On a positive note, it gives him time to rest his arthritic shoulder.
3a, b, c and d. Trevor Cahill, Brandon McCarthy, Randall Delgado, Wade Miley, SPs, Diamondbacks: The ERAs ranged from 7.71 (McCarthy) to 12.27 (Cahill) of four Diamondbacks starters, with Delgado (8.10 as a starter and 5.40 overall and Miley 9.00) in the middle. They have a decent team on paper, but the losses of ace Patrick Corbin and reliever David Hernandez has put them in a bad spot, especially with the healthy guys underperforming like this.
Dishonorable Mention: Ubaldo Jimenez, SP, Orioles; Jim Johnson, RP, A's; Scott Downs, RP, White Sox; Tim Lincecum, SP, Giants; Jhonny Peralta, SS, Cardinals; Brett Lawrie, 3B, Jays; Curtis Granderson, OF, Mets; Yunel Escobar, SS, Rays; David Freese, 3B, Angels.    
Wright was arrested at his home Friday

The former Tigers teammates were voted into Cooperstown by the 16-person Modern Era Commit...

The Yankees still have room for a good-sized signing even after Saturday's trade with Miam...
St. Louis gets some much needed help for their bullpen

Keep tabs on the top 50 free agents right here

Morrow thrived with the Dodgers last season