Stock Watch: Donaldson truly an MVP candidate, and not just via WAR
Josh Donaldson won't win the AL MVP, nor should he. But the A's underdog-but-stellar 3B's emerging candidacy bubbles the WAR debate back to the surface.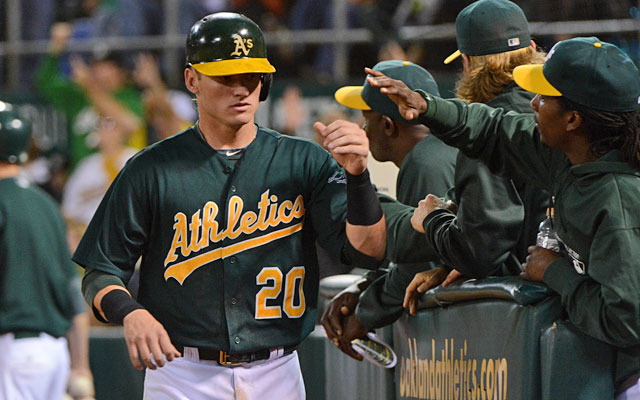 Until maybe a few weeks ago, or maybe even a few days ago, Athletics third baseman Josh Donaldson went virtually unnoticed in the AL MVP race. Which is on par for his career.
Donaldson is a legitimate candidate to finish in the top five, and maybe even the top three. For a variety of reasons, most notably the strength of the competition (but also very likely a disagreement over the value of WAR), he doesn't have a chance to win the award. Donaldson's shockingly high WAR of 8.1, which trails only 22-year-old wunderkind Mike Trout in the AL (and MLB) is what drew attention to a season that deserves more inspection and adulation.
Donaldson can't win the MVP because the traditional voters, who still comprise the majority of the electorate, almost surely will put Tigers superstar and overwhelming favorite Miguel Cabrera in the top spot, and the new-stat guys who might vote mostly on WAR likely would tab Trout since his 9.1 mark is still easily the best.
By the nature of the electorate, Donaldson likely will be below either Cabrera or Trout on just about every ballot, if not all of them. Voters who care about where a candidate's team finishes generally also favor the older stats, so Cabrera will be their man despite a lower WAR (7.3) than Donaldson. Cabrera leads the AL in all the percentage categories (batting average, slugging, on base and OPS) plus RBI and is helping his team win the AL Central. Meantime, voters who emphasize WAR may not be as concerned that Trout's team didn't contend in the AL West, the very division won by Donaldson's upstart A's, a surprise repeat winner.
Donaldson didn't even make the AL All-Star team because third base was filled by Cabrera and 21-year-old Orioles phenom Manny Machado, which made as little sense then as it does now. AL manager Jim Leyland likely figured that he wanted to play his own man, Cabrera, and he already had a great backup in Machado. After that, he better served game purposes by strengthening his bullpen. That's fine, but in fairness Donaldson should have been there as a third third baseman at the expense of a less-deserving reliever. (Leyland quite likely isn't a WAR aficionado.)
Fighting for his place is nothing new for Donaldson. He got the starting nod for the A's out of spring training in 2012 when Scott Sizemore went down with injury. He then regained the job following a stay in the minors after Brandon Inge also went down with injury. And getting the national respect he deserves has come even slower. His 8.1 WAR takes into account his .306 batting average (seventh in the AL), .388 on-base percentage and .511 slugging percentage (eighth) but it also reflects his brilliant defense at third base.
That gaudy WAR number may not take into account the number of Donaldson's clutch moments, but there have been many of those in another magical season for the irrepressible A's.
WAR is a great concept because it endeavors to calculate a player's overall value, and it doesn't do a terrible job of it. The reason old-school voters won't give Donaldson the nod over Cabrera is that we (myself included) aren't convinced WAR is perfect. It's not even very precise -- underscored by the fact there are a couple of different WAR figures, pointing to some disagreement among the stat's calculators.
Many also have noticed that WAR doesn't totally work for catchers since there are no range figures for them and wonder whether the other defensive figures are completely accurate as well (some club executives say they aren't, necessarily). There's also a concern by some of us about whether defense in general may be overrated.
If their salaries and ages were the same, would any executive trade Cabrera for Donaldson? Or more to the point, would any of them trade Cabrera's season for Donaldson's? The first answer is no. The second, I think, is probably no, as well.
WAR certainly gives us something to think about and has spiced up the MVP equation, but not to the point where I would be willing to disregard Cabrera as the leader, and by a fair margin, in every last percentage category. If someone wants to tell me they're favoring Donaldson, who has 24 homers and 92 RBI, I'm OK with it. But until there's proof that WAR is perfect, I'm going to give Cabrera the award.
While a strong case could be made that Trout has been the best all-around player based on his speed and defense (reflected in his baseball-best 9.1 WAR to Cabrera's 7.3), I can't argue that that's wrong. But, since the "valuable" part of MVP suggests winning to me, and I also believe the pressure is much greater for players on contenders, I put Donaldson in the second spot and possibly 51-homer man Chris Davis on the contending Orioles third, with Trout in fourth.
While a majority of voters like me still seem to weigh wins and losses, the best guess is that they won't count winning enough (or at least as much as I do), and Trout and Donaldson will be transposed, with Trout finishing second and Donaldson fourth.
That would still be a huge honor for a player who was left off the All-Star team. But from here at least, he deserves even better.
Donaldson leads the Bulls of the Stock Watch this week thanks to his big finish, and here are all the Bulls and Bears in yet another awards edition ...
1. Josh Donaldson, 3B, A's: The A's, behind Texas only a few weeks ago, wound up in a shocking runaway win, and Donaldson is one of the big reasons. He has a 1.208 OPS in September, with a .389 batting average, .500 on-base percentage and .708 slugging percentage. While Josh Reddick and Yoenis Cespedes generally dropped off this year, Donaldson emerged as the team's biggest star.
Donaldson has a comp in the National League, Cardinals second baseman Matt Carpenter, who had to win the job in spring training over Daniel Descalso, then proceeded to lead the Cardinals into position to win the NL Central. Carpenter's 1.029 September OPS helped raise his WAR to 6.4 (tied for fifth best in the NL with Joey Votto) as he became a stronger NL MVP candidate, though the Pirates' Andrew McCutchen remains the strong favorite after his 1.107 September OPS.
2. Paul Goldschmidt, 1B, Diamondbacks: The Diamondbacks don't have a lot to celebrate, but Goldschmidt is having a brilliant season. With a late rush (he's slugging .681 in September) he now leads the NL in home runs (35), RBI (123), OPS (.962) and slugging percentage (.557). And his WAR is 6.8, third best in the NL behind two center fielders (McCutchen and Carlos Gomez). Yet another MVP candidate who plays first base, Freddie Freeman, with a 1.079 September OPS, isn't slowing down for the NL East champion Braves, either.
3. (tie) Anibal Sanchez, SP, Tigers: Overlooked all year, he is tied for best ERA in the AL at 2.64 (with Bartolo Colon). But he was as good at the end as the start, with his 2-1 record and 2.45 September ERA. His teammate Max Scherzer, who got to 20-3 with a win this weekend and has the best overall stats (even the stats not ignored by the #killthewin crowd), is a sure bet to win the Cy Young award, but these two guys will get some votes.
3. (tie) Bartolo Colon, SP, A's: How does he do it? The September numbers were his best yet, with a 3-1 record and 0.72 ERA for Donaldson's teammate, and along with his league-leading 2.64 ERA he's 17-6.
1. Yu Darvish, SP, Rangers: He hasn't been the main reason for Texas' second straight plunge, but he hasn't been nearly as good as he was earlier. Beset by control issues in a couple of starts, he is 1-3 with a 3.38 ERA in September, costing himself a legit shot at the Cy Young Award. He will still get support for a finish just below the top spot, though.
2. Chris Sale, SP, White Sox: I feel a little guilty even putting him here since his 11-13 record is a joke -- and more fodder for the #killthewin guys. As I tweeted, he is responsible for the 11, while his team is responsible for the 13. That may be a slight exaggeration. To his credit, Sale -- a true pro -- hasn't complained once. But the worst came Saturday when he threw seven scoreless innings against the Tigers, and the White Sox led 6-0 entering the ninth -- only to blow the lead. He will get some Cy Young support based on his brilliant season (and league-leading 7.3 WAR), though he probably cost himself a legit shot at beating Scherzer the start before the Detroit one, when the Indians roughed him up a third time this year.
3. (tie) Chris Davis, 1B, Orioles: He has had a brilliant season, and he's to be congratulated for his Orioles-record 51 home runs. But he needed a big finish for himself and the Orioles to have a serious chance at the MVP, and it didn't happen. Davis has only four home runs this month (by far his lowest monthly total) with a .202 batting average and .685 OPS.
3. (tie) Manny Machado, 3B, Orioles: A .181 September (with a .512 OPS) moves him lower on MVP lists. But his 6.4 WAR (fifth best) reflects his spectacular defense, which is reminiscent of Brooks Robinson. The player who only turned 21 is a sure superstar for years to come.
Charlie Morton will start either Game 3 or 4

Granderson, Verlander, Beltran and more are looking to reach the top of the MLB world

Houston's top relievers have been shaky this postseason
Our experts have a unanimous World Series pick

Otani's rare ability to hit and pitch will need to be accounted for in realms beyond real...

Kenny White has won 8 of his last 10 MLB Over-Under picks and has a strong play for Game 1