Stock Watch: Garza, Soriano aid Cubs' trade goals; Brewers slipping
Matt Garza and Alfonso Soriano are on fire, helping their team's chances to get what they're looking for.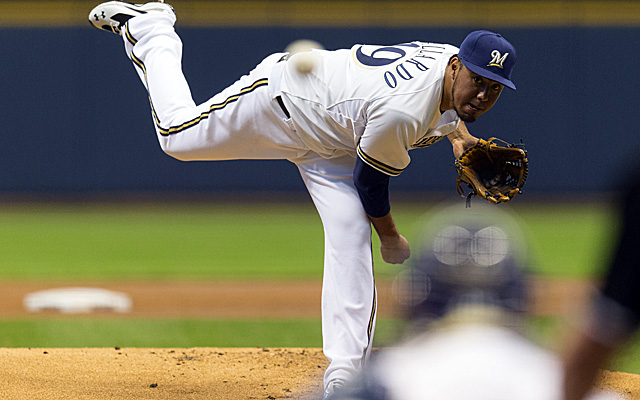 Now that we're well into trade-deadline month, it's only appropriate we fill out Stock Watch with all tradeable commodities -- players on the trading block whose spikes or dips could seriously affect the market.
With that in mind, it's been a very good stretch indeed for the Cubs, who are our No. 1 seller, and conversely an absolutely awful one for the Brewers, who seem to be falling apart at the seams.
Here are all of this week's Bulls and Bears.
1. Matt Garza, Cubs:The timing of his hot streak couldn't be more fortuitous for the Cubs. And if they are intent on trading him, they'll get a decent haul considering his 3-0 record and 0.90 ERA over his past four games -- a stretch so good, the Cubs are now considering a long-term deal for Garza. He has had some dominating games, though none more impressive than his 3-1 victory at Oakland last time out. Any concern about his arm is no longer heard, and with a rather thin starters market remaining, it probably won't matter much that his contracts expires after the year.
2. Raul Ibanez, Mariners DH/OF: At 41, he must have found the Fountain of Youth. And while it's nice for the Mariners that he's in the middle of their lineup, he makes more sense with a contender, as do Kendrys Morales and Michael Morse. During his past 10 games, Ibanez has 14 hits in 41 at-bats (.341) with four home runs. With 21 home runs this season, he seems well on his way to beating Ted Williams' record of 29 home runs for players past 40.
3. Alfonso Soriano, Cubs OF: So far he looks like he's going to duplicate his fine summer of a year ago, as Soriano is 13 for 38 (.341) with five home runs over his past 10 games. He still does have that $18 million salary (but there's only a year-and-a-half left of it) and 10-and-5 veto rights, which might hurt the Cubs' ability to get maximum value (Soriano didn't want to go to the Giants last year and is said to prefer no deal anywhere on the West Coast). He's doing better in the outfield the past couple of years, but some teams might still view him as more of a DH than an outfielder.
1. Yovani Gallardo, Brewers SP: This guy should be the jewel of the trade market, but he has so many imperfections that he's absolutely killing the Brewers because of his spotty work lately. During his past two starts he has a 12 ERA, which is the sort of thing that will limit the take, even with a pretty reasonable contract that's to pay him about $15 million through the end of the next year.
He might yet wind up a fine pickup for someone, as he's very talented, he's only 27, he has a team option for 2015 and he can hit like almost no other pitcher. But the value is sinking at the moment.
Not much is going right for the Brewers. But if they do decide to move Kyle Lohse, they could have luck there; he has a 1.72 ERA since June 9.
2. Justin Ruggiano and Giancarlo Stanton, Marlins OFs: Once again, there is no evidence to suggest they would consider trading the otherworldly Stanton, so he really isn't on the trading block. If they did consider it, they would get quite a stash, though he hasn't necessarily helped matters lately, going 2 for 20 with eight strikeouts during his past five games.
Ruggiano looks like a much more likely trade candidate, especially with rookie Marcell Ozuna playing well, and two more top outfield prospects -- Jake Marisnick and Christian Yelich -- not too far away. Ruggiano, a late bloomer who didn't start to produce until last year, is 3 for 22 during his past seven games, so the value isn't exactly increasing at the moment.
3. Aramis Ramirez, Brewers 3B: This apparently just isn't Milwaukee's time. With $25 million to go through next year, A-Ram was always going to be a tough sell, anyway. But now that his left knee is ailing (he's said to be day to day after hurting himself Saturday), the job is going to be that much more difficult. The Yankees are said to consider him too pricey, and that doesn't bode well for the rest of the market.
Garrett Cooper is the answer to a trivia question

We still don't know if Ohtani will be jumping to the majors yet

Kinsler is a free agent next winter
Opening Day will be Thursday, March 29 -- the earliest opening day in MLB history

The World Series champion and big-time wrestling fan was on hand Sunday night

The Brewers have very few payroll commitments moving forward