Stock Watch: Ibanez defies middle age, and Soriano isn't bad, either
Two older players -- Raul Ibanez and Alfonso Soriano -- make themselves valuable in the trade market.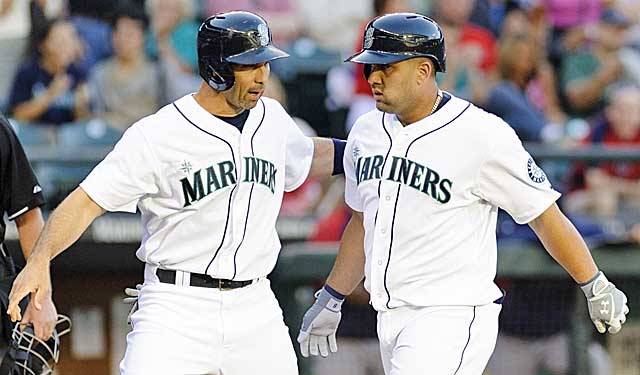 Matt Garza isn't going to win this week's trade-deadline version of Stock Watch for the very same reason Miguel Cabrera and Chris Davis can't win every regular, non-deadline Stock Watch. Others must have a chance.
Otherwise, with Garza's 5-0 record and 1.24 ERA over his past six starts, he would be right there yet again.
In any case, there are plenty of worthy candidates for the Bull Market, including one of Garza's teammates plus three Mariners and many Marlins. Here's the complete list of the Bulls and Bears.
1. Raul Ibanez, Kendrys Morales and Joe Saunders, Mariners OF, 1B/DH and SP: Ibanez is having a crazy good season for someone who's 41 (or any age, really). The only explanations I can think of for him not making the All-Star team are 1) Folks can't believe it; 2) Folks want to let the old man rest. He's up to 24 home runs (only five homers off Ted Williams' record 29 for a 41-year-old), and he isn't slowing down, hitting .366 with four homers and 10 RBI over his past 10 games.
Morales is nearly as hot, with three homers and a .367 average over seven games. Like Ibanez, Morales is a free agent after the year, and while the Mariners don't seem eager to trade either player, by the end of the month reality may set in. The Rays are believed to have checked in about the Mariners' hitters, with the Rangers and Yankees among contenders who make sense.
Meanwhile, Saunders put himself on the rotation radar with a 0.64 ERA in two straight wins. He seems slightly more available at the moment than Ibanez and Morales, as Seattle tries to decide when it should begin a sale in earnest.
2. Alfonso Soriano, Cubs OF: I continue to be amazed Soriano doesn't draw more interest. He remains a big threat and a huge second-half player. He's getting a little bit of an early start on his late-year exploits, with nine homers and 19 RBI in his past 16 games.
3. Marlins relievers (Mike Dunn, Steve Cishek, Ryan Webb and Chad Qualls): Miami is getting hits on all four. And why not? They're all performing.
Until Cishek, the closer, got smoked by the Nationals on Sunday, it was a nearly perfect week for the quartet of desirable pen pieces. And Cishek, who is available, is plenty good enough where one bad outing won't affect his value. The other three were all excellent this week, and that includes Qualls, who looked like he might be nearing the end last year in Philly and the Bronx.
1. Kevin Gregg, Cubs RP: His huge start was startling for a reliever released in spring training by the Dodgers. But he has begun to come back to Earth, as potential suitors surmise whether he can still close for a contender. Gregg has yielded six runs in his past 10 outings, with his ERA going from 0.77 to 2.97. He remains  a solid setup option for better teams.
2. Edinson Volquez, Padres SP: Volquez is expected to go somewhere now that the Padres are in sell mode, as Danny Knobler reported Sunday. But he isn't exactly aiding his value, with an 0-2 week that included a lot of hits (17 in 10 innings) and a 10.45 ERA. 
3. Justin Ruggiano, Marlins OF: His 1-for-21 week isn't well-timed, as the Marlins consider trades. With Giancarlo Stanton embedded in Miami for the moment, and talented kid outfielders Marcell Ozuna, Jake Marisnick and Christian Yelich on the roster (Ozuna) or on the way, a deal for Ruggiano makes sense. The Yankees have checked in.
No, you're not imagining things. This MLB offseason has been very slow compared to the last...

Francesa will retire from radio next month, so he'll have plenty of free time next summer

Get your sports fans something that they'll wear all year
Get 15 percent off any order of more than $75 at CBS Sports Shop

The Twins need help in the rotation, and they may look to the trade market to find arms

Here are the bullet-points of what went down Tuesday regarding MLB and the Braves' punishm...