Stock Watch: In this derby, Trout barely beats Cabrera
Baseball's 'perfect player' gets the nod as the best of the Bulls while baseball's perfect reliever somehow winds up in the wrong market for the first time ever.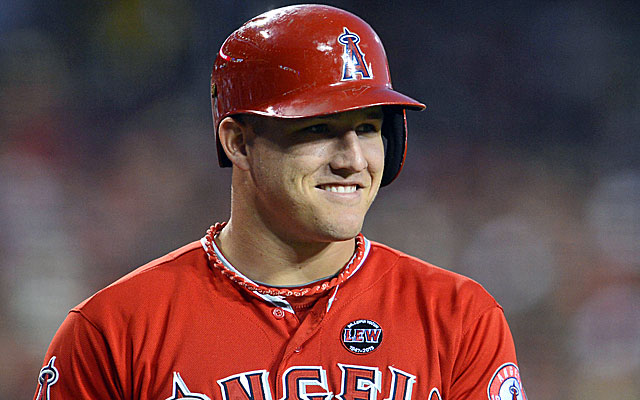 Those very same two hitting machines -- Miggy and Mike -- are separating themselves from the pack once again.
Every week it seems, they perform more heroics, Miguel Cabrera for the juggernaut Tigers and Mike Trout for the disappointing Angels.
Cabrera is all but certain to become the second Triple Crown winner to follow that historic trifecta with a second straight MVP award (Mickey Mantle did the trick in 1956-57). It's no knock on Trout, who is terrific and famously finished second in the MVP race to Cabrera last year. Cabrera's offensive numbers combined with his team's very likely playoff position will make it extremely difficult for anyone else to win the MVP award this year, whether it be Trout or Orioles slugger Chris Davis, realistically the only other legitimate contenders for the honor.
But, in what promises to be very small solace, at least Trout gets the barest of nods in this week's Stock Watch. All the Bulls and Bears follow ...
1. Mike Trout, OF, Angels: Sure, he made 13 outs over the past eight games. But interspersed with those rare outs are a symmetrical nine hits and nine walks.
For the past eight days, the on-base percentage was .581 and the slugging percentage .864 for a 1.445 OPS. He has reached base in a remarkable 41 straight games. It's no wonder some are calling him "the perfect player."
That may be a slight exaggeration. But he was close enough to perfect this week to barely beat out Cabrera, and that's not too bad.
2. Miguel Cabrera, 3B, Tigers: Every week, something new. This week, something unreal.
Hard to believe, but Cabrera hit home runs in consecutive at-bats within the same series against the great Mariano Rivera, tying one game and helping tie another. In so doing he became the first ever to homer twice within one series against Mo, and unbelievably only the second to homer twice within one season (Edgar Martinez is the other), according to colleague Danny Knobler.
The first homer off Rivera came after Cabrera fouled two straight balls off his legs, hobbling him. No matter, he drilled a Rivera cutter for the dinger to dead center field that at-bat, then did it again two days later. Cabrera also homered in the middle game of the series at Yankee Stadium, making him seem like Superman. Again.
The rest of the week was only more typical greatness, as he finished with a .529 on-base percentage and .931 slugging percentage for a 1.460 OPS over the past eight days, or just slightly better than Trout.
3T. Josh Reddick, OF, Athletics; Jayson Werth, OF, Nationals: Reddick had homered only five times all year, then hit five home runs over two games after changing hairstyles. Werth, like Reddick another famous bearded bopper, turned in a Trout-like week with a .600 or so on-base-percentage, including three home runs. For good measure, one of the homers was his 1,000th career hit.
1. Mariano Rivera, RP, Yankees: Rivera blew three straight saves for the first time in his near-perfect career, twice victimized by Cabrera and but also by some mere mortals: (Adam Dunn and Victor Martinez).
2. Justin Ruggiano, OF, Marlins: Ruggiano is up to (or should that be "down to?") zero for his past 42 now, having failed to collect a hit since July 8. The MLB record for a non-pitcher is 0 for 46, set not too long ago by Dodgers infielder Eugenio Velez, who broke a long-standing 0-for-45 record (held by three) by going 0 for 46 to end the 2011 season.
For trivia buffs, the 0-for-45 guys were notorious non-hitter Bill Bergen (Pirates, 1909), Dave "Soup" Campbell (Padres and Cardinals, 1973) and Craig Counsell (Brewers, also 2011).
Ruggiano had been seen as a potential trade target. But with his batting average below the Mendoza line, that's no longer realistic. The priority now is to get Ruggiano right again. And first, it's up to Marlins rookie manager Mike Redmond to pick a good spot for Ruggiano to end the slide before infamy occurs.
3. Dan Uggla, 2B, Braves: The Braves have done extremely well to offset Uggla's struggles, which have been going on close to two years now. Give him credit, too, for playing every day and playing a decent second base. But this week's effort -- 1 for 22 with nine whiffs -- unfortunately is very much like a few of his other weeks.
Gallardo spent the first eight years of his career in Milwaukee

MLB revenues are at a record high right now, but teams aren't spending it on players

Chicago added Tyler Chatwood earlier this offseason but might not be done adding to the ro...
The Dodgers and Braves pulled off a whopper on Saturday

Sabathia will reportedly spend a 10th season in the Bronx

Fowler suffered a knee injury at Chicago's Guaranteed Rate Field