Stock Watch: Kershaw's very hot; will he soon become very rich?
Clayton Kershaw and Zack Greinke, the Dodgers' vaunted 1-2 punch, have allowed zero runs through three starts, topping the first Bull Market list.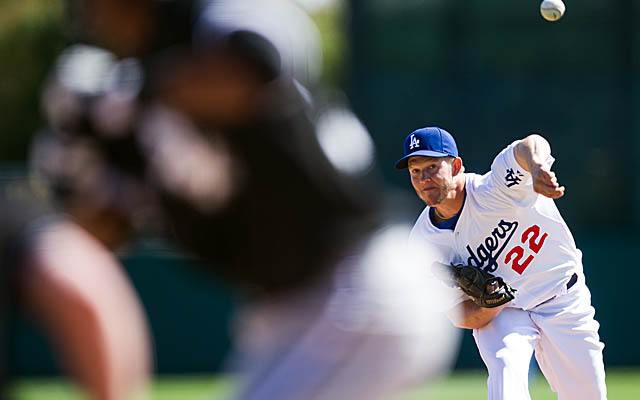 Clayton Kershaw and the Los Angeles Dodgers have kept talking about a contract extension even after the season began, sources say. Is it a distraction? Um, no.
People around the game predict the brilliant left-hander will become the first $200 million pitcher, and there's no reason to think that won't be the case ("I hear they're already over $200 million," one baseball official said, passing along the latest scuttlebutt). Even before Kershaw began this season like the best pitcher in the National League, which he is, the case to top $200 million was strong.
Kershaw, 25, has everything going for him in this negotiation -- terrific credentials, an impeccable rep off the field as well as on (he was the Roberto Clemente Award winner in 2012), and an ultra-deep-pocketed owner. But of course, the price tag also can't be hurt by Kershaw's solid start, which includes a 2-0 record and 0.00 ERA. In 16 innings over two outings so far, he has given up only six hits and a walk while striking out 16. It's almost unfair -- to his opponents on the field and at the negotiating table.
Here goes, the season's very first Stock Watch, featuring bull and bear markets.
1.  Kershaw and Zach Greinke, Dodgers, SPs
The pair of friends are pitching like Sandy Koufax and Don Drysdale so far, with Zack Greinke allowing no runs in 6 2/3 in his initial start. So together they have a 0.00 ERA too.
2. Chris Davis, Orioles, 1B
Chris Davis first showed signs of developing into a bona fide, reliable power hitter starting late last year when he went on a six-game home run streak in the Orioles' run to the playoffs. And with his hot start this year, he had 11 home runs in 11 games, which was last done by Troy Tulowtzki in 2011, but hasn't been done very often, as you'd imagine. And just as remarkable an even rare, he gathered a record 16 RBI in his first four games.
The Rangers are taking a bit of heat for trading him, but they signed Adrian Beltre to play third base, which is about as smart a free agent play as has been made in recent years, and they retain faith in Mitch Moreland at first base. Orioles manager Buck Showalter should get the credit for plucking him off his old team.
Davis has proved versatile and powerful.  He's at first base now, and the guess is he'll be fine there, though he made a key error in a loss Saturday. The offense is the story though, and he now has 17 RBI through six games.
The Orioles gambled by not acquiring another middle-of-the-order batter, which folks figured they needed, and they passed on Justin Upton, Jason Kubel and others. No matter -- so far Davis is producing more than anyone (though Upton, with five home runs, is off to a monster start too).
3. Jed Lowrie, A's, INF
It looked like overkill when the A's traded for Jed Lowrie after they'd already signed Hiroyuki Nakashima, but the second move wisely provided extra depth and versatility to a position of question. The Stanford product Lowrie can definitely hit. The question has been whether he can stay healthy.
So far, so good. And so necessary, since Nakajima is the one out. That 1.567 OPS of Lowrie's is out of this world, topped only by Davis' .636.
1. Carlos Marmol, Cubs, RP
We try not to pick on folks who've already lost their job here, but Carlos Marmol is the obvious candidate for the top spot. He lost his closer's job within the first week of the season, which isn't easy. Last year it took him a few weeks to lose it!
While he regained the closer job last year, this year he made the choice "easy'' (the word of Cubs GM Jed Hoyer) to replace him. Kyuji Fujikawa is in for him. Manager Dale Sveum said he wanted Marmol in "less stressful'' situations. Sveum didn't say if he meant for Marmol, or Sveum.
Marmol entered on shaky turf, thanks to his walk ratio (7.3 per nine innings) last year. But the capper was the back-to-back homers by the Upton brothers, a great moment in Atlanta though not so much in Chicago. He leaves the closer's job with a 4.80 WHIP. That isn't even acceptable for an ERA. The ERA is an even 27.
2. John Axford, Brewers, RP
It's been a rough year for closers all around, and 90 miles to the north of Chicago's North Side team, John Axford is again off to an inauspicious beginning. So far he's faced 16 batters and he allowed four home runs, which is not exactly acceptable. The Brewers have been considering ways to bolster their pen at a time when the offense is depleted due to injuries to Corey Hart, Aramis Ramirez and Ryan Braun.
3. Luis Cruz, Dodgers, SS/3B
Luis Cruz gained some notoriety by triggering a fight between Mexico and Canada in the WBC when he whispered to pitcher Arnold Leon to hit Canada's Rene Tosoni with a pitch after Canada tried to run up the score. Not knowing the run totals could count, Cruz then threw two punches in the fight. "I lost it,'' Cruz was quoted as telling the LA Times at the time.
He might as well have been talking about his hitting stroke, which is temporarily missing as well. Cruz, who surprised with a superb season in 2012, has started 0-for-17, making this list and beating out Jeff Keppinger, who followed his big spring by starting 1-for-21 on Chicago's South Side. Dodgers manager Don Mattingly benched Cruz for one game Sunday. Let's hope he takes that better than the WBC rules.
Ferrell somehow avoided going to the ground

Plus, we saw a possible AL Wild Card Game preview in the Bronx and lots more from around M...

The Pirates disappointed in 2017. Will 2018 be any different?
Let's see how SportsLine forecasts the race for MLB's 10 playoff spots

This has only previously happened twice in history in non-strike seasons

Plus the AL West champ has been crowned and more