Stock Watch: Lester enters fray; Phils' Lee, Howard may be untradeable
While Jon Lester takes David Price's spotlight, the Phillies' deadline hopes are hamstrung by underperforming/overly expensive Cliff Lee and Ryan Howard.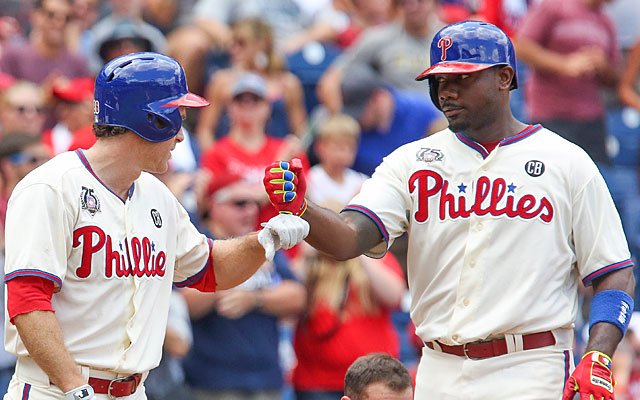 More MLB: Power Rankings | Expert Picks | Latest news & notes | Fantasy news
Boston Red Sox ace Jon Lester zooms to the top in his first week of consideration in a trade-deadline edition of Stock Watch.
With the Red Sox now listening to overtures on their ace, Lester is now finally eligible to make the prestigious list in July; there's no doubt he qualifies based on performance.
The Los Angeles Dodgers are interested, as many contenders should be. Lester is pitching the best baseball of his career, and he would enhance any contender's World Series chances.
Stock Watch mainstay David Price was nearly as good as Lester in July. But while the Tampa Bay Rays apparently haven't ruled out becoming sellers, with their nine-game win streak that ended Sunday, it is getting harder to imagine that Tampa Bay will pull the trigger on a Price trade.
Here are all the Bulls and Bears.
1. Jon Lester, SP, Red Sox: He storms into the top spot with a brilliant July in which he has an MLB-low (among starters) 0.93 ERA. Lester's record is only 1-0 in July (not nearly as good as Price's 5-0) but it's fair to say wins and losses aren't the best barometers for pitchers, and Boston's problems scoring are well documented. Any contender can use an ace, but rivals believe the Dodgers are the best fit since they have outfielders (veteran Matt Kemp , who wouldn't mind a trade, and top prospect Joc Pederson) to offer. Lester has suggested he wouldn't be fazed by a trade. Hey, it would be a plus, as he wouldn't be saddled in his free agency by the attachment of a draft choice if he's dealt.
2. David Price, SP, Rays: He has pitched the Rays back into the fringe of the tight AL playoff race, so the odds for a deal would seem to be slim now. Just in case, though, he has continued his brilliance. His July numbers: 5-0, 1.36 ERA, 39 strikeouts in 39 2/3 innings.
3. Jorge De La Rosa , SP, Colorado Rockies : The Baltimore Orioles blanched at the idea of surrendering top young pitcher Kevin Gausman for De La Rosa, and there's no sign they will relent. But it should be no shock the Rockies are aiming high. His 3-0 record and 1.78 ERA in July are especially impressive considering he pitches home games at Coors Field.
Honorable Mention: Cole Hamels , SP, Philadelphia Phillies ; Ian Kennedy , SP, San Diego Padres ; Wade Miley , SP, Arizona Diamondbacks ; Aaron Hill , 2B, Diamondbacks; Martin Prado , INF-OF, Diamondbacks; Kurt Suzuki , C, Minnesota Twins ; Chris Coghlan , OF, Chicago Cubs ; Justin Ruggiano , OF, Cubs.
1. Cliff Lee , SP, Phillies: To be fair, he just entered the market, as he's only two starts into his return after missing two months with an elbow problem. But with his contract (a league-high $47 million guaranteed through 2015, including the buyout on his '16 option), he'll need to pitch lights out to be acceptable in trades. He'll almost surely pass through waivers so there's still an outside chance someone takes him in August. Through two starts, he has a 7.59 ERA and 2.25 WHIP. That's not going to get it done.
2. Ryan Howard , 1B, Phillies: It's a close call as to what did more damage to his trade value, his performance or his publicity. It doesn't help at all that it came out (true or not) the Phillies might consider cutting him this winter. It also doesn't help that he's hitting .181 with a .575 OPS in July. Some AL team should take him to DH, but that's probably a winter deal.
3. Allen Craig , OF, St. Louis Cardinals : St. Louis has a bit of a logjam in the outfield, but if there is a trade for Craig, he hasn't helped matters with a .133 July. He's a professional hitter, but this is a low point for him.
Dishonorable Mention: Edwin Jackson , SP, Cubs; Kevin Correia , SP, Twins; Josh Willingham , OF, Twins; Gordon Beckham , 2B, Chicago White Sox ; Kyle Kendrick , SP, Phillies.
Judge's 48 homers trail only McGwire's 49 in single-season rookie history

The Reds still have one of the best hitters in the game in Joey Votto and a rising star in...

Maxwell joins a growing movement across sports
The Yankees punched their ticket to the playoffs with a win over the Blue Jays on Saturday

Sabathia's stance seems to be an increasingly popular one among athletes

Plus the A's and Brewers have hope, Giancarlo goes deep again, and much more