Stock Watch: Marlins prodigy leads Bulls, ex-Marlin is a Bear
Jon Heyman says Marlins ace Jose Fernandez's stock is way up, while the man he replaced, Ricky Nolasco, is floundering in the AL
Marlins pitching wunderkind Jose Fernandez may be Exhibit A as to why teams are so reluctant to give up picks 11 through 30 in order to sign free agents to big-money deals. Fernandez, it is hard to believe now, was pick No. 14 of the 2011 MLB Draft, which makes no sense.
He's easily the biggest talent in a 2011 draft that was filled with high-quality players, especially pitchers such as Gerrit Cole, Sonny Gray, Archie Bradley, Dylan Bundy and more. But while several of them already are beginning to establish nice big-league careers, only one is the star right-hander Jose Fernandez, who just may wind up being the best pitcher in baseball -- if not this year, then soon.
Scouting is an inexact science. But keep in mind, Fernandez was chosen one spot after the Mets selected an outfielder from Wyoming named Brandon Nimmo, who didn't even play high school baseball. Oops.
While Nimmo and most others from that 2011 draft are toiling somewhere in the minors, which isn't unexpected considering that draft occurred less than three years ago, Fernandez already has an All-Star appearance and a Rookie of the Year award under his belt. And with the way he has started this season, he looks like an early Cy Young favorite at age 21, especially with Dodgers ace Clayton Kershaw out indefinitely.
Fernandez dominated in his first two starts, striking out a league-high 17 batters en route to a 2-0 record and 0.71 ERA, continuing to perform as he did in the second half of his rookie season (7-1, 1.32 ERA before he was shut down due to his tender age), when he was even better than Kershaw.
Fernandez has the best lateral movement on his curveball, MLB Network analyst Joe Magrane said recently. And actually, it may not be a stretch to say he has the best breaking ball of any sort. The placement of it is uncanny.
His location in general is so good it's hard to believe; in the opener, in fact, he threw only eight pitches out of the strike zone through the first four innings.
Throw in the fastball that's consistently 96-99 mph, and it's easy to understand why he's so unhittable.
What's hard to get is why a talent like this lasted until pick No. 14. Whatever the reason, hats off to Marlins scouting director Stan Meek, who found the financially questionable team perhaps the most valuable pitching commodity since Dwight Gooden three decades ago. All of this makes Fernandez an easy call to top the first Stock Watch of 2014.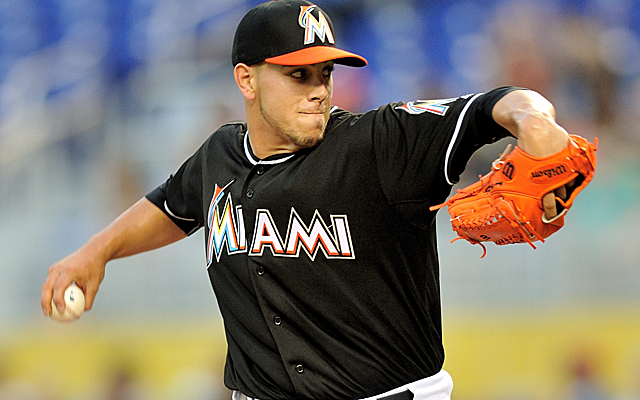 1. Jose Fernandez, SP, Marlins: He's just a kid having fun out there, the Mike Trout of the pitching set. Even when things don't go perfectly, like when Carlos Gonzalez hit a no-doubt 420-foot home run to center field off him at Marlins Park, then stood and admired his drive, Fernandez just smiles with a broad grin. If the Gonzalez blast bothered him, he didn't let on. He just went back to work, going about the business of getting outs.
2. Josh Hamilton, OF Angels: The former MVP regularly appeared in the Bear Market last season, but looks like a different man in his second season in Anaheim (or Los Angeles, officially). He looks about 20-25 pounds heavier, which is proving to be a good thing. He is batting .500 with a league-leading nine hits and 1.424 OPS. This has to be a relief to team owner Arte Moreno. If Albert Pujols (.200 batting average) can get going, they may have something there.
3. Yovani Gallardo, SP, Brewers: He went into Boston and shut out the World Series champions, completing a surprising sweep by Milwaukee, whose pitching looks a lot better than it has been in recent years. Gallardo had a rough go last year following the WBC but appears to be back to full effectiveness. He's 2-0 with an immaculate 0.00 ERA. Not bad.
Honorable Mention: Scott Feldman, SP, Astros; Sonny Gray, SP, A's; Chase Utley, 2B, Phillies; Giancarlo Stanton, OF, Marlins; Brandon Belt, 1B, Giants; Mark Trumbo, OF, Diamondbacks; Charlie Blackmon, OF, Rockies; Emilio Bonifacio, INF/OF, Cubs; Yangervis Solarte, INF, Yankees; Chris Sale, SP, White Sox; Felix Hernandez, SP, Mariners; Torii Hunter, OF, Tigers.
1. Ricky Nolasco, SP, Twins: Last year's Marlins Opening Day starter isn't faring quite so well, holding a 9.00 ERA two starts into his Twins career. He is the marquee pick of a revamped Twins rotation, but one issue to wonder about is his transition to the American League after pitching exclusively in the NL.
2. B.J. Upton, OF, Braves: There were some nice comments after a decent spring training, but most clued-in scouts were still worried, and so far those concerns seem well founded. Through 25 at-bats, he has three hits, 11 strikeouts and no walks. On the plus side for Atlanta, Dan Uggla is showing signs of regaining his form.
3. Zack Cozart, SS, Reds: You take an 0-fer for the week, more than likely you're going to make the bad list. Cozart went 0 for 19 with no walks. Lucky for him he's a superior defender.
Dishonorable Mention: Bryce Harper, OF, Nationals; Mike Moustakas, 3B, Royals; Alfonso Soriano, DH, Yankees; Colby Rasmus, OF, Blue Jays; Jim Johnson, RP, A's; Ryan Flaherty, 3B, Orioles; Allen Craig, OF, Cardinals; Josh Donaldson, 3B, A's; Josh Reddick, OF, A's.
Get 15 percent off any order of more than $75 at CBS Sports Shop

Get your sports fans something that they'll wear all year

No, you're not imagining things. This MLB offseason has been very slow compared to the last...
Francesa will retire from radio next month, so he'll have plenty of free time next summer

The Twins need help in the rotation, and they may look to the trade market to find arms

Here are the bullet-points of what went down Tuesday regarding MLB and the Braves' punishm...