Stock Watch: Miggy-Trout debate rages on, but Cabrera wins all here
Miguel Cabrera deserved the 2012 MVP (by a little bit), and he's leading the race so far this year too. David Ortiz isn't doing too badly either.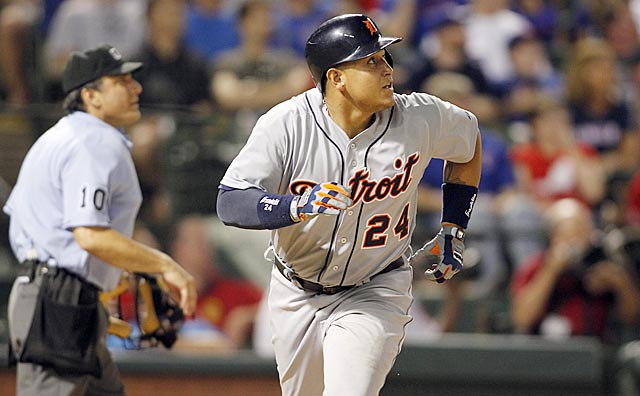 I was surrounded in the clubhouse the other day, with no escape. Two players wanted -- demanded -- to know why there was even an MVP debate last year in the American League.
So technically, the great debate from 2012 rages on. Six months after the winner was announced, we are still talking about it.
These two players, like a seeming overwhelming majority of players, couldn't understand why anyone supported Mike Trout in the apparently still ongoing Trout-vs.-Cabrera argument.
"Cabrera won the Triple Crown. What more does he need to do?" one fumed.
"And his team won!" the other exclaimed.
I'm not sure why I was called on to provide the answers. But suddenly, I was slightly embarrassed to have supported Trout right up until the last couple weeks of the season, when I finally made the switch, as Cabrera had a 1.032 September OPS in helping the Tigers into the playoffs (and 1.074 in the second half) while Trout had merely a respectable .836 September OPS as the Angels barely missed the postseason. (Disclaimer: mine was virtual support for Cabrera, as I had a ballot in the NL MVP vote, not the AL.)
The real AL vote was 22-6 for Cabrera over Trout in the end, and I think that's a pretty fair representation of where it should have been. Cabrera deserved it because of the above two reasons, plus the fact that he surrendered his position without hesitation to move to the vastly more difficult third base, and did it without issue (though one of the two players said he knew Cabrera always preferred third, anyway).
Trout might well have been a slightly better all-around player in 2012, as his monster WAR number indicated. But since the award is for "most valuable,"  not "best," and there's plenty of precedent to say value is related to winning and making the playoffs, that put Cabrera over the top.
WAR is a great concept, and it definitely has a place in the game (even if the two players argued against it), but I would agree with the two players that a better WAR number doesn't definitively prove Trout was the better player. WAR is an all-around number, but unlike with home runs, RBI and batting average, WAR is also dependent on some subjectivity. And it might need some fine tuning.
I believe it's easy to conclude Trout played better defense than Cabrera. But was it enough to offset Cabrera's superior offense? And how do we know?
The defensive metrics are so imperfect they're unreliable. How can anyone be sure the defensive metrics are right when they vary from site to site? And how can anyone be certain the right amount of emphasis is placed on defense to begin with?
And here's the thing I never got: Why are the hard-core numbers guys the ones who are so sure Trout was better based on WAR when WAR is the stat that's based partly on guesswork?
I can't be sure about this, but I suspect we are still talking about the 2012 MVP race partly because we figure the 2013 MVP race won't be much of a debate. By now, there is one clear leader: Cabrera.
Once again, Cabrera trails a bunch of folks in WAR, just like last season. Going into his three-homer game Sunday, his 2.0 WAR was matched or bested by the likes of Gerardo Parra , Starling Marte , Nori Aoki and Matt Carpenter . All those players are off to nice starts, but they are not Cabrera. And I doubt they've matched his play, no matter what their WAR numbers say.
Unless you remain a true believer in WAR, you've got to think Cabrera is well in front this time, no?
In any case, since I am not beholden to WAR, Cabrera does have the immense honor of leading the Bull Market in this week's Stock Watch. So he has that going for him.
Here is the complete rundown.
1. Cabrera, Detroit Tigers 3B: Miggy is so hot that Texas Rangers manager Ron Washington, with the count at 2 and 1, intentionally walked him with runners on first and second, loading the bases for Prince Fielder , who isn't bad either. Fielder promptly ripped a three-run double -- though that wasn't as much damage as the five runs Cabrera knocked in on his three long home runs to center field in the Rangers' wild 11-8 victory Sunday over the Mostly Miggy (plus Prince) Show. Cabrera now leads baseball in batting average (.387) and RBI (47), both by a wide margin. Since the beginning of 2012, he has 40 more RBI than anybody else, with Fielder in second. While WAR is apparently in, and RBI on its way out, I still agree with the players on Cabrera. He can't be beat. Not this year. Not last, either.
2. David Ortiz , Boston Red Sox DH: Ortiz gets the second spot without reservation. While I admire Dan Shaughnessy and especially Shaughnessy's guts to raise the question of whether Ortiz is juicing, to do it publicly I think requires more evidence than a player being hot and old and having missed spring training. And certainly being from the Dominican Republic shouldn't even be entered as evidence. Just because 50 percent of drug-test positives have been Dominicans is not proof against any individual. Anyway, Ortiz -- after a brief, three-day cold spell -- is back on a tear. Heading into Monday, he is 8-of-13 run with eight RBI and has his average back up to .364. He's on a seven-game hitting streak after the 26-gamer ended right after the column raising questions appeared. He also has seven runs and 29 RBI in only 25 games. Barring real evidence to the contrary, that will be viewed only positively here.
3. Chris Sale , Chicago White Sox SP: He has got about the best stuff in the game, and when he has his mechanics together, he's nearly unhittable. Someone could complain his near-perfect week is attributable to facing the reeling Los Angeles Angels . But the key actually was an adjustment to his mechanics while in the stretch: his angle had been too low. When he's at his best, which he was, no one hits him. In his 16 2/3 scoreless innings, he allowed four hits and three walks while striking out 19. Hard to leave out fellow New Mexican Matt Moore , who became the youngest left-hander to go to 8-0 since Babe Ruth in 1917. But this was an especially tough week (and Moore made it a few weeks ago).
1. Mike Moustakas , Kansas City Royals , 3B: Compared to him, Ike Davis is on fire. Moustakas' dry spell has now reached 1 for 33. He is now under the Mendoza Line, at .178. And this comes after he hit .211 in the second half last year.
2. Ike Davis , New York Mets 1B: OK, so the truth is, he's hot compared to no one. Davis is enduring a 1 for 30 cold snap, and is hitting .156 overall. But the Mets are going to give him a bit more time for three reasons: 1) They need him to have any chance. 2) Their patience paid off after a similar start last year (yes, similar). 3. They have no great alternatives.
3. Melvin Upton , Atlanta Braves OF: He was 1 for 17 with eight strikeouts this week, and his batting average barely budged. It is now .145. That's not a good sign.
They're alive in the NLCS after their Game 4 win over the Dodgers

You never know what you might get from Arrieta, but what we got was brilliance in Game 4

The 2017 World Series begins Oct. 24
There will be a Game 5 after all on Thursday night

Tanaka shut the Astros down in ALCS Game 5 and has overcome a down season and past injurie...

The Yankees wouldn't chase Keuchel's bread-and-butter, those tempting pitches just at the knees...