Stock Watch: Nothing awkward about Pence's amazing salary drive
Hunter Pence, Ricky Nolasco, Mike Napoli and Shin-Soo Choo are earning themselves money with big Septembers, but Pence is in a league by himself with his incredible finish.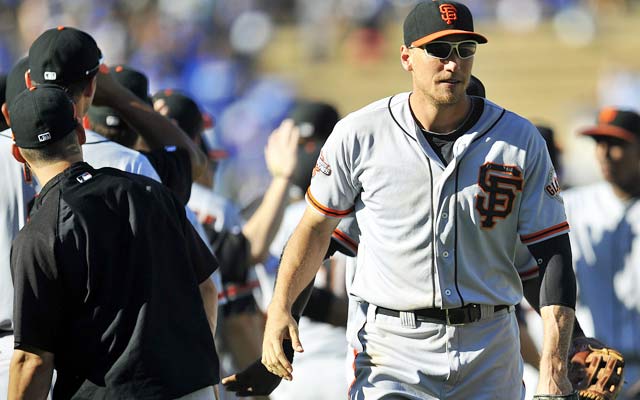 There have been salary drives, then there is the red-hot, late-closing free-agent-to-be Hunter Pence, who's earning himself more than a pretty pence or two in a noteworthy drive for dough. Pence's big finish is so off-the-charts good it's almost unprecedented, though one that comes to mind is the second half of Carlos Beltran in 2005, who made himself tens of millions of dollars in his final days as an Astro.
Pence this week became the first Giants player to homer in each game of a four-game series against the rival Dodgers since Willie Mays. Then made it five dingers in the four games on Sunday.
Pence became the first Giant to record 16 RBI in five games since Mel Ott did it in 1934. He ended up with 19 RBI in six games.
Pence had such a great week, it's like a month. Speaking of which, as Andrew Baggarly of CSN BayArea (@CSNBaggs) pointed out, he appears en route to breaking the Giants' single-month record for RBI, which is 34 by Jeff Kent. Pence has 25 exactly halfway through. And as Baggarly also pointed out, Pence is one of two players this season with 20 homers, 20 steals and 30 doubles this year, the other being Mike Trout.
Pence leads this week's Bull Market, consisting of a foursome of players making themselves millions with their well-timed recent performances en route to a lucrative free agencies. And then there are the trio of top free-agent-eligible players in the Bear Market who may have cost themselves a few bucks with recent injuries or underperformance ...
1. Hunter Pence, Giants OF: The Giants and Pence have had preliminary contract talks, as Heny Schulman (@hankschulman) of the San Francisco Chronicle reported, and it's clear they're going to try to keep the player who helped them win a second World Series championship with his "triple double" hit and inspirational speech, and then followed it with a big season (and especially month). But it won't be cheap.
The Giants have the money, and they've showed they like to keep their stars. But the Rangers (a hometown team for Pence as he played at UT-Arlington), who will lose Nelson Cruz, and the Yankees, if they can eschew the original plan to get below the $189-million threshold, loom as threats.
One obvious comp for Pence could be Andre Ethier, who signed for $85 million over five years with the rival Dodgers a couple years ago. One competing executive opined, "Pence is the better player, as Ethier struggles against left-handed pitching." That exec also cited "inflation plus the year he's had" as factors that could boost his pay further. Another difference: Ethier wasn't yet a free agent when he signed that deal in the first days of the new Dodgers regime.
In other words, Pence's timing couldn't be better.
2. Ricky Nolasco, Dodgers, SP: Even with a rare shelling at the hands of Pence's Giants, Nolasco is 8-2 with a 2.63 ERA in the glare of the pennant chase in LA. The trade from Miami did two big things for Nolasco, 1.) He won't have a draft choice attached to him since the Dodgers aren't eligible to make him a qualifying offer and, 2.) He's showed he can succeed in games that matter.
There's little doubt Nolasco has been underrated on the early free-agent lists, as he may belong in the top group with Matt Garza and Ervin Santana. The exec said the obvious comp is Anibal Sanchez, who got $80 million for five years, though he added that he believes Sanchez has "slightly better stuff" and "helped himself by pitching well in the playoffs." At the very least, it looks like Edwin Jackson ($52 million, four years) might be the floor instead of the ceiling.
3T. Mike Napoli, Red Sox, 1B:. Boston will be back to address first base this winter, and there's no reason to think Napoli doesn't remain a fit. It appears Will Middlebrooks will stay at third, so that still leaves a hole at first. It doesn't hurt that he hit seven homers against the Yankees either. And as the exec pointed out, "It's tough to find righthanded power."
The big overall finish by Napoli will help, too, as this month he has an on-base percentage of about .500, slugging percentage of .900 and OPS of 1.500. The execsuggested he'd have a chance to receive all  the money lost when a medical examination last winter knocked his contract down from $39 million over three years to $5 million guaranteed over one (plus $8 million in incentives , which he earned) by getting a new deal for the very same terms. That'd be a nice story for him.
3T. Shin-Soo Choo, Reds, OF:  He is beautifully positioned after a big stopover in Cincinnati, and a huge September will only aid what promises to be a big winter for him. He's hitting .362 this month with a .508 on-base percentage, .681 slugging percentage and 1.189 OPS. "He's better than Ethier and Pence,'' opined the exec. "He has a high on-base percentage. He can run. He can throw. And he's a great corner outfielder.'' The exec suggested a deal for five or six years, and for $90 to $100 million.
1. Matt Garza, Rangers, SP: His stop in Texas helped him by eliminating the draft-choice scenario, but it's also hurt him because he hasn't pitched like he did in Chicago.  He's 0-2 with a 6.55 this month for the Rangers as the whole team has slid backward. The exec said he's no longer the clear top choice among starting pitchers, as someone could make a case for Santana, or even Nolasco now.
2. Jacoby Ellsbury, Red Sox, OF: The latest injury isn't debilitating, but it's a reminder of how he unlucky he's been. Agent Scott Boras pointed out in this space that Ellsbury has more going for him than Carl Crawford, who got $142 million for seven years, and he further pointed out that Ellsbury's injuries have been due to collisions, suggesting they were only happenstance. That may be so, but it can't be considered great news that yet another one has happened, this time when foul ball resulted in a broken foot. He's still the top player after Robinson Cano, but he can't help himself if he isn't playing.
3. Derek Jeter, Yankees, SS: Only a few weeks ago, even with his year not going well, there was some speculation that he could turn his player option into extra money or another year. But after being shut down for the year he's presumably left with no choice but to pick up the $9.5-million option, assuming he makes good on his promise to play. "I think he can come back and have a good year. But the question is whether the Yankees count on him to be their shortstop or go out and sign a shortstop,'' the exec said.
There's no reason to think he can't give it a shot, even at age 40 off a serious ankle injury (though history says only Luke Appling and Barry Larkin had very good years as shortstops at 40). Jeter should never be counted out, but it might be easier if he just retired as the iconic Yankee he is. A clean break would take a tough call out of the Yankees' hands. And the exec opined, "If he would [retire], I would think they'd be doing cartwheels."
Walker was a tremendous all-around player, but Coors Field undoubtedly inflated his career...

A beardless Wilson says that he tried to outrun the police on the second day he had his driver's...

The Diamondbacks outfielder was not impaired, he was just going way too fast
MLB can unilaterally implement rule changes, which will also include limits on mound visit...

If the MLBPA wants to repair MLB's salary structure, it should push for more money for young...

Fans aren't happy Gerrit Cole and Andrew McCutchen have been traded away