Stock Watch: Odds are Miggy is AL MVP (and Kershaw is NL Cy Young)
The odds say the AL MVP race is close, but don't believe it. Miguel Cabrera will repeat, while Clayton Kershaw has all but clinched the NL Cy Young.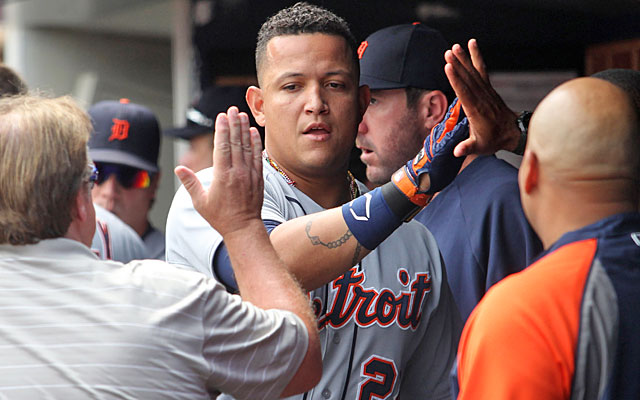 An email from a casino to baseball writers came not too long ago suggesting that Miguel Cabrera was the heavy favorite to win the American League MVP. That was obvious then, more obvious now.
But in the casino's emailed odds, Chris Davis and Mike Trout were listed as co-second choices, with each 5-1 against to upset Cabrera, a figure that didn't seem to be in the ballpark considering how Cabrera has owned the year.
When I received the odds email my first inclination was to fire off my own email offering to book anyone's bet on Trout, a terrific all-around player whose true chances to win the MVP award -- through no fault of his own -- were and are a lot closer to 99-1 than 5-1. But then I thought better of it.
For one, while I've been receiving these odds on all sorts of sports propositions for what seems like years, I have assumed all along they are little more than a goof aimed at getting pub. For another, I didn't have time that day for a silly email debate (I was probably fretting about some incremental development in the A-Rod soap opera at the time).
Anyway, I kept my thoughts to myself.
But now, several days later, with the MVP award an even surer thing for Cabrera than it was that day, I'll vent just a little.
Providing odds for the MVP award three-fourths of the way through the season isn't at all like predicting who'll win before the year begins, which is much more of a guess. Three-fourths of the work already has been done now, so it should be quite a bit easier to provide true odds now.
That said, these weren't it. At no time within the past few weeks was anyone else as close to Cabrera as 5-1, which is the same as saying they have a one-in-six chance (or 16.7 percent).
Of course things can change in the final quarter of the season (they did for me last year when I switched from Trout to Cabrera in the final couple weeks), but in a season where one player is well above all the others, and that player plays for a contender, that player wins.
That's the case here. Cabrera easily has been the league's best player, and he has helped the Tigers compile the best record in the league. There is no good reason to think he won't be the MVP again. I mean, not one.
If Davis, who has a league-leading 45 home runs, should set the real(*) single-season home run record (real by my estimation, anyway; yes, the one Roger Maris set) and the Orioles should somehow overcome their bullpen troubles to make the playoffs, then yes, Davis has an outside shot. But I would still put the odds a lot higher than 5-1 of both those things happening, much less him also being judged ahead of Cabrera.
As for Trout, great as he is, he has virtually no chance to win the MVP.
Nothing against Trout. He's a superb all-around player, and if we were starting a team from scratch, he might well be the logical first overall pick. His case was strong last year, especially before Cabrera's strong finish carried the Tigers into the playoffs. Maybe it's momentum from last year that leads folks (and oddsmakers) to suggest Trout has a decent chance this year, I'm not sure. But this is pretty clearly Cabrera's year, and it has been clear for some time.
Terrific players on terrible teams can win MVPs (Alex Rodriguez won one of three MVPs in his loosey goosey days for a last-place Rangers team; the admirable Andre Dawson won for a last-place Cubs team). But that only occurs when there are no other comparable, viable candidates.
In this case, Cabrera is more than comparable. He has actually been better. He has a crazy 1.141 OPS for the year.
While Trout is fabulous, Cabrera is in a league by himself this year. He has been better than even last year, when he won the Triple Crown (and beat Trout for the MVP).
Trout's only better in speed numbers (stolen bases, triples), though Trout also does hold a small lead in WAR, 7.3 to 6.7, and I don't dismiss that.
I don't completely believe it, either.
While WAR provides an all-around picture, it relies on questionable subjectivity and has defensive issues (center fielders sometimes look over-rewarded to me; for instance, does anyone believe Carlos Gomez is three times more valuable than Carlos Beltran when they have virtually the same offensive numbers just because he has him beat 6.5 to 2.1 in WAR?).
I understand the more numerically inclined don't want to count a player's effect on the pennant race, and only weigh individual stats. Well, they can score it however they like. But I will continue to count the impact on the standings as long as the award is for the "most valuable" player, not the best player. And beyond the question of value, there's also more pressure playing with real stakes on the line.
I know I'm not going to win over those who insist on voting for the best player with the best stats, but the real point here is that there are still enough voters for whom team standings still count. And when predicting MVP odds, we are predicting how the vote will go. Not how someone would like it to go.
If Cabrera's true odds were strongly in his favor when I received that email (more strongly than presented), he has the award on virtual lockdown now, following yet another huge week in a season of them.
Cabrera is the top Bull in our Stock Watch for league award contenders. From here Cabrera pretty well clinched his second straight MVP while Dodgers ace Clayton Kershaw did the same with the NL Cy Young Award, helping him earn second place on this list. Andruw McCutchen's big week aided his NL MVP chances -- though that is one honor that will go down to the wire (Kershaw is a candidate there, too.)
What follows are all the Bulls and Bears.
1. Miguel Cabrera, 3B, Tigers: There's no sign of letup as Cabrera continues to outperform his Triple Crown year. The numbers are so good and so round now they look almost made up: 40 home runs, 120 RBI, .360 batting average.
What's more, he's getting better.
In a string of superb months, August has been his best. Cabrera has an .823 slugging percentage and 1.266 OPS in August. His 39th home run was a walk-off job Saturday that beat the Royals and was the biggest of the year for the Tigers. His 40th came on the next pitch he saw in the next game, off hot Royals starter Bruce Chen, as the Tigers won again and solidified their standing by winning the big series.
2. Clayton Kershaw, SP, Dodgers: Barring something crazy, he's a lock for the NL Cy Young. The 0.56 ERA over his past two starts should be the clincher. He leads the NL in innings (190 1/3), ERA (1.80) and WHIP (0.85). This will be two Cy Youngs in three years for him. And at this point, as the best player on a team that rattled off a historic 42 wins in 50 games, he has to be in the NL MVP conversation, too.
3. Andrew McCutchen, OF, Pirates: He has a .529 on-base percentage in August as teams try to avoid him. He has 23 hits and 13 walks, enhancing his MVP credentials in this special season in Pittsburgh. Considering his all-around play (.315, 17 HR, 26 SB, 6.5 WAR), he is likely the leader -- though Yadier Molina has returned from his knee injury and can't be counted out.
1. Bartolo Colon, SP, Athletics: He has had his two worst games since escaping penalty in the Biogenesis scandal. And now he's on the DL with a groin injury. No matter, the two defeats and 13.50 ERA in those games (10 earned runs in 6 2/3 innings) took the late-career surprise star out of the Cy Young derby.
2. Jeff Locke, SP, Pirates: He has had a brilliant season, but you have to wonder whether he's running out of gas now. Over his past four games, Locke has an 8.00 ERA. His season WHIP is up to 1.32. Looked like a long shot in the Cy Young derby anyway, but now he (and really everyone but Kershaw) will have to wait until next year.
3. Mike Minor, SP, Braves: His run of 22 straight starts with at least six innings pitched ended Saturday with a 1 2/3-inning outing against the Nationals in a game eventually won in the 15th inning by Washington. Was on the cusp of a Cy Young race before that game.
The fan struck at Wednesday's Twins-Yankees game was hospitalized

The Yankees are almost certainly headed to the postseason, and they're real threats to win...

They still would much rather grab the AL East, however
Sale becomes the first AL pitcher to reach 300 strikeouts since 1999

Steve Balboni's long-standing record of 36 has finally fallen

Several players called for the netting to be extended down the base lines following Wednesday's...