Stock Watch: Padres strong sellers; Rays' Zobrist, Price boost markets
The Padres, Rays (Price, Zobrist) and Cubs (Coghlan, Ruggiano) are getting good performances from players on the trading block.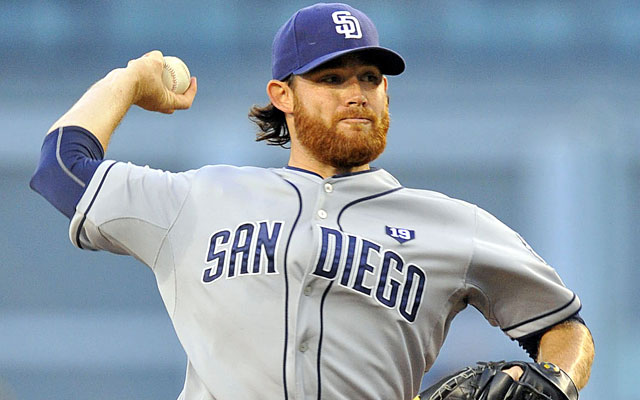 More MLB: First-half Grades | Rumors | Power Rankings | Latest news
The Padres' GM search, in full flight, seems to be heading into the next stage with second interviews about to occur. Meantime, the current three-headed interim GM crew carries on an important sale, with some decent or better pieces to peddle, and recent performances are aiding their cause.
Starting pitcher Ian Kennedy and back-end relievers Joaquin Benoit and Huston Street carry the most value for the Padres this trading season, while some of the others -- including Chase Headley and Carlos Quentin -- are going to need to show they're healthy and productive before being moved.
In terms of the trade market it has been a very positive week for the Padres.
The interim GM team of A.J. Hinch (who told ownership he would work through the deadline but won't pursue the permanent GM job), Omar Minaya and Fred Uhlman Jr. should benefit from some decent showings lately.
Here is the second deadline edition of Stock Watch of this trading season, with all the Bulls and Bears.
1. Chase Headley, 3B, Padres: After a horrific and unhealthy start, Headley has showed signs of his old form lately. The epidural shot in his back may have done the trick and could carry him to the end of the season, or at least that's the hope of interested teams. There are said to be "four or five" teams kicking the tires, with the Blue Jays (who are involved in everything) and Yankees (in need a third baseman but only on the cusp of the race) two of those teams. He's batting .327 for July with a .462 slugging percentage that dwarfs his figures of the first three months. While zero walks and 13 strikeouts isn't a good ratio, he would seem to carry some value now. Headley needs to go, too, as the Padres would be gambling quite a bit to extend him a qualifying offer. Kennedy's value is at a high, too, thanks to a July with a 0.86 ERA after eight shutout innings Saturday against the Dodgers.
2. Ben Zobrist, Utility, Rays: His value obviously goes well beyond his stats. But it doesn't hurt that he has hit .362 with a .436 on-base percentage this month. Meanwhile, Rays ace David Price, ineligible to win here since he was last week's Bull Market winner, threw eight more shutout innings in a 3-0 win over the Blue Jays as he continues to enhance his trade value. He has won five in a row and posted eight straight (very) quality starts, with at least seven innings in each. He's the clear prize of the trade market -- if the Rays trade him.
3. Chris Coghlan, OF, Cubs: The 2009 Rookie of the Year for the Marlins is showing signs of regaining that form with a month in which he is 20 for 46 (.435) with power. The .804 slugging percentage is startling. Justin Ruggiano, cited here last week, continues to rake, stirring additional interest in the Cubs outfielders. Junior Lake, though, is 2 for 22 this month (and even worse than that going back into June). He probably needs a new team.
1. Gordon Beckham, 2B, White Sox: Beckham, a solid player who never quite lived up to his billing, is 5 for 44 (.114) for July with a .348 OPS. His DP combination mate Alexei Ramirez (.174 in July) and Adam Dunn (.143) aren't enhancing trade causes either.
2. Josh Willingham, OF, Twins: In a weak hitting market, he should still carry value. But his July (.105, 4 for 38) won't help. Neither will the 16 strikeouts. Meanwhile, Sam Fuld is tearing it up. Superman Sam was caught in an A's numbers game, but freed up in Minnesota, he has thrived. He's hitting .450 in July with an out-of-this-world .540 on-base percentage. He may almost be too good to deal at this point.
3. Addison Reed, RP, Diamondbacks: The D-Backs have plenty of solid sale pieces, but Reed's rough patch hurts his value. The ex-White Sox reliever has blown two saves and has an 8.10 ERA this month (though manager Kirk Gibson has said he's sticking with him).
The Dodgers and Braves pulled off a whopper on Saturday

Sabathia will reportedly spend a 10th season in the Bronx

Fowler suffered a knee injury at Chicago's Guaranteed Rate Field
The lefty starter is coming off a terrible season

After acquiring Ian Kinsler and Zack Cozart in recent days, the Angels are trending upward

Cozart's coming off a big season as the Reds' shortstop