Stock Watch: Ramirez, Peavy boost trade hopes for White Sox
While Jake Peavy's value has to be up after a nice return, starters Bud Norris, Josh Johnson and ex-White Sox Mark Buehrle aren't helping themselves (or their teams) lately.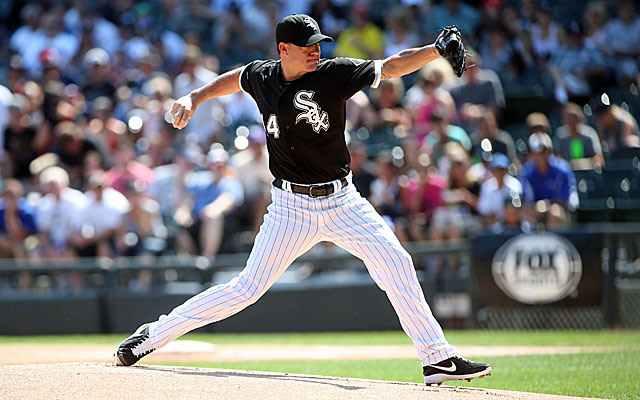 Red-hot right-hander Matt Garza was close to going to the Rangers in a sizable deal Friday before a snag set the sides back. Word now is that the Cubs are looking at other possible landing spots for Garza, who is 5-0 with a 1.24 ERA over his past six starts and presumably coveted in a very thin pitchers market.
While Garza, who starts again Monday for the Cubs, continues to be a star on the market, several other players are aiding their teams' causes to trade them. Here are the Bulls of the trade market (and a few Bears as well).
1. Alexei Ramirez and Jake Peavy, White Sox SS and SP: Ramirez would appear to be the best starting shortstop on the market, almost by default. But it doesn't hurt that he's hitting .319 in July to go along with his stellar defense. The Pirates look like a possible landing spot, as we mentioned a few days ago. Meanwhile, second baseman Gordon Beckham has been hitting even better (.357 with a .518 slugging percentage this month), but with wrist issues cropping up again, teams may want to see him back on the field. On balance, it was still a pretty nice week for White Sox trade chips, as Jake Peavy showed he's healthy in winning his return engagement over the Braves on Saturday. Many executives actually favor him over even Garza since Peavy's contracted through 2014.
2. Marlon Byrd, Mets OF: The Mets seem all but assured of keeping him, as Byrd, out of nowhere, has become their deserving cleanup hitter. Byrd has only escalated his nice start with even better play lately, and he looks headed for career-high totals after starting the year on a $700,000 make-good contract. Byrd was one of the worst players in the big leagues last year, not to mention one who had a positive PED test (so it's a wonder he could get even the 700 grand), but he has turned into one of the Mets' top players by more than doubling his slugging percentage from last year -- to .519. He has 17 home runs, quite a few for a 33-year-old who has only once before topped 12 in a year. With a .980 OPS in July, there will be plenty of interest -- though at the moment, the Mets appear likely to keep him, as they did last year with Scott Hairston under somewhat similar circumstances (though Hairston wasn't playing nearly as well as Byrd is now).
3. Glen Perkins, Jose Veras, Huston Street, Bobby Parnell; closers: The closing quartet all aided their potential trade values with nice months, as all four have ERAs of 0.00 in July. Of the three, Veras may be most likely to be traded. Perkins (six scoreless innings this month) told CBSSports.com he expects to stay, and there's nothing to indicate the Twins are thinking otherwise about the fine lefty. The Padres got Street (four scoreless) on a nice deal last winter, and they don't seem much more interested in trading him. Parnell (nine scoreless in July), meanwhile, is having a big year for the Mets, who love the fact he has years to go before free agency. The Astros presumably aren't as attached to Veras (5 1/3 scoreless), who could help someone.
1. Bud Norris, Astros SP: In a thin starting pitching market, he will draw big interest despite any ups and downs. But this month definitely is a downer. He has lost two straight with a 10.97 ERA for those two games.
2. Mark Buehrle and Josh Johnson, Blue Jays SPs: Toronto is falling out of the race after a nice rush to get to .500, though there's no evidence yet they are about to trade their veterans, including these two starters who came from Miami assuming better days were ahead. Of course, one reason could be that no one will be rushing to acquire them. Buehrle is 1-3 with a 5.52 ERA over five games, Johnson 0-3 with a 6.26 ERA over five starts.
3. Nate Schierholtz, Cubs OF: Schierholtz has had a nice all-around season for the Cubs but isn't helping himself with a 3-for-25 (.120) slump and having no home runs and one RBI in July. Fortunately for the Cubs, Alfonso Soriano continues to rake. In July, he has eight homers, 16 RBI and a 1.007 OPS. He should be able to help some contender.
Our Black Friday FA shopping guide includes a starting pitcher, slugger, super sub, and re...

Get 15 percent off any order of more than $75 at CBS Sports Shop

Need a gift for someone who loves baseball? We're here to help as the holidays approach
Several prominent Japanese-born Mariners and ex-Mariners have said they will help as well

Get your sports fans something that they'll wear all year

No, you're not imagining things. This MLB offseason has been very slow compared to the last...