Stock Watch: Samardzija can't win, Tanaka can't lose in dueling Bulls
Masahiro Tanaka and Jeff Samardzija have both been impressive, but only one also has been fortunate.
More MLB: Power Rankings | Expert Picks | Latest news & notes | Fantasy news
In Milwaukee on Friday, Masahiro Tanaka did about what he has done in every one of his seven starts as a New York Yankee, and I would imagine, every start last year as a Rakuten Golden Eagle.
Which is to say, he pitched well enough to win. And certainly well enough not to lose.
Tanaka made it 41 consecutive starts without losing even one of them in a 5-3 victory over the Milwaukee Brewers . He's 29-0 since the start of 2013 alone.
In terms of impressiveness of streaks, this is right up there.
I know that some folks will tell you pitchers' wins (and pitchers' records) don't mean too much. A few will even tell you pitchers' wins should be abolished. I'll agree that wins aren't the most telling of stat for a pitcher, but in this case, it helps to tell quite a story indeed. And you can be quite sure it isn't a story of luck (though he had to have had some good fortune to get this far).
Tanaka was an absurd 24-0 last year with Rakuten as a 24-year-old, which is pretty good symmetry. Now after beating the best team in the NL so far in Milwaukee, he is 5-0, which puts him on pace for -- you guessed it -- 25-0.
There's almost no chance he gets there, of course, as MLB hitters are quite a bit better than those in Japan. But Tanaka's record of not losing since Aug. 19, 2012, is already impressive enough as it is.
Tanaka gets the nod as the lead Bull in a strong week, especially among pitchers. The second Bull is Chicago Cubs ace Jeff Samardzija , who is just the opposite as he could become the poster boy for the "Kill the Win" crowd.
Samardzija has actually pitched even better so far this season than Tanaka by most measures, as he has a 1.45 ERA for the year, a full run lower than Tanaka's 2.57, and yet he doesn't have a win. Samardzija, in fact, is 0-3, even after a week with two more starts with no earned runs allowed.
Samardzija's record after eight starts is obviously no reflection on him, and while it surely provides fodder for those who want to eliminate pitcher wins (and records), it still tells an interesting story -- in this case, it's a story of non-support (and while it has to be painful for Samardzija, it's also a story with a much smaller sample size than Tanaka's steak).
Nobody should take Samardzija's poor early record as evidence that he hasn't pitched well, nor would they. It tells the story of his team, not him. But it's still a tale worth telling.
While two more stars round out this week's Bull Market, a great player (and very likely the best player in the game) leads the Bears. Here are all the Bulls and Bears ...
1. Masahiro Tanaka, SP, New York Yankees : GM Brian Cashman surprised folks when  he suggested after paying $175 million for Tanaka ($155 million to Tanaka, $20 million to Rakuten) that he was looking for Tanaka to be a No. 3 pitcher. The feeling is he must have been trying to control runaway expectations. But no, Cashman said by phone. "We felt like he'd be a solid No. 3," Cashman repeated Monday. "When I said that, it was true. We projected he coujld be as high as a No. 2, but he'd be safe as a No. 3."
Cashman also suggested free-agent money isn;t always a good barometer for expectations, which is true. Anyway now, there is little doubt as to how Tanaka is pitching. "He's pitched like a No. 1, he's been tremendous," Cashman said by phone. "I would have expected a transition to some degree. You always expect a transition period coming to New York, even if it's just coming from another city (in MLB). Here, he's coming from Japan, where they have a different pitching schedule and different travel."
While the Yankees started Tanaka in the No. 4 slot, of course they soon understood they might have something special here. Tanaka's stuff and repertoire have been impressive (58 strikeouts, only seven walks, 2.57 ERA), and his mound poise and presence have been just as advertised. "He can throw any pitch in any count, and it's very tough to pick up the split," said a competing GM, leaving.
Yankees people really are amazed at how seamlessly he has acclimated himself, how quickly he has learned and how easily he has made adjustments. They note it doesn't hurt he has the aid of pitching coach Larry Rothschild, veteran catcher Brian McCann and veteran pitcher Hiroki Kuroda . But they also note that Tanaka deserves the bulk of the credit. Of course, we can't forget he was also perfect last year, before he had the help of a strong Yankees lineup and staff.
One side note: It's early, but in a potential 2014 quirk, Tanaka could win the Cy Young Award without winning Rookie of the Year, just as co-Rookie of the Year favorite Jose Abreu of the Chicago White Sox could win MVP without winning the rookie award. If that happens, that would be a rare unlucky loss for the great Tanaka.
2. Jeff Samardzija, SP, Cubs: Maybe there's some symbolism that Samardzija technically doesn't get the "win" here, either, but he's certainly deserving of a break here or there -- or maybe about 10 lucky wins in a row. He became the first pitcher in "modern" baseball (since 1900) to allow no more than three runs his first eight starts without winning even one game. For the week, in 15 innings he allowed five hits, one run (unearned), walked three and struck out 14. For the year, he is second in all of baseball in ERA to Cincinnati's Johnny Cueto , and also second to Cueto in pitching WAR (2.5).
3T. Buster Posey , C, San Francisco Giants : Posey followed a rare rough patch by going 14 for 29 (.483) over eight games with eight walks to give him a crazy .595 on-base percentage in that period. Posey, my preseason NL MVP pick, is now at an even .300 for the year as the Giants are tied with the Brewers for best record in the NL.
3T. Yu Darvish , SP, Texas Rangers : David Ortiz had the rare accomplishment of breaking up a no-hitter twice, but even pitching a two-hitter against the Boston Red Sox would have gotten Darvish this tie. He had 21 strikeouts and a 0.73 WHIP for the week, too.
Honorable Mention: Giancarlo Stanton , OF, Miami Marlins ; Max Scherzer , SP, Detroit Tigers ; Seth Smith , OF, San Diego Padres ; Carl Crawford , OF, Los Angeles Dodgers ; Corey Dickerson , OF, Colorado Rockies ; David DeJesus , OF, Tampa Bay Rays ; Matt Kemp , OF, Dodgers; Paul Konerko , 1B, White Sox; Troy Tulowitzki , SS, Rockies; Ike Davis , 1B, Pittsburgh Pirates ; Elvis Andrus , SS, Rangers; Colby Rasmus , OF, Toronto Blue Jays ; Paul Goldschmdit, 1B, Arizona Diamondbacks ; Victor Martinez , DH, Tigers; Steve Pearce , DH, Baltimore Orioles ; Brandon Crawford , SS, Giants; Edwin Encarnacion , 1B, Blue Jays; Clayton Kershaw , SP, Dodgers; Matt Harrison , SP, Rangers; Sean Doolittle , RP, Oakland Athletics ; Tom Koehler , SP, Marlins; Jarred Cosart , SP, Houston Astros ; Jake Diekman, RP, Philadelphia Phillies ; Jonathan Papelbon , RP, Phillies; Santiago Casilla , RP, Giants; Madison Bumgarner , SP, Giants; Erik Bedard , SP, Rays; Adam Wainwright , SP, St. Louis Cardinals ; Julio Teheran , SP, Atlanta Braves ; Tyson Ross , SP, Padres; Phil Hughes , SP, Minnesota Twins ; Corey Kluber , SP, Cleveland Indians ; Jordan Lyles , SP, Rockies; Dustin Ackley , OF, Seattle Mariners .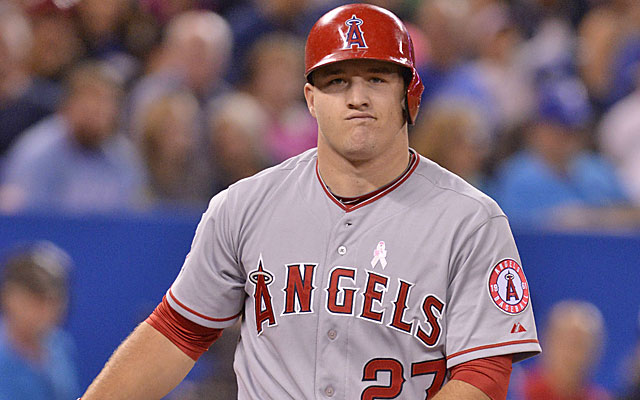 1. Mike Trout , OF, Los Angeles Angels : Before anyone writes or tweets to complain, including Trout is in no way done to serve as some sort of mild evidence that he might not be the best player in baseball. This simply comes under the heading, "Even the best have slumps." Trout is 4 for 34 (.118) with 12 strikeouts in May. Don't expect this to last.
2. Brad Miller , SS, Mariners: Nearly everyone's spring pick as one of baseball's real up-and-comers (including here) is off to a painfully slow start. He is 2 for 27 since May 3, dropping his average to .165. He has talent but hasn't shown it yet.
3. Martin Perez , SP, Rangers: Folks had to figure he couldn't keep up his superb early pace, but few saw this sort of week coming: 16 hits and seven walks in 8 2/3 innings, with an 11.42 ERA.
Dishonorable Mention: Emilio Bonifacio , INF/OF, Cubs; Trevor Plouffe , 3B, Twins; Melvin Upton , OF, Braves; Mike Moustakas , 3B, Kansas City Royals ; Garrett Jones , 1B, Marlins; Adrian Gonzalez , 1B, Dodgers; Edinson Volquez , SP, Pirates; Clay Buchholz , SP, Red Sox; Colby Lewis , SP, Rangers; Alexi Ogando , RP, Rangers; Josh Fields , RP, Astros; Pedro Strop , RP, Cubs
Maxwell joins a growing movement across sports

The Yankees punched their ticket to the playoffs with a win over the Blue Jays on Saturday

Sabathia's stance seems to be an increasingly popular one among athletes
Plus the A's and Brewers have hope, Giancarlo goes deep again, and much more

Matt Chapman and Matt Olson give the A's hope

Despite an awful month, the Dodgers are again NL West champions