Stock Watch: Scherzer perfect, Alvarez powerful, Hanley aids Puig
Max Scherzer's start, by record anyway, is the best in baseball since Roger Clemens' 16 years ago. That puts him atop Stock Watch, with apologies to usual stalwarts Miguel Cabrera and Chris Davis.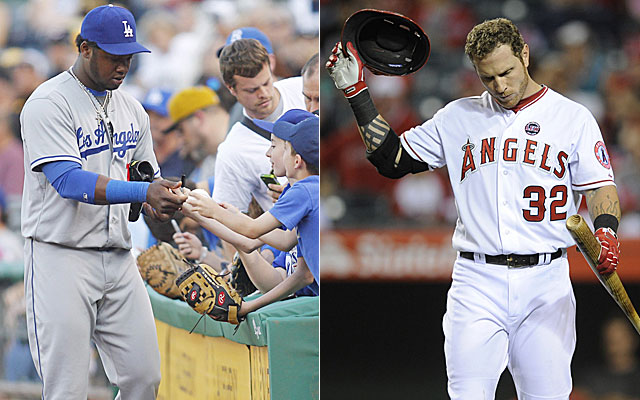 Detroit Tigers  right-hander Max Scherzer sits atop Stock Watch this week. And it's not only because teammate Miguel Cabrera and Chris Davis , Cabrera's main competitor for the American League MVP award, can't win every week -- though admittedly, that doesn't hurt.
Cabrera and Davis posted their usual brilliant weeks and certainly would be contenders if not for the well-known Stock Watch rule preventing the same players from dominating Stock Watch week after week. But Scherzer's week wasn't too bad, either, as he became the first pitcher in the glorious history of the Tigers to start a season 11-0, and the first pitcher for any team in the bigs to start 11-0 since Roger Clemens in 1997 (and we now suspect that Clemens had a little bit of help back then).
Here are all the Bulls and Bears for this week.
1. Max Scherzer, Tigers, SP: Yes, I know, the metrics set will tell you wins aren't the most important pitching statistic going. But until championships are decided by something other than wins, they'll still count here. And Max Scherzer has the best winning percentage in baseball since the start of the 2012 season -- he's 27-7 in that span.
Better, he's 19-2 since the 2012 All-Star break, and naturally no one is better than that. And that's put him in position to perhaps start this year's All-Star Game.
Is Scherzer the best pitcher in the American League? Maybe not. But he's been about the most consistent this year, as evidenced by beginning the season with a streak of 15 starts with at least six strikeouts, tying Pedro Martinez (in his special year of 1999) for the longest such strikeout streak to start a season.
At the least, Scherzer appears to have moved into the most elite group atop the mound heap. The ascension appears to have occurred at about the career 700-inning mark, as it often does. Since the start of 2012, he has 353 strikeouts against only 84 walks, a sure sign of dominance.
At 28 and now in his prime, Scherzer's timing couldn't be better for the Detroit Tigers , with the clear AL favorite not getting its best year to this point from ace Justin Verlander and surely worried about Anibal Sanchez recent shoulder ailment. The timing isn't too bad for Scherzer, either, as he's scheduled to become a free agent after next season.
2. Pedro Alvarez, Pirates, 3B: Pedro Alvarez is on a four-game homer streak, very impressive but probably no more surprising than his nine-game hitting streak, if you know his history. Alvarez has 19 home runs since April 17, tied for most in the NL over that period. (Overall, his 19 total are two behind Colorado's Carlos Gonzalez , the league leader.) But even better, he's now making consistent contact too.
Alvarez is hitting .316 in June to bring him up to .237 for the season, as he's become a legit All-Star candidate and key reason the shocking Pittsburgh Pirates have MLB's second-best record. People close to him say the keys have been using his hands more (and muscles less) while keeping his swing short.
It's been an up-and-down and at times frustrating start to his career for Alvarez, hampered by high strikeout totals and the disappointment of his bosses, who expected huge things after picking him No. 2 overall in the 2008 draft. But sometimes it takes a few years, and it appears to finally be happening for Alvarez.
3. Hanley Ramirez, Dodgers, SS: Hanley Ramirez heroics since his return from the disabled list have gone almost overlooked because sensational rookie Yasiel Puig is garnering all the attention, but Ramirez is quietly on fire. Half or more of the Los Angeles Dodgers stars have been out at different times, but the other day manager Don Mattingly spoke excitedly about what's emerging with Puig, Hanley and Adrian Gonzalez teaming up, and even more excitedly about the possibilities once Andre Ethier gets going and Matt Kemp gets back.
Well, a couple days later, Ramirez and Gonzalez homered off Padres closer Huston Street to give the Dodgers a 3-1 win. Overall, Ramirez is 11 for 22 and has three homers in his past six games.
1. Josh Hamilton, Angels, OF: He's been out of the Los Angeles Angels starting lineup a couple days because of a wrist injury, and relegated to being a defensive replacement. But the way he's going, it doesn't seem like such a devastating loss.
Josh Hamilton was the best player in the AL the first few months of 2012, but he's been the biggest bust so far this year. The $125 million contract looks like a money pit.
Hamilton's last hit came Monday. Overall, he has a .640 OPS, which is exactly three points higher than slumping (.115 in June) Yankees OF Vernon Wells, the outfielder the Angels were so anxious to be rid of.
2. Tom Wilhelmsen, Mariners, RP: Tom Wilhelmsen blew three out of seven save opportunities and had a 14.63 ERA in June. Things are so rough for him he got a blown save even after the Seattle Mariners demoted him to eighth-inning work.
3. Jon Lester, Red Sox, SP: Jon Lester had some rough patches before (see all of 2012), but June has been one of his worst. He was 1-2 with an 8.44 ERA in the month, exacerbated by running mate Clay Buchholz being on the disabled list.
It's a mystery to Boston Red Sox people what's going on with their ace. "If we did [know], we'd fix it," said one club official.
Maxwell joins a growing movement across sports

The Yankees punched their ticket to the playoffs with a win over the Blue Jays on Saturday

Sabathia's stance seems to be an increasingly popular one among athletes
Plus the A's and Brewers have hope, Giancarlo goes deep again, and much more

Matt Chapman and Matt Olson give the A's hope

Despite an awful month, the Dodgers are again NL West champions