Streaking Giants reaching crossroads with Pablo Sandoval as infielder nears return
As Pablo Sandoval nears his return from a hand injury, the Giants need him to take his conditioning more seriously -- and knock in a few runs while he's at it. ...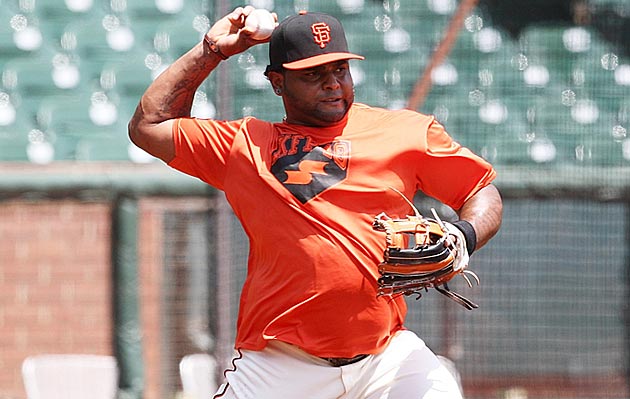 The Giants want Pablo Sandoval to play third base, and they want to be sure he'll be in shape to play it. (Getty Images)
SAN DIEGO -- If you could boil down the early part of the
Giants
' season to one sentence, it would be this: Don't feed the Panda!
But this is major-league baseball. Thing are complicated. Messy. And it is impossible to reduce any club's season to just one sentence.
So as Bruce Bochy's San Francisco Giants climb the NL West standings and look to make up for lost time in 2012, the injury and general concerns over the weight of Pablo "Kung Fu Panda" Sandoval suddenly are being overshadowed by eight wins in their past 10 games and 14 of 20 following Wednesday's 6-5 triumph over the Padres.
And do the Giants ever welcome that.
More on Giants-Padres
Related links
"Everybody's playing with confidence right now," catcher
Buster Posey
says. "Our pitching's been there. We're starting to get some timely hitting.
Gregor Blanco
at the top of the lineup,
Angel Pagan
,
Melky Cabrera
. ... "
Not all are the names we expected in San Francisco this year.
But they're the names that are fueling what looks like the beginning of SOMETHING as the Giants take a weed whacker to what once was the Dodgers' 7½-game lead in the NL West. They chopped that deficit to three games earlier this week.
"We have a lot of new faces," Bochy says. "There's a different dimension. We have some speed that we didn't have before. Not a lot of power."
This is where the current good vibes wind up headed for an eventual date with the Panda.
Good as things are going now for the Giants, what with the usual strong starting pitching (the 3.35 Giants' rotation ERA ranks third in the NL), Cabrera's sustained production (.366, 28 RBI) and
Ryan Theriot
's recent re-emergence, San Francisco is still doing things the difficult way.
The Giants had gone eight consecutive games without a home run before Gregor Blanco unloaded against Clayton Richard in the fifth inning Wednesday, and they now have just three in their past 14.
Sandoval walloped 23 homers last year and 25 in 2009.
When he suffered a broken hamate bone on May 3, Sandoval was hitting .316 with five homers and 15 RBI in 24 games. But he reported to spring training heavier than a year ago, and the Giants continue to be displeased with his conditioning. Bochy spoke to him about it before he left on an injury-rehabilitation assignment to Triple-A Fresno this week.
The Giants are going to remain in this thing all summer.
But a productive and, ahem, lithe Sandoval could help make their life so much easier.
He's expected to rejoin their lineup Tuesday at home against the Astros.
Already, one key aspect is in place for the Giants. Remember a year ago, after Posey suffered that horrific ankle injury, when everybody talked about how much better things would be in 2012 with a healthy Posey back in the lineup?
Well, here he is, locked into the cleanup slot, hitting .293 with six home runs and 31 RBI. He's played in 51 of the Giants' 57 games.
"I think everything is going great," Posey says. "I've probably played in as much or more than the number of games as I planned on.
"I'm really pleased."
Just as general manager Brian Sabean drew it up when he shipped lefty Jonathan Sanchez to Kansas City last winter, Cabrera's bat has been terrific.
"Huge," Bochy says. "He's done everything. Offensively. Defensively."
So much so that Bochy invokes a hallowed name from his managerial past: Hall of Famer Tony Gwynn. For the past month, Bochy said, Cabrera has reminded him some of Gwynn.
"He's using the whole field, knocking in runs, running the bases," Bochy says.
Meanwhile, since returning from the disabled list May 24, Theriot is hitting .366 over 11 games ... as opposed to .179 in his first 20 games. With Freddy Sanchez apparently taking early retirement, Theriot's emergence as a difference-maker has been vital.
"It's not just the hits, but the quality of the at-bats," Bochy says. "He's drawing walks, his defense has been really good.
"He brings life to the clubhouse. He has fun. He brings energy."
So, too, does winning, and the Giants have been doing their share of it over the past two weeks.
Since May 5, they've produced the third-highest winning percentage (.645) in the majors behind the White Sox (.655) and Marlins (.655).
Coincidentally -- or not? -- that is two days after Sandoval was disabled (and another huge potential complication is that he's now the target of an investigation into his alleged sexual assault).
Journeyman
Joaquin Arias
has done a fine job filling in for him, particularly with the glove. But he's Joaquin Arias.
Life over the next four months will be a heck of a lot more productive for the Giants if they can feed off of the Panda, instead of the other way around.
Granderson heads north of the border for his age-37 season

What did the Pirates get in return for their franchise player?

Rivero could remain in Pittsburgh for some time to come
The White Sox, Angels, Athletics, Orioles and Marlins are the holdouts after Blue Jays fol...

The Pirates have several attractive trade chips if they decide to go into a full rebuild

Gerrit Cole was traded over the weekend and now McCutchen is on the move