Struggling Hunter Pence helps Giants claw to victory in Game 2 of World Series
Hunter Pence entered Game 2 of the World Series greatly struggling in the postseason, but on Thursday night he started the only Giants' rally, scored the first run and ended up with the only Giants RBI.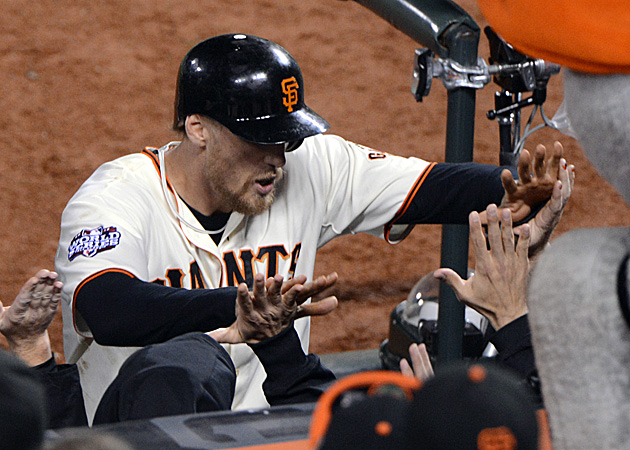 Pence comes up big for the Giants offense Thursday. (US Presswire)
SAN FRANCISCO -- To say that Hunter Pence had struggled at the plate this postseason would be a bit obvious. He came into Game 2 of the World Series with the ugly triple-slash line of .173/.189/.250.
Yes, more than 81 percent of the time Pence stepped to the plate in the playoffs, the result was a Giants out. He had also struck out 14 times in 13 games and hit into two double plays.
And yet -- unlike Yankees manager Joe Girardi with a few of his struggling players during the ALCS -- Giants manager Bruce Bochy stuck with Pence and refused to move him from the five-hole in the batting order.
More Tigers-Giants coverage
More World Series Coverage
Pence rewarded Bochy by igniting the key seventh-inning rally by the Giants, scoring the first run of the game and then later driving in the second in a 2-0 Giants victory.
"I didn't think about dropping him in the order," Bochy said. "I did the one time in St. Louis, but when you're in postseason, you pretty much want to go with the guys that got you there and the order that brought you to the dance, so to speak."
"This guy is a good hitter," Bochy continued. "I like his presence in the lineup, where he's at, and I think it's important we stay behind our guys, and they need to know it."
Though Pence's offensive contributions may have been a bit under-the-radar on this night, do not discount the significance of each of his last two plate appearances.
First, there was Pence's single to lead off the bottom of the seventh. Tigers starting pitcher Doug Fister had previously retired 13 of the past 14 hitters. It was a 0-0 game. The Tigers bullpen is still shaky. And Pence's single chased Fister from the game, clearing the way for Brandon Belt to draw a pivotal walk before Gregor Blanco's game-changing bunt.
"I definitely had some adjustments to make after yesterday's game and I just got in there and tried to work it out," Pence said after the game. "I just found a way to get my swing a little more through the ball, a little shorter, a little freer. Just some slight adjustments and I felt better today."
Next, Pence fell down 0-2 with the bases loaded and one out in the eighth. He then fought off three pitches for foul balls before lifting a sacrifice fly to right field, making a 1-0 lead a two-run lead. In baseball parlance, we call that insurance.
"He battled and barely got a piece of one pitch there, and he finally found a way to get the run in," Bochy would say afterward. "Pence, he's full throttle, gives you all he has out there, and that's all you can ask. You know when he's up there he's going to fight as hard as he can to do something."
Pence's sentiment backs up that of his loyal manager.
"I just got on the plate and tried to battle as hard as I could and fortunately I was able to get it out there," he said.
It's true Pence didn't stand out as the star of Game 2, but his offensive contributions cannot be ignored. He came through twice when the Giants needed him in key spots and was a major part of the Giants pushing to a 2-0 lead in the World Series. For that, he deserves plenty of credit.
For more baseball news, rumors and analysis, follow @EyeOnBaseball on Twitter, subscribe to the RSS feed and "like" us on Facebook.
This would undoubtedly be the worst trade in Miami Marlins history

The Pirates recently shipped Gerrit Cole and Andrew McCutchen to Houston and San Francisco,...

Surely, Martinez and his agent are holding out for more
The reliever had a very good 2017 season with the NL Central champs

We don't need to discuss Chipper's Hall of Fame case, so let's have fun instead

Dioner Navarro still hopes to return someday