Sunny day? Sonny Gray, Stephen Vogt ... and A's pull even
Justin Verlander was dominating in Game 2. But a 23-year-old rookie named Sonny Gray stared him down and didn't blink. And now the A's and Tigers are even at one win each in what is shaping up to be a tremendous Division Series. ...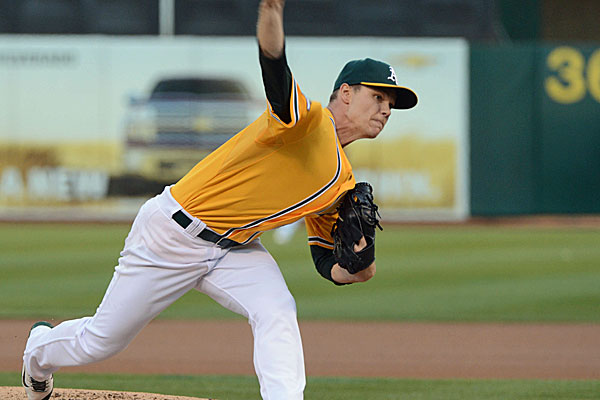 OAKLAND – Runs always were going to be scarce in this series. Statistically, the Tigers had the best rotation in the American League this summer, and Oakland's was next.
But Saturday night's Instant Classic Game 2 was ridiculous. Or filthy. Or sublime.
Pick your descriptor.
Were you watching?
Did you see Justin Verlander pitching as if smoke had been coming out of his nostrils since the very second he learned he wasn't getting the Game 1 assignment?
Did you see chilaxing rookie Sonny Gray's nerves of steel? Only way the kid could have been more cool was with a pitcher of lemonade and a flip flops on the mound.
Oh. My. Goodness.
In the end, the unforgettable 1-0 squeaker was pure Oakland, forged by two rookies, one young enough to tell college stories of watching Verlander pitch in October, the other old enough to have been drafted by the Tampa Bay Devil Rays. And the Rays dropped the "Devil" part back in November, 2007.
Neither started the season with the Athletics.
Gray, 23, whose biggest outing before this came in a College World Series start for Vanderbilt, was in Sacramento, pitching for the River Cats.
"Unbelievable," A's outfielder Josh Reddick raved. "He battled one of the best pitchers in baseball pitch for pitch, strikeout for strikeout."
Vogt, 28, squirted a bases-loaded single over shortstop against reliever Rick Porcello to score the winning run in the bottom of the ninth. This after dueling Verlander in an epic 10-pitch at-bat to end the seventh with two out, the game scoreless and runners on second and third – after fouling off seven pitches.
He was purchased from Tampa Bay in April for $125,000 when a couple of catching injuries forced the Athletics to go shopping for depth.
"For us, it's our free agency," Oakland president Billy Beane quipped. "It's when I get to be Steinbrenner."
As always, this is a team armed with little more than a dream and a treasure map. Clearly, the best way for the A's to win this series is to work their way into the Tigers' bullpen. And because they did that Saturday, they now head for Game 3 in Detroit with the series even.
Gray didn't even join the Athletics rotation until Aug. 10. Oakland's first-round pick in 2011, Gray made 10 starts for the A's this season and stepped into October as a complete mystery to the Tigers. They had never before faced him.
It turned out to be a brilliant decision by Oakland, nestling Gray into the Game 2 start at home, where they felt he would be more comfortable as 48,292 roared their approval in the background.
"The poise and composure Sonny showed tonight," Athletics reliever Sean Doolittle said. "That was unbelievable.
"He's got the stuff. In the short time he's been up here, he's got really, really good stuff."
The kid went nose to nose with Verlander, matching him zero for zero and building the tension in the Coliseum the way a thrilling movie keeps you on the edge of your seat. Before Saturday, the biggest game in Gray's life was that Vanderbilt College World Series start. Verlander? He pitched last year in the real World Series.
"Watching those two guys to toe to toe, and then thinking, 'Oh, we might have to get ready here. …'" said Doolittle of an Athletics bullpen mesmerized, like everyone else, by what was playing out in front of them. "It was fun to watch."
By the fifth inning, when the Tigers put runners on the corners with one out, it was already clear that one run might win this thing. And then Gray fanned Austin Jackson, and Vogt fired to second to nail a running Jose Iglesias to complete a strike 'em out, throw 'em out double play.
Gray would point to that later as the biggest play of the night.
Meanwhile, working with as good a curveball as he's had all year, Verlander retired the first 11 Athletics in a row and allowed only one A to reach third base through his seven innings of work. That was in the seventh, when Moss reached third following a leadoff four-pitch walk and Reddick's hard single to right.
Up stepped Vogt, and what followed was an epic 10-pitch battle with the game still scoreless, two out and runners on second and third. Vogt fouled off seven pitches before Verlander finally blew a 98 m.p.h. fastball past him to end the inning.
Vogt would call that at-bat "good" for him, because it allowed him to see several pitches and fine-tune his timing. Which, when he came to the plate in the ninth, was essential.
This is a guy who had collected nearly 2,000 minor league at-bats over six seasons leading into 2013 … and a guy who was 0 for 25 in the majors with Tampa Bay before being designated for assignment in April.
Despondent and thinking his career may be finished, Vogt was walking around a shopping mall in Durham, N.C., with wife Alyssa and baby daughter Payton, literally just trying to clear his mind and piece together his family's future, when he got the call from the Athletics in April.
Who knew $125,000 could be so well spent?
"I don't really care how much money I was traded for," he said. "I was just happy to have a job.
"It was a long journey to the big leagues. At the end of the day, I don't care if I was traded for peanuts."
He went hitless in his first seven at-bats with the A's this June, stretching his career-opening major-league oh-fer streak to 0 for 32 before finally knocking his first big league hit against the Cardinals' Joe Kelly on June 28, a home run.
Until then, his big-league highlight – seriously -- was winning the Rays' Spring Training Talent Show in both 2009 and 2010, then hosting it in 2011. Well-known around the Rays organization for his spot-on impressions, maybe his best ever came in Game 2: October hero.
Both he and Gray became full-blown, overnight cult heroes by the end of this one. Gray went eight scoreless innings – four hits allowed, nine strikeouts – and Vogt finished with the traditional shaving cream pie in his face during the jubilant celebration, courtesy of Reddick.
Now, after Scherzer and Verlander, all the Athletics must do is travel to Detroit for Game 3 and beat the AL ERA leader in 2013, Anibal Sanchez. Who, by the way, also ranked sixth in the league with 202 strikeouts.
Yes, runs always were going to be scarce in this series. But who could have ever guessed that part of that equation would have been a pitcher and a catcher who started the season as the battery in Sacramento?
"And actually, the Fresno Grizzlies have a similar lineup [to the Tigers]," Vogt cracked. "A lot of aggressive hitters, and things like that."
Man, is this getting fun.
Here are the bullet-points of what went down Tuesday regarding MLB and the Braves' punishm...

The owners need to ratify on the new system in place, but the takeaway here is Ohtani is coming...

A preliminary report National Transportation Safety Board has shined some light on details...
John Coppolella was placed on the permanently ineligible list by MLB on Tuesday

Among other sanctions, Atlanta lost the player who was deemed the No. 1 international signing...

Among other penalties, No. 1 international prospect Kevin Maitan is now a free agent