Suppan, Cardinals hero from 2004 and '06, announces his retirement
Jeff Suppan, the NLCS MVP in 2006 in St. Louis' seven-game victory against the Mets, announced his retirement on Thursday.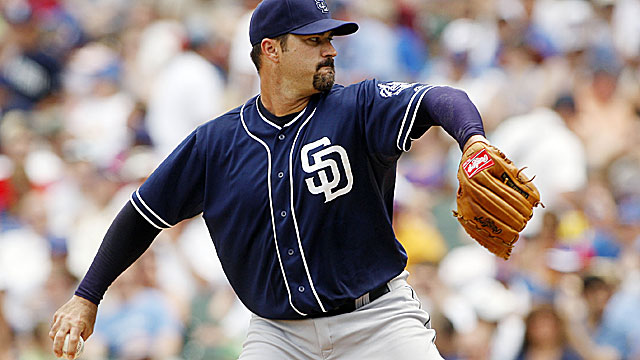 Right-hander Jeff Suppan, a remarkably consistent pitcher throughout a career prime marked by strings of double-digit victory seasons who is best remembered for a few very strong October performances for the Cardinals in their playoffs runs in 2004 and 2006, announced his retirement on Thursday.
Suppan, a product of Los Angeles' San Fernando Valley who last pitched in 2012 for the Padres but whose best years came with Kansas City, Pittsburgh and especially St. Louis throughout the previous decade, purposefully selected 2 p.m. Pacific time on Jan. 2 to make the announcement. He wanted to honor his late beloved mother Kathleen, who died at that time of day exactly six years ago to the day.
Suppan, who coincidentally turns 39 today, was a sinkerballing finesse hurler who pitched at 88-91 mph in his prime, but still managed to put together nine double-digit win campaigns in 10 seasons while pitching for the Royals, Pirates, Cardinals and Brewers. Overall, he pitched for seven teams over a big-league career that approached two decades, going 140-146 with a 4.70 ERA.
"After seventeen Major League seasons, I've squeezed everything out of my ability," Suppan said. "I am both honored and blessed to have played the game with some of the greatest teammates and coaches. Baseball will always hold a special place in my heart and I am looking forward to the next chapter of my life."
Suppan, originally a second-round pick in 1993 by the Red Sox, could not have been much more consistent in his prime years from 1999-2008, winning in double digits every year save for one in that 10-season stretch; he fell short in only 2002, when he went 9-16 for the Royals.
By far his best years came in St. Louis from 2004 to '06, when he twice won 16 games, went 44-26 in the regular season, won three additional postseason games and pitched seven innings of one-run ball in the Cardinals' 3-1 Game 7 NLCS-clinching win over the Mets; the man they called "Soup" was awarded the '06 NLCS MVP for his 0.60 ERA over 15 innings. The Cardinals became the surprise World Series winner a week later when they defeated the Detroit Tigers, four games to one.
Suppan's trio of stellar seasons in St. Louis, as well as his big October performances, led to him earning a $42 million, four-year deal with the rival Brewers, with GM Doug Melvin hailing the arrival of the "big-game" pitcher. He continued his double-digit streak for two more years in Milwaukee, but after arm and neck issues, he wasn't able to pitch as he had in St. Louis. After his release in the fourth year of the deal, he quickly signed back with St. Louis, where he finished out 2010, going 3-6 with a 3.84 ERA.
Suppan, a product of the vaunted sports program at Crespi High in Encino, Calif., was 2-3 for the Padres in 2012, his last major-league stop.
Suppan and his wife Dana operate a popular restaurant, Soup's Sports Grill (soupssportsgrill.com), on Ventura Boulevard in Woodland Hills, the heart of his home base, the San Fernando Valley.  
Charlie Morton will start either Game 3 or 4

Granderson, Verlander, Beltran and more are looking to reach the top of the MLB world

Houston's top relievers have been shaky this postseason
Our experts have a unanimous World Series pick

Otani's rare ability to hit and pitch will need to be accounted for in realms beyond real...

Kenny White has won 8 of his last 10 MLB Over-Under picks and has a strong play for Game 1