Surgery recommended as Fernandez heads for second opinion
Marlins star Jose Fernandez has a tear in the ulnar collateral ligament of his pitching elbow.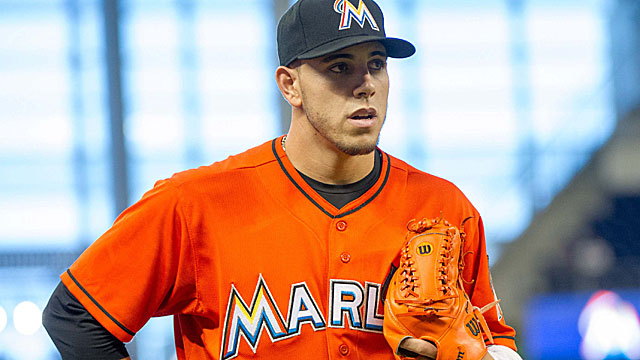 More: Jose on DL | Axisa: Risk in building around arms | Doyel: Tommy John epidemic
Marlins superstar right-hander Jose Fernandez was diagnosed with a tear in the ulnar collateral ligament of his pitching arm and Tommy John surgery was recommended in the initial diagnosis by noted physician Neal ElAttrache, sources connected to the team say.
Fernandez was scheduled to see Marlins team doctor Lee Kaplan on Tuesday to see if he confirms the original diagnosis and recommendation.
It's possible team personnel may be holding out small hope Fernandez can avoid the ligament-replacement  surgery, which would cost the young star the rest of this season and the beginning of the next -- though while nothing has been decided as of yet, surgery has to be seen as likely based on the first finding. A few pitchers have been able to pitch effectively despite a tear, though not many.
The Marlins could announce a decision regarding Fernendez's course of action Tuesday night.
Tommy John surgery has become practically an epidemic among young big-league stars. Thirty-two pitchers already have required the reconstructive surgery in a particularly rough year that's concerning MLB.
While the team cautiously announced Fernandez has a "sprain," word is he has a significant tear in an elbow that is said to be otherwise "pristine," making the likelihood for successful surgery extremely high. A sprain technically can mean a tear, and does in this case -- though it may sound a bit better.
Tommy John surgery has about a 90-percent success rate in the average case, but Fernandez is said to have an elbow that's in otherwise excellent shape, raising the chances for success even further.
Fernandez is believed to have felt the elbow discomfort during his recent start at San Diego, when the Padres roughed him up for six runs (five earned), including two home runs, in five innings in a 10-1 Marlins loss. It was after that outing that he and the team decided to see Dr. ElAttrache of the famous Kerlan-Jobe Clinic in Los Angeles, where the so-called Tommy John surgery was first conceived and tried.
Fernandez, 21, received an MRI on Monday that showed the tear, then flew to Miami for the second opinion.
Fernandez's velocity dropped during that outing in San Diego, from his characteristic 94-96 in the earlier innings to about 90 mph later in the game. The start before, at home against the Dodgers, may have been the onset as he didn't throw quite as usual in that game, either, despite striking out 10 in seven innings.
The Marlins' belief that Fernandez is likely to need surgery was first reported by Juan Rodriguez of the South Florida Sun-Sentinel. It was reported Monday that Marlins officials believed the condition to be "worrisome."
Fernandez is 4-2 with a 2.44 ERA this year after winning the Rookie of the Year award in the National League last year.
The Angels' Ohtani faced Milwaukee in Cactus League action on Saturday

New Mexico broke the school and WAC single-game run record with a 39-0 victory over Mississippi...

It's the first Saturday slate of spring training games, and Ohtani will be taking the mound...
The Tigers are very early in their rebuild and they're counting on Miguel Cabrera to rebound...

The Grapefruit League and Cactus League seasons started on Friday

Data will be collected and then used to determine whether humidors are necessary in 2019