Suspensions handed down for Dodgers-Diamondbacks brawl
Ian Kennedy has been suspended for 10 games, and a litany of others were punished for Tuesday's brawl between the Dodgers and Diamondbacks.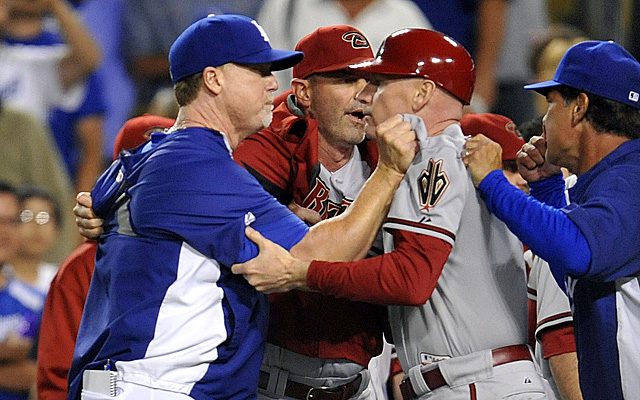 More MLB: Scoreboard | Standings | Probable Pitchers | Sortable Stats | Odds
Major League Baseball announced the discipline for several members of the Dodgers and Diamondbacks in relation to Tuesday night's two benches-clearing brawls. Five players, both managers -- Kirk Gibson and Don Mattingly -- and one coach were suspended and fined. An additional four players were fined.
MLB took its time in rendering judgment, as it was reviewing the video multiple times. The fights occurred after Dodgers pitcher Zack Greinke hit Miguel Montero -- retaliating for Yasiel Puig getting hit in the face -- and then when D-Backs starter hit Greinke in the left shoulder.
And now, we have our ruling from the commissioner's office.
Directly from the MLB press release:
D-Backs pitcher Ian Kennedy has received a 10-game suspension for intentionally throwing a pitch in the head area of Zack Greinke of the Dodgers in the bottom of the seventh inning, after a warning had already been issued to both Clubs earlier in the game;
D-Backs infielder Eric Hinske has received a five-game suspension for leaving the dugout and for his aggressive actions during the incidents;
Pitcher J.P. Howell and infielder/outfielder Skip Schumaker of the Dodgers have each received two-game suspensions for their aggressive actions during the incidents;
Dodgers hitting coach Mark McGwire has received a two-game suspension for his conduct during the incidents;
Dodgers pitcher Ronald Belisario has received a one-game suspension for his aggressive actions during the incidents;
Dodgers manager Don Mattingly has received a one-game suspension for the actions of his club and for his conduct during the incident;
D-Backs manager Kirk Gibson has received a one-game suspension for the intentional actions of Kennedy after a warning had been issued.
Also, all of those players were slapped with an undisclosed fine. The following players were also fined: Zack Grienke, Yasiel Puig, Miguel Montero and Gerardo Parra.
Additionally, the Dodgers have been fined for allowing players on the disabled list to leave the dugout during the brawl -- specifically Josh Beckett and Chris Capuano. Neither team is allowed to have players currently on the disabled list in their dugout for games again until Monday.
Anyone suspended can appeal their suspension and play until that appeal is heard. The Dodgers open a series Friday against the Pirates in PNC Park while the Diamondbacks visit the Padres in Petco Park.
Wright was arrested at his home Friday

The former Tigers teammates were voted into Cooperstown by the 16-person Modern Era Commit...

The Yankees still have room for a good-sized signing even after Saturday's trade with Miam...
St. Louis gets some much needed help for their bullpen

Keep tabs on the top 50 free agents right here

Morrow thrived with the Dodgers last season