Sveum game: Could Cubs manager take fall after only two years?
Cubs sources suggest the potential availability of outside manager candidates could become a factor in whether Dale Sveum returns for a third season.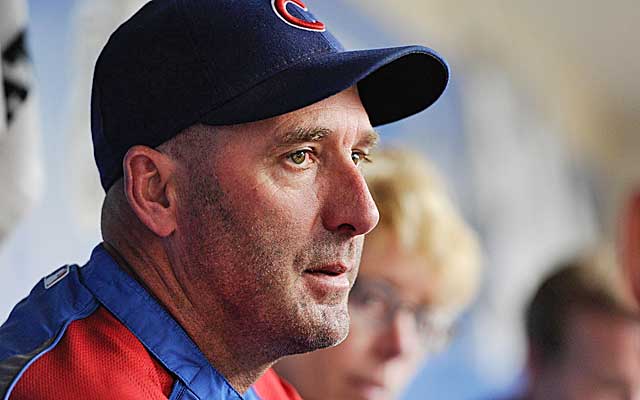 Cubs president Theo Epstein created a stir when he answered a question about manager Dale Sveum's status by saying they're "evaluating" rather than giving the expected response, which was that he's surely coming back for a third season.
Epstein admitted later that he understood he had dropped a virtual verbal bomb, undoubtedly creating some in-house tension while inviting outside speculation, but he explained that he was merely being honest after what he called a "mixed bag" of results at the major-league level. He hasn't said much since, but that is partly because Epstein and/or his underlings are busy interviewing players and staff, according to sources familiar with the situation.
Epstein wouldn't discuss Sveum's status further by phone but his affection for Sveum, his relatively inexperienced hand-picked choice two winters ago whom he calls "a friend," is clear. Executives on other teams have assumed that Sveum would remain safe through the still-ongoing rebuilding phase, but a huge year by the Cubs' monster quartet of positional prospects (Javier Baez, Albert Almora, Jorge Soler and No. 2 overall pick Kris Bryant) may have higher-ups somewhat more optimistic about their timetable. Plus, it's possible one or two from a trio of managerial stars -- former Cub and Peoria product Joe Girardi, Ron Gardenhire and Mike Scioscia -- could still become available, which may change the equation.
It still seems more likely than not that Sveum stays another year, as Epstein has made plentifully clear both publicly and privately that he doesn't blame Sveum but rather the Cubs' overall major-league talent level for their second straight dreadful season. But people familiar with the thinking of Epstein and general manager Jed Hoyer suggested Sveum's return may depend at least to some degree on potential candidates who could emerge from outside. Those people didn't specify whether Epstein had any special interest in Girardi, Gardenhire or Scioscia, and Epstein called a question regarding potential interest in Girardi from longtime Chicago Tribune baseball writer Paul Sullivan "borderline disrespectful."
Regardless, Sveum is sweating it out, at least to some degree, at a time the Cubs realistically remain a non-contender until at least 2015, albeit a non-contender with a growing abundance of prospects.While the organization scored huge this year in terms of player procurement and development, with the club acquiring talented arms such as Pedro Strop, Jake Arrieta, C.J. Edwards, Neil Ramirez and Corey Black (sources suggest that they will continue to target pitching, with the possibility of trading from their plethora of big-time positional prospect for more pitching being considered), the mostly disappointing years of talented young major leaguers Anthony Rizzo and especially Starlin Castro are undoubtedly disconcerting to the front office.
While Epstein has praised Sveum to others for many of his attributes, including his steadiness, his authenticity, an "ego-less" personality, and perhaps most important, his attention to detail and game preparation, the club president is said to wonder why "too many guys stalled" at the big-league level. There is a belief that Rizzo would do better batting fifth or sixth rather than third once the big-time hitters arrive (one N.L. scout said Bryant, in particular, will become a slugging superstar capable of hitting" 40 to 50" home runs), but Castro's huge step back has to be somewhat alarming.
Meanwhile, Epstein doesn't come close to blaming Sveum for the team's 65-93 overall record (he and Hoyer weren't expecting anything close to a contender this year), their club-record 50 home defeats or even their horrible record in close games, especially one-run contests (20-33), chalking that last one up to an "underperforming bullpen," not Sveum's stratagems.  Rather, Epstein has told folks he's impressed the club had a positive run differential heading into trading season, when the Cubs unloaded three of their better players – Matt Garza, Scott Feldman and Alfonso Soriano – accelerating their dive.
The Cubs' recent spate of dugout dustups surely can't be viewed positively but people who have spoken to Epstein suggest, as much anything he believes they are proof of how fortunate they were to have had relative placidity through 180-plus defeats within the first two years of the new regime. Star pitcher Jeff Samardzija was caught on camera complaining to coach David Bell after a ball beat their shift, disappointing free-agent signee Edwin Jackson disputed an early hook by Sveum and closer Kevin Gregg blasted the organization after Sveum told him youngster Pedro Strop would do some closing (Gregg apparently heard that Strop was entirely taking over closing duties) before retracting his blasts, and earlier this season, third baseman Ian Stewart was agreed to be let go after he tweeted that Sveum didn't believe in him.
Most of the recent blowups could be chalked up to general crankiness in yet another long losing season, with Epstein said to understand that a second selloff by the front office likely inspired the unease.  If any of the scrapes was at all disconcerting, it might have been the Gregg imbroglio, which was chalked up to a "miscommunication," which is Sveum's responsibility.
One of the prerequisites to manage at the big-league level for Cubs bosses is the ability to deliver difficult news, and at least in this instance, Sveum apparently didn't do it effectively. Ultimately, the two most important traits for a manager in the eyes of Cubs bosses are 1) knowing how to teach, and 2) knowing how to win. The "teaching" part of the equation is likely the focus of the inquest, as the lack of winning was expected.
Still, even an in-depth evaluation two years into the rebuild is a surprise. "I always figured they'd stick with Sveum until they were ready to win,'' one competing GM said.
 Now that doesn't seem quite so certain anymore.
The Astros scored seven runs in Game 6 after scoring nine runs total in Games 1-5

The Astros are still alive, and Justin Verlander is the reason why

With a six-run lead in the ninth, the Astros used closer Ken Giles for 23 pitches
On Saturday night in Houston, it'll be CC Sabathia against Morton

The ALCS will go the distance after all with the Astros offense coming back to life in Game...

Verlander's stuff was insane during Game 6 of the ALCS