Swept away: Mets go from sublime to subpar
The Mets have a hard time knowing where they stand after following a heartening four-game sweep of the powerful crosstown rival Yankees by being swept themselves, by the lowly, last-place Marlins.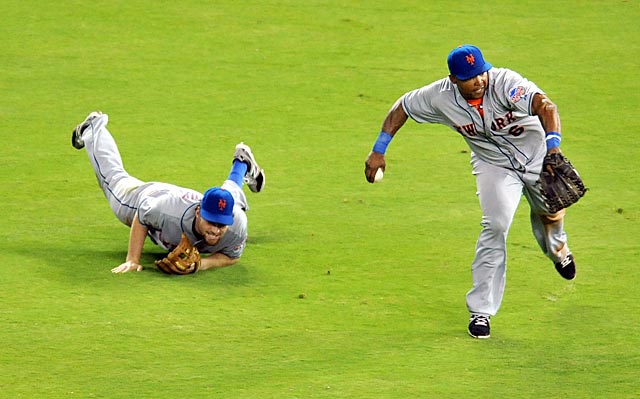 MIAMI -- The Mets came in here with some renewed hope following a four-game, home-and-home sweep of their more-celebrated city rival Yankees, the team in their town they can't seem to surpass. Then they met the Fish, baseball's worst team, and they floundered.
The spirit-raising sweep of baseball's most storied franchise and their nearest competitor (in terms of miles, anyway; eight) seems like eons ago after the Marlins fashioned their own very first series sweep of the season, beating the Mets on a day when they had their wunderkind Matt Harvey pitching and the Marlins offered a lineup that had 10 home runs going into the game. That's 10 total dingers for the starting nine -- or one fewer than new Met and ex-Marlin John Buck, who was traded away because he supposedly can't hit (and made too much money, of course).
"This one was tough to take,'' Mets manager Terry Collins said.
The Mets thus finished perhaps the most surprising week in their 51-plus-year history with an 11-6 defeat. The phenomenal Harvey was barely ordinary, and the punchless Marlins, who are baseball's worst in just about every offensive category, registered 16 hits, topped things off with a three-run home run by veteran backup Greg Dobbs that proved fitting punctuation on a most depressing Sunday for New York.
The biggest surprise had to be Harvey, who had been consistent money for two glorious months but allowed three first-inning runs, then struggled through 100 pitches to make it through five innings, clinging to a 6-4 lead the iffy bullpen would soon relinquish. Harvey was throwing hard -- he reached 97 mph -- but couldn't stay away from the middle of the plate.
One of the greatest goals for Mets people at the moment is for Harvey to start the All-Star Game at Citi Field, and while he seemed to be a slim leader entering the day, it didn't help that he allowed 10 hits to a this lineup as his ERA peeked above 2.00 for the first time, at 2.17. Mets people, disappointed that R.A. Dickey didn't get last year's All-Star start, are sure to stump for the fabulous Harvey. (Pitching coach Dan Warthen said good buddy Bruce Bochy is expecting his call.)  But their case doesn't seem quite as clear today, as Harvey's rare off day probably raised the hopes of Clayton Kershaw, Jordan Zimmermann, Shelby Miller, Cliff Lee and perhaps other All-Star hopefuls.
Harvey, whose New York attitude is cited almost as much as his otherworldly stuff for his success, was in no mood to accept praise for holding things together, and leaving with a lead, as tenuous as it was. "I'm not happy with the start at all," Harvey said. "There are a very slight amount of positives to take from today ... It seemed like the whole series they were finding holes. They did it to me today."
The Marlins haven't done it to many before this weekend, much less the current toast of Queens. But the Marlins lineup with rookies batting from 2-to-4 turned to murderers' row, for one weekend, anyway. Chris Coghlan and Ed Lucas had the team's second and third four-hit games of the year.
Lucas, for everyone but the most diehard of Fish fans, is the 31-year-old rookie from Dartmouth who bounced around the minors for a decade, up until a few days ago, in fact. He recorded his first hit and RBI on Saturday, then went 4-for-4 with a walk in the game started by one of the most talented pitchers in the game.
"There certainly were a lot of things that were unexpected," Collins said, drolly.
The whole weekend was a real kick in the you-know-what for a team coming off by far its season highlight. The Mets weren't merely beaten by the Fish, they were beaten badly. New York was outscored 24-8 in the three games.
It can't be proven whether the Mets were feeling a bit overconfident after happily knocking the Yankees off their pedestal. But they certainly can't feel that way now, not after getting a spanking from a team that had never administered one before.
If anyone felt good about a couple of bright spots, including home runs by replacement shortstop Omar Quintanilla and perhaps rejuvenating slugger Ike Davis, they weren't saying. Davis certainly didn't seem like he was in a celebratory mood after a 425-foot home run and single lifted his average to .168.
"I've had two good games. Just relax," Davis told writers looking at the positives.
Someone corrected him, pointing out it has been three good games for him.
"Oh, thanks," Davis responded, sarcastically.
Coincidentally, those three coincided with the three most depressing games for the Mets, when they let the division patsies paste them. For the Marlins, it was a chance to separate themselves from unhappy comparisons to the 1962 Mets, which never once swept anyone en route to their famous 40-120 season. The Marlins are now well ahead of that pace, at 15-41, thanks to the current Mets.
Meanwhile, this version of the team from Queens has to wonder exactly what they are following a depressing set like this. They understood going in they aren't a contender. But today, at 22-32 they stand closer to the Marlins than the first-place Braves.
David Wright, captain of this topsy turvy cruise, wasn't taking the bait about how surprising it is for these Mets to lose to these Marlins. "We don't have a lot of room to talk," Captain Honesty said. "Probably a lot of teams are saying that about us right now."
That's a sad thought, especially considering the excitement of winning the Subway Series in a sweep only a few days earlier. Looks at the moment like those four games were nothing more than some token wins.
The Angels' Ohtani faced Milwaukee in Cactus League action on Saturday

New Mexico broke the school and WAC single-game run record with a 39-0 victory over Mississippi...

It's the first Saturday slate of spring training games, and Ohtani will be taking the mound...
The Tigers are very early in their rebuild and they're counting on Miguel Cabrera to rebound...

The Grapefruit League and Cactus League seasons started on Friday

Data will be collected and then used to determine whether humidors are necessary in 2019