Swingin' A's batter normally stingy Anibal Sanchez in Game 3 victory
Anibal Sanchez was the best in the AL in ERA and home run rate this season. The A's battered him for three homers Monday in a 6-3 win.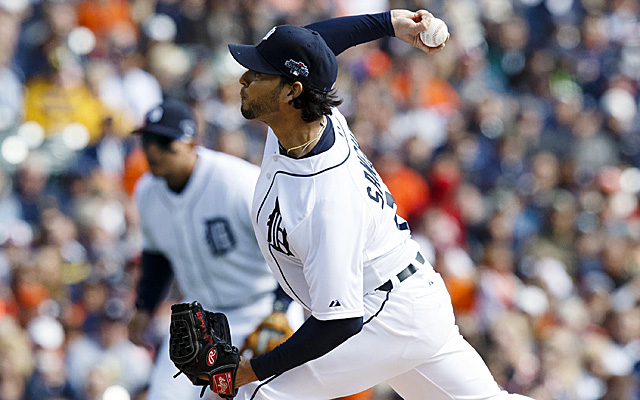 A's top Tigers, 6-3, take 2-1 lead in best-of-5 series: Quick hits
Anibal Sanchez during the regular season was the best pitcher in the American League in terms of both run and home run prevention. He led the AL with a 2.57 ERA and he only allowed 0.4 home runs per nine innings -- also best in the AL.
On Monday, this is where he failed his team. And it might have cost Detroit the series.
We're talking about a pitcher who had allowed the following triple slash line this season: .229/.286/.330. He gave up nine home runs all season. Only three times in his entire career had Sanchez previously allowed at least three home runs -- and not since July 28, 2012 -- but he did so Monday to the mighty A's.
In fact, Sanchez had previously had only 12 outings in his entire career where he allowed as many as two home runs in the same game. Zero of those came this season. So it is rather remarkable that he coughed up three Monday.
And while we do have to pin the "fail" tag on Sanchez's outing Monday, we equally have to credit the A's offense. They had the most home runs in the majors after the All-Star break. They ranked fourth in the AL in slugging percentage and third in home runs in the regular season. Though no one had more than 30, they sport four players who hit at least 20 home runs this season -- Brandon Moss (30), Yoenis Cespedes (26), Josh Donaldson (24) and Coco Crisp (22).
After Game 1, I wrote that the A's were in a very bad position and were facing an uphill battle. I mentioned the word "panic" because if I were an A's fan, I would have been in panic mode. The team stayed calm, though, and since then Sonny Gray has matched zeroes with Justin Verlander and the Oakland offense has pummelled the most stingy pitcher in the AL. That's how you flip things on their head. And now the A's are completely in the driver's seat.
Check out all of Sunday's action, including a single-season record getting closer to falli...

Judge's 48 homers trail only McGwire's 49 in single-season rookie history

The Reds still have one of the best hitters in the game in Joey Votto and a rising star in...
Maxwell joins a growing movement across sports

The Yankees punched their ticket to the playoffs with a win over the Blue Jays on Saturday

Sabathia's stance seems to be an increasingly popular one among athletes