Swinging like he's 20, Ortiz is a star who makes the Red Sox go
The Red Sox added plenty of free agents last winter, but they already had stars like David Ortiz. This season, and again in Game 2 against the Red Sox, Ortiz showed what that can mean.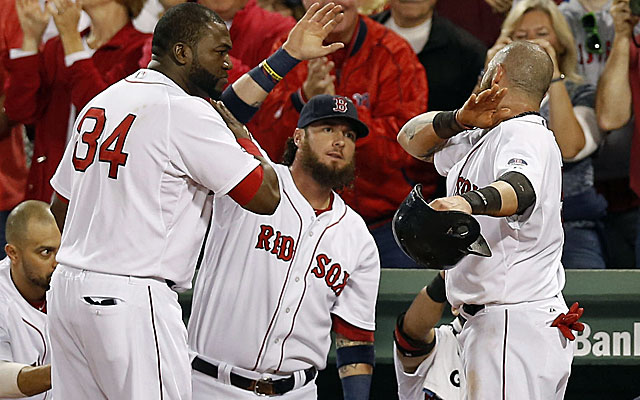 BOSTON -- You'll hear a lot this winter about how every team that failed in 2013 will want to do what the Red Sox did last offseason. You'll hear a lot about how the Sox stayed away from the biggest names on the free-agent market, spent their money wisely on multiple mid-level guys and turned a 93-loss team into one that could win 97 games and might well win a World Series.
It's all true, but it leaves out half the story. It leaves out the part about the Red Sox already having stars who could get healthy or fixed and start acting like stars again.
David Ortiz got healthy.
A scout who watched the Red Sox last month came away saying that while Miguel Cabrera is without doubt the most dangerous hitter in the American League, Ortiz might well be second. And anyone who watched Ortiz hit two home runs off David Price in Saturday's Game 2 of the Division Series came away thinking that Ortiz could be just as important this month as he has been for the Red Sox all this year.
"You see how he changes a lineup," Red Sox pitcher Jake Peavy said.
Ortiz spoke this summer of how he has changed as a hitter as he has aged, he also maintains that he can still do every bit as much damage as he did when he was young.
And he didn't exactly like being reminded that he'll turn 38 next month.
"Thirty-eight!" he shouted, walked away after talking to reporters. "You see me swinging that [bat]. I swing that [bat] like I'm 20."
He does watch a lot more video than he ever did before. He studies pitchers more, and as a small concession to age, he'll shorten his swing against some hard-throwing pitchers in some situations.
But the swing can still produce majestic home runs, same as ever. The bat is still dangerous, and you still go into a series against the Red Sox saying you can't let Ortiz beat you -- and too often he still does.
"He's got that great baseball swing," teammate John McDonald said. "And he's huge, so the ball goes a long way."
It hasn't always happened in October. For all Ortiz's success since coming to the Red Sox, and for all the Red Sox success with him in the middle of the lineup, his October home run total going was just ordinary going into this month.
In his first 67 postseason games, he had 12 home runs. That's not awful (it converts to about a 27-home run season), but it's not legendary.
Kelly Shoppach had a multi-homer postseason game (as had 107 other players). Babe Ruth had four of them, and Manny Ramirez and Carlos Beltran have three each.
Until Saturday, Ortiz never had.
Maybe he is as good as ever at age 37. Or better than ever.
"When he's cooking, he's very difficult," Rays manager Joe Maddon said. "He's very difficult to play against."
And before the Red Sox went on their winter spree, they already had Ortiz (having signed him to a two-year, $26 million contract at the start of November). They already had Jon Lester, they already had Clay Buchholz and they already had Dustin Pedroia and Jacoby Ellsbury.
They didn't add huge stars on the free-agent market, but they already had huge stars.
And if any team thinks it can follow the Red Sox model this winter, you'd better first see if they have the same kind of stars to build around.
You'd better ask if they already have a David Ortiz.
Maxwell joins a growing movement across sports

The Yankees punched their ticket to the playoffs with a win over the Blue Jays on Saturday

Sabathia's stance seems to be an increasingly popular one among athletes
Plus the A's and Brewers have hope, Giancarlo goes deep again, and much more

Matt Chapman and Matt Olson give the A's hope

Despite an awful month, the Dodgers are again NL West champions