Swisher is upset with Yankee Stadium fans and the negativity in the air; "It hurts,'' he said
Nick Swisher spoke out about the tough treatment he and other Yankees are receiving this postseason.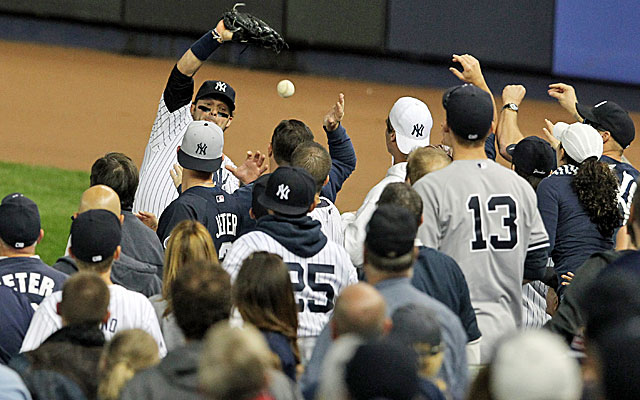 Nick Swisher has been hearing the boos lately from Yankees fans. (US Presswire)
NEW YORK – Nick Swisher is used to being beloved by the home crowd at Yankee Stadium. The man didn't get to 1.5 million twitter followers on his RBI alone.
So, this postseason has been quite a bit disconcerting for Swisher, who is hearing a lot of boos from the home fans. Curtis Granderson might be hearing a bit more and, of course, Alex Rodriguez is the clear clubhouse leader in terms of both boos and struggling Yankees.
All three players, plus Robinson Cano, who started to hear some disapproval of his own after his cold streak hit 0 for 26, are having startlingly bad postseasons at the plate. But Swisher has enjoyed an especially close relationship with the Bleacher Creatures and other fans here, and he's quite surprised. He isn't pleased about any of them being booed ... but he seems surprised more than anything.
"It hurts,'' Swisher said. "Sometimes, I'm a sensitive guy.''
The crowd has been surprisingly tough, and it's getting tougher as the postseason has progressed. But Swisher is taking it especially hard. He even suggested the crowd's response may not be helping. He's 4 for 26.
More playoff coverage
ALCS: Tigers vs. Yankees
NLCS: Cardinals vs. Giants
"I'm one of those guys, you give me a hug and I run through a wall for you,'' Swisher said after the Yankees' 3-0 defeat in Game 2 left them behind the Tigers two-zip in games. "It's tough, it's really tough.''
Other Yankees weren't as animated or upset about the negative reaction. And in fact, A-Rod, who's much more used to boos, said, "I'm right there with them.'' Rodriguez also said he wasn't especially surprised. "We haven't scored a run in a long time!'' he pointed out.
But Rodriguez did wonder whether "a change of scenery'' might help. It could be "a breath of fresh air,'' he said.
Swisher said he couldn't believe a few of the things he's heard, especially from the friends and creatures he's grown close to. One was, "Give the money back!'' Another was, "This is your last game at Yankee Stadium.''
The worst was last night when he was accused by one fan of causing Derek Jeter's devastating ankle injury. "I lost that ball in the lights, and the next thing I knew was it's my fault Derek got hurt,'' Swisher said. Jeter was hurt on the play after Delmon Young's double in Swisher's direction when Jhonny Peralta hit a grounder to Jeter's left. It's absurd to blame Jeter's injury on Swisher, anyway, but for the record, there weren't two outs when Swisher missed Young's hit.
"It's a negative outing, a negative setting,'' Swisher said.
As far as whether this could be his last hurrah as a Yankee, that does seem pretty likely for the free agent, no matter what happens this postseason. The Yankees want to reduce their payroll to below $189 million for 2014, and with them needing to prioritize, it seems that there is not likely to be room for him.
Swisher carried a history of postseason struggles into this October, which doesn't help. He has only seven career postseason RBI in 177 at-bats. Word has been Swisher might seek a Jayson Werth type contract this winter, which means $126 million over seven years, but the Yankees wouldn't go anywhere near that. One competing GM said $39 million for three years might be reasonable for Swisher, who makes $10.25 million this year.
The Yankees have planned to make a qualifying offer in the new system for him, which is expected to be around $13.5 million. They probably still will do so, but it might be under the expectation he would decline the offer since there's sure to be some clubs willing to offer him a nice multiyear deal.
He's had a great run in New York. But he's clearly sad about the way things are turning out. "You want to play for a team. You want to play for a city,'' he said.
He still recalls it's been a great ride. Or, as he put it, "I've been kicking to be here the past four years.''
Swisher needs a big turnaround to finish out his career here on an up note. But Swisher, ever the optimist, did have a nice thought about the potential ending.
"We're not going to go out like this,'' he said.
No, you're not imagining things. This MLB offseason has been very slow compared to the last...

Francesa will retire from radio next month, so he'll have plenty of free time next summer

Get your sports fans something that they'll wear all year
Get 15 percent off any order of more than $75 at CBS Sports Shop

The Twins need help in the rotation, and they may look to the trade market to find arms

Here are the bullet-points of what went down Tuesday regarding MLB and the Braves' punishm...