Swisher may invoke $126M Werth deal in contract talks; how crazy is it?
Some will see the Jayson Werth comp as crazy for Nick Swisher. But Swisher challenged me to "check out'' their records. And at least statistically speaking, it isn't quite as nutty as it seems.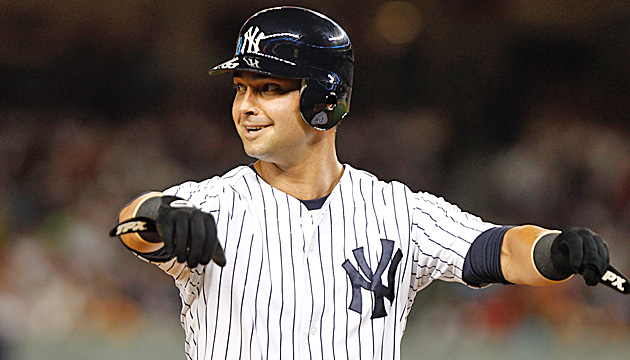 The Yankees are believed to have had no extension talks with Swisher yet. (US Presswire)
Word going around is, Nick Swisher, the Yankees' eternally upbeat rightfield power supply, may seek a "Jayson Werth contract" when he hits free agency at the end of the year.
To baseball fans, that is well-known to mean $126 million over seven years. In other words, it's a lot more money than most folks have guessed so far for Swish.
Second-hand or not, some Yankees people have heard that's the figure Swisher is thinking about and may at least shoot for, and one other source who's spoken to Swisher said that, indeed, Swisher has shown real interest in Werth's deal. It's believed the two sides have had no extension talks yet, as it is team policy to wait for free agency, except in rare cases. 
While the $126-million figure is two to three times more than most of the estimates for Swisher, free agency brings some surprises. The Werth deal, for instance.
Swisher initially gave the usual player-speak answer, "I haven't thought about it,'' when asked if he sees the Werth deal as a fair comp for him. I tried to lighten the mood by asking if he had ever "heard'' of the Werth contract, and Swisher characteristically responded by laughing uproariously. We both know, of course, that any corner outfielder who's a very good player having a very good year (but is a bit short of being a cornerstone player) has to have thought long and hard about the Werth deal.
Eventually, he did say about Werth's Nationals contract, "It's a great deal for him.'' And then Swisher did challenge me to look at the record.
"Check it out,'' Swisher implored me. "See what it says.''
So I did. And statistically speaking, it's pretty darned close between the two corner outfielders.
Werth was 31 when he went into his free-agent offseason, Swisher will be, too. Werth had a 19.2 WAR, Swisher has a 19.0 WAR now. I'm no WAR expert, but I'm going to go out on a limb here and say Swisher's WAR will be somewhere in the range of Werth's 19.2 by season's end, and in fact, perhaps even exactly Werth's 19.2.
A case could be made that Werth is more versatile (he can play center field, and he can steal a base or two), and maybe a bit more valuable over his career. Though both made one All-Star team, Werth twice received MVP votes.
But looking at some basic stats, their careers don't differ all that much. Werth had 120 home runs, 406 RBI and a .272 batting average heading into his free agency; Swisher has 203 home runs, 649 RBI and a .255 batting average now. Werth once hit 36 home runs; Swisher's seasonal high is 35 (Swisher actually has more 20-homer seasons, six to four).
In terms of OPS, it's darned close. Swisher's career OPS is .826, Werth's is .827 (but was a couple points higher before he got to Washington).
And now, here are the responses of four baseball executives to the idea of Swisher and $126 million.
1. Executive No. 1. Werth is better because he can play center field as well as right field and has a better postseason track record than Swisher (that's one area where Werth has outdone Swisher).
2. Executive No. 2. It doesn't matter how they match up because 'the Werth deal is insane.'' That exec said he could see Swisher getting $45 million for three years, or $60 million for four, which is well short of Werth and more along the lines of the usual projections.
3. Executive No. 3. Swisher's case isn't crazy considering the Werth contract. (That exec may well have studied the numbers.)
4. Executive No. 4. Laughter. That exec apparently felt the idea iof Swisher being a $126-million player was quite amusing.
Swisher, who seems himself to be in a continual state of amusement, stressed that he isn't thinking about his free agency much, and that his job is "to play ball.'' That he is certainly doing very well, with 18 home runs (many of them big ones), 69 RBI and a .271 batting average.
Swisher said he actually felt more pressure last year, when he had the $12-million option  hanging over his head. But after a painfully slow start last April, he picked things up, and the Yankees wisely picked up the one-year option.
Now, with the Yankees aiming to get below a $189-million payroll in 2014 to put them beneath the luxury-tax threshhold and save them tens of millions, Swisher generally has been seen as a luxury going forward. Though as Joel Sherman of the New York Post pointed out, while most folks have assumed the Yankees will make sure to keep Robinson Cano and Curtis Granderson, Swisher could be viewed as a less costly alternative to Granderson (though maybe not if $126 million is his target figure).
His bosses, Brian Cashman and Joe Girardi, have always seemed like very big Swisher fans, and even teammates who may have been irked initially by his seeming camera-cognizant style, appear more amused than anything. They just seem to view Swisher as a happy, goofy guy.
"Everyone knows how much I love New York. I've been very vocal about that. This place has been so amazing for me.'' Swisher said about the Yankees. "I'm enjoying my situation. I'm enjoying my teammates. I'm not going to have any regrets. I'm going to live it up. And I'm going to have a blast.''
Blast by blast, Swisher is bringing at least the Werth deal at least into the conversation. I still suspect Executive No. 4 is far from the only executive who'd see the notion of Swisher being a nine-figure player as more than slightly far-fetched.
But hey, looking at the numbers, it isn't so crazy that Swisher might ask, anyway.
The Angels' Ohtani faced Milwaukee in Cactus League action on Saturday

New Mexico broke the school and WAC single-game run record with a 39-0 victory over Mississippi...

It's the first Saturday slate of spring training games, and Ohtani will be taking the mound...
The Tigers are very early in their rebuild and they're counting on Miguel Cabrera to rebound...

The Grapefruit League and Cactus League seasons started on Friday

Data will be collected and then used to determine whether humidors are necessary in 2019