Take it or leave it: Will anyone accept a qualifying offer?
Thirteen players were tendered qualifying offers this offseason. Last year all nine players declined their qualifying offers. Are we in for more of the same?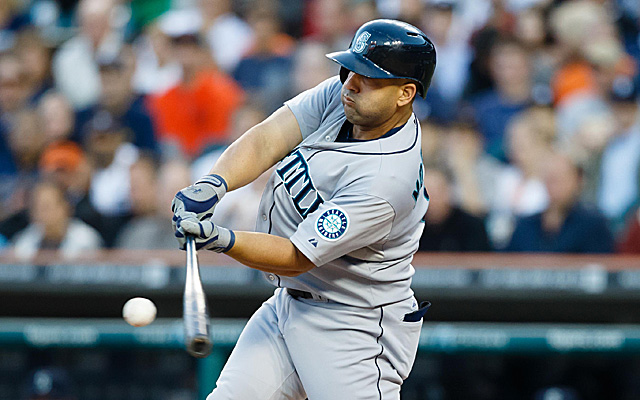 Thirteen players tendered qualifying offers | Heyman free-agent predictions
Last offseason was the first one under the new collective bargaining agreement, meaning it was our first foray into the qualifying offer business. Nine players were tendered qualifying offers and all nine declined them.
This time around, there were 13 players extended qualifying offers, which means they can accept a one-year, $14.1 million offer to remain with the team they played for in 2013. If they refuse, they will hit free agency with draft compensation attached to them. That is, if a team drafting 1-10 in this coming June's draft signs one of these players, said team will lose a second-round pick. If a team drafting after the top 10 signs one of the players, it will lose a first-rounder.
So the price of signing a non-star to a decent-sized deal could be pretty steep. The compensation factor definitely hurts the value of a few free agents. Last season, for example, we saw Michael Bourn hang pretty late into the spring unsigned before landing a four-year, $48 million deal. He entered the offseason with aspirations of a nine-figure deal. Kyle Lohse didn't even sign until the middle of March and after the disaster that was the Brewers' 2013 season, they may already regret the deal.
With that in mind, will the landscape change this time around for a few of the lesser names?
First things first, the following guys turning down the offer are absolute no-brainers: Robinson Cano, Jacoby Ellsbury, Shin-Soo Choo, Brian McCann, Ervin Santana. There's no reason to even discuss them.
As for the rest, let's take a look with "take it" (the qualifying offer, that is) or "leave it." 
Ubaldo Jimenez: After a real strong finish to the 2013 seasons, teams are having visions of 2010 Ubaldo, meaning he'll get four years and at least $60 million, according to estimates (via Jon Heyman). Leave it.
Curtis Granderson: Granderson is coming off a fluky injury-plagued season, but he's far from old and still has good-to-great power. It's also a weak free-agent class overall and Heyman's estimates have him getting at least three years and $45 million. Leave it.
Carlos Beltran: He's aging quite well, so the chances he gets more than one year are very high. He may not make $14.1 million per season, but more years means more money in the long run. Contenders won't mind coughing up a draft pick for him, given his career postseason track record. Leave it.
Mike Napoli: He was set to get three years and $39 million last season before his medical exam showed a hip problem. He produced through the hip problem this season, so he's probably due something similar. Leave it.
Stephen Drew: Our first actually tricky one. Will Drew definitely get a deal worth more than one year, $14.1 million? Upon first glance, I thought he should at least consider taking it, but there are several contenders who could use a shortstop (Cardinals, for one, and the Red Sox probably want him back at least for one year). Heyman's estimates have Drew getting at least two years and $25 million. Leave it.
Kendrys Morales: Here is this year's version of Lohse, if I had to wager on it. Morales is limited in the field and really needs to serve as a DH at least half the time, if not more. Defense is just becoming too much of a focus to put a guy at first full time who can't move well. He has power and teams love that -- as well they should, with offense on the decline -- but his market is limited to only AL teams who don't care about losing a draft pick for a guy who hit .277/.336/.449 (123 OPS+) with 23 homers last year and can't field. He would put up better numbers once escaping from Safeco Field (it still suppresses homers, even with the fences moved in), in all likelihood, but he doesn't seem overly valuable (2.7 WAR last year). Heyman's estimates say a three-year deal is possible, but the GM guessed Morales would take the qualifying offer. Since Scott Boras is Morales' agent, I think he'll leave it. Honestly, though, shouldn't he just take it? Seems like a risk.

Nelson Cruz: Here's what Heyman had on Cruz:
Interestingly, our agent thinks he grabs the qualifying offer and starts over. The GM and I see some teams looking past his PED suspension to see a consistent power producer. Agent: 1 year, $14.1M (takes qualifying offer). GM: 4 years, $60M. Me: 4 years, $64M.
I agree with both Jon and the GM. Cruz will get a good offer from several teams. He's fine to leave it.
Hiroki Kuroda: He's 38 and coming off a season where he was excellent for a while and then posted a 6.56 ERA in his final eight starts. In 2012 he had a 3.04 ERA entering September and then had a 4.71 ERA in the final month. At his age, is he tiring down the stretch? It's a legitimate question. Multiple reports have suggested Kuroda might return to Japan. If he doesn't, he's likely to get around the one-year, $14.1 million qualifying offer. He might get a bit more from the Yankees and they're probably going to do what it takes to keep him. With the threat of bolting the country teamed with Yankee desperation, that's enough to leave it.
So there we have it. The qualifying offer system essentially is just taking draft picks away from teams that sign free agents, because I think every single player is going to turn down his qualifying offer. Again.
Get 15 percent off any order of more than $75 at CBS Sports Shop

Get your sports fans something that they'll wear all year

No, you're not imagining things. This MLB offseason has been very slow compared to the last...
Francesa will retire from radio next month, so he'll have plenty of free time next summer

The Twins need help in the rotation, and they may look to the trade market to find arms

Here are the bullet-points of what went down Tuesday regarding MLB and the Braves' punishm...