Taking stock of the Shin-Soo Choo market
Shin-Soo Choo is the top remaining free agent on the market. Who's going for him?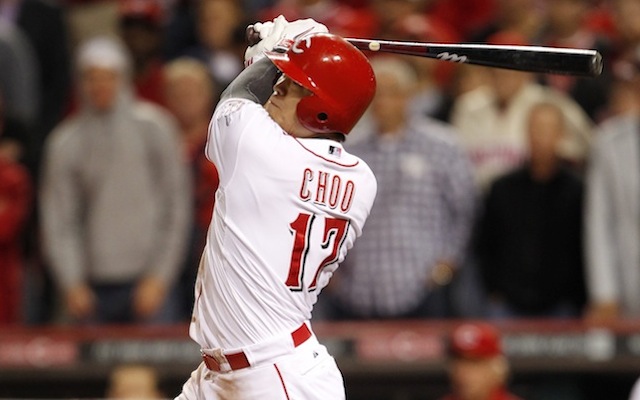 MORE: FA tracker: position players | FA tracker: pitchers | Winter Meetings updates
By a sturdy consensus, 31-year-old outfielder Shin-Soo Choo is the top remaining free agent on the market. Choo boasts exceptional on-base skills (.423 OBP for the Cincinnati Reds in 2013, .389 career mark), pop (for his career, 20 homers and 37 doubles per 162 games played), speed on the bases and a plus glove so long as he's manning an outfield corner. Simply put, Choo is a complete performer and one who provides a great deal of value. That's why this winter he's going to net a contract that approaches Jacoby Ellsbury 's $153-million pact with the Yankees. 
As for who will give him that contract, the field is seemingly being winnowed down. Those same Yankees were thought to be of interest after Robinson Cano landed in Seattle, but their signing of Carlos Beltran almost certainly removes them from the Choo fray (Choo fray!). As well, the Diamondbacks' recent acquisition of Mark Trumbo means they're surely out of the running, and the same goes for the Tigers after they locked up Rajai Davis . So where does that leave us? First, this tweet from our own Jon Heyman:
#reds met on choo last night. have hopes, but inability to trade phillips first dims their chances a bit.

— Jon Heyman (@JonHeymanCBS) December 11, 2013
The Reds have long operated under tight budget constraints, and unless they're able to, say, persuade the Yankees to take Brandon Phillips and his contract off their hands, then they'll probably not be willing to pay the going rates for Choo. 
As for the possible frontrunners, one unnamed exec tells Joel Sherman of the New York Post that the Texas Rangers and Seattle Mariners are the "lead dogs" at present. Each team could use him. The M's badly need more production from the outfield corners, and Texas is looking to replace the likely outgoing Nelson Cruz . On that point, any team who's giving Cruz the once-over should give serious thought to making the larger investment in Choo, who's a vastly better player than Cruz.
Getting back to Seattle, one consideration is that they may prefer to devote their resources either to acquiring David Price in trade (he's in his high-salary arbitration years) or contending for Masahiro Tanaka, should he be posted. Sure, the Mariners could buttress the rotation and sign Choo, but after their deep investment in Cano will ownership be willing to do that much? If they're serious about turning a team coming off a -130 run differential into a contender in the span of one winter, then they definitely should be all-in, but such an approach may not be grounded in reality.   
Elsewhere, Jerry Crasnick of ESPN.com recently name-checked the Boston Red Sox , San Francisco Giants and Baltimore Orioles (in addition to the Rangers and Mariners) as possibilities, albeit unlikely ones. The Orioles are presently slated to open the season with Nolan Reimold holding down a corner spot, and, suffice it to say, Choo would constitute a vast upgrade. The Giants and their resources can certainly do better than Gregor Blanco as an every-day outfielder, and the Sox, while they wouldn't put Choo in center, still need to find a way to offset the loss of Ellsbury's value to a division rival. With that said, the Sox aren't desperate, as they still have solid outfield depth so long as Jackie Bradley Jr. is ready for regular duty at the highest level. Of the teams on Crasnick's list, the Orioles likely need Choo the most, especially to keep contending in the remorseless AL East. But are they willing to pony up? 
Given all that we know about Choo's usual suspects and what they must do in order to position themselves to sign him, is it the Rangers who have both the clearest need ( Michael Choice in left?) and the fewest impediments? Texas also boasts a front office that's canny enough to recognize how valuable a player like Choo is. The not-privy-to-anything guess here is that the Rangers are the team best positioned to ink the best player left on the market. 
As with all baseball matters this time of year, though, the situation is fluid.