Talented and gritty Red Sox survive scare, beat Rays at own game
Boston's complete makeover from a disastrous 2012 season is typified by their performance in their 2013 ALDS.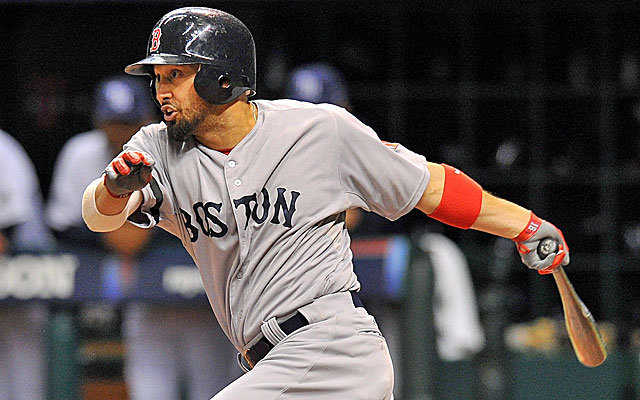 ST. PETERSBURG, Fla. -- Smallish and speedy Shane Victorino, who perhaps best embodies Boston's brilliant winter with his heart and fight, barely beat out a slow roller to shortstop for the single that pushed across the go-ahead run in a spirited ALDS matchup of wise rivals.
In other words, Victorino bested the scrappy, surprising Rays at their own game.
To be sure, this is a different Red Sox team, still prodigious but unusually gritty. It's a very together team that can also play small ball, distinguishing it from past Boston squads. And it's no surprise it is headed for the ALCS.
"You could see their grit," Rays manager Joe Maddon said after the Red Sox's 3-1 victory ended a matchup of teams with similar styles, albeit one (Boston) with a $170 million payroll. "I think they've really promoted the character within that group, and they're just gamers."
It all makes for a lethal combination indeed, one that helped propel them to the league championship series, where they will face the winner of the Detroit-Oakland Game 5 matchup in a finale by the Bay on the other coast.
"We're not done," Red Sox pitcher Ryan Dempster volunteered in the winning clubhouse.
That seemed to be the feeling that prevaded a sopping wet clubhouse, a continuing celebration of their impressive last-to-best revival.
The Red Sox steamrolled the regular season, then eked out the division series against their rival Rays.
With the narrow victory in Game 4, the Red Sox barely avoided a winner-take-all game back in Boston and finally sent the smart, small-market Rays home after two crazy games here that featured wild strategies and surprise heroes.
"Whatever it takes," could be the motto for Victorino, and he repeated that phrase numerous times in the postgame press conference, an apt description for his style of scrap.
The appropriately named Victorino has made the hit-by-pitch (he had two more HBPs in this game) and other assorted types of peskiness an art form.
"I didn't appreciate Victorino (as an opponent). He's an absolute gamer," said Jake Peavy, who pitched 5 2/3 innings one one-run ball. "He plays the game as hard as anyone I've ever played with. Shane Victorino is a winner."
Whatever it takes. It also happens to be a lifestyle for the Rays and Maddon, the Renaissance manager who employed a pitching roulette strategy that worked through the first five pitchers and 6 2/3 innings of scoreless ball.
The Rays actually held onto a 1-0 lead until the initial offering of Tampa's pitcher No. 6 of nine -- yes, nine --  who were utilized in what turned out to be a pitcher-an-inning stratagem. The sixth man in was none other than Joel Peralta, who uncorked an immediate wild pitch that enabled rookie Xander Bogaerts to score the tying run in the seventh inning. It also allowed Red Sox leadoff man extraordinaire Jacoby Ellsbury to race all the way from first to third, since he had stolen his fourth base of the series on the play.
Ellsbury is supposedly still ailing with his foot fracture but you couldn't tell it from his play, as he hit .500 in the series, leading off a lineup that's tough to shut down. Manager John Farrell noted, "He creates a different dynamic than anybody else here."
A few pitches later, Victorino's dribbler to shortstop Yunel Escobar proved decisive as Ellsbury scored the winning run. He described his winning sprint succinctly and aptly, "When I put the ball in play, I knew I had to go."
The Red Sox added another run in the ninth inning on a Dustin Pedroia sacrifice fly against closer Fernando Rodney, not long before Maddon called upon his ninth pitcher. (He saved David Price, their ace, who would have been needed to start Game 5, but even Price was warming up in the ninth, and Maddon said he was prepared to use him in the 10th, which would have made a mess of the game to go.)
This pitchers roulette wasn't the original plan, Maddon admitted later, but an improvisation after he determined Hellickson wasn't going to last the hoped-for three innings or so. It was a good try, but in the end, the talent gap was bit too much.
The Red Sox, baseball biggest-scoring team throughout the 162-game schedule, can beat you in a number of ways. It isn't merely power and patience, anymore, though they still possess both of those traits in abundance.
This team will run, and it will hustle, which rarely were hallmarks of past Boston championship teams. It was the winter spending spree, engineered by second-year general manager Ben Cherington that altered the attack and revamped a stale clubhouse that was at the heart of the club's dreadful last-place season in 2012. Cherington made seven notable buys in the offseason, hitting on at least six of them (including Victorino), an amazing record indeed in the often unsatisfying crapshoot known as free agency.
"The front office did a great job putting this team together," Pedroia said.
The complete makeover continued into the season. Peavy, a mid-season pick-up, threw 5 2/3 efficient innings before Boston's bullpen took care of the rest. Closer extraordinaire Koji Uehara, another of the great winter hits, earned the save one night after the biggest surprise hero Jose Lobaton's "tank job" home run kept the Rays going another day.
Tampa Bay had won four consecutive times when a loss would have ended their World Series hopes before finally running out of miracles.
As for Boston, the turnaround was stark, and it is getting closer to completion with the advancement into baseball's final four, where they have a real shot.
They now have an even 100 victories counting the three against Tampa Bay. And as for the ALCS, they will be well rested and dangerously multifaceted and together, thanks to their retooled roster and resuscitated spirit.