Talented Tigers address one big issue, but one more still remains
Detroit is a very strong team, but free agent Stephen Drew would solve their shortstop quandary.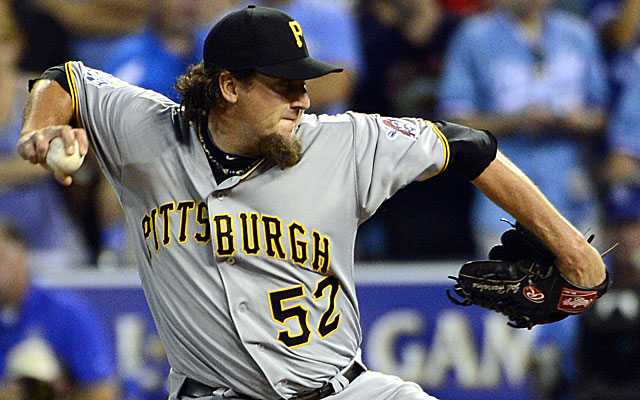 More MLB: Power Rankings | Expert Picks | Latest news & notes | Fantasy news
The Tigers addressed one big weakness Friday with the signing of hard-throwing reliever Joel Hanrahan, who seems a natural to become their set-up man. That move should leave only one obvious issue for the powerhouse team to confront.
The talented Tigers, understandably viewed as the World Series favorite in the American League, are still trying to get by without a proven major-league shortstop. Good teams occasionally have tried such things before, but generally not when there's a quality shortstop available.
In this case, Stephen Drew, who remains a free agent, is not only free, but even better, he has said he'd love to come to the Tigers, even if it meant signing a one-year deal. With young fielding whiz Jose Iglesias quite likely out for the year, Drew would seem to be the obvious answer to the Tigers' one remaining question.
Under owner owner Mike Iltich, the Tigers have been that rare team willing to do whatever it can to win. But in this case, for whatever reason, they have tried to get by at a key position by patching things together.
Tigers GM Dave Dombrowski, who may well be the best in the business, didn't necessarily surprise us with the Hanrahan move, as it is well known Dombrowski prefers hard-throwers in his pen (and probably the rotation, too), and Hanrahan seems on track to help Detroit's struggling relief corps. He was said to have hit 93 mph at his throwing session for about 20 teams a few weeks back, and it's no surprise the Tigers jumped with Bruce Rondon out for the year and Phil Coke and others struggling.
The Tigers' pen currently totes an abnormally high 5.37 ERA, second worst in baseball to Houston. So something had to be done.
It would seem the same could be said for the shortstop position, where the Tigers uncharacteristically have been trying to make do on the cheap. Dombrowski first tried a nostalgic answer, acquiring Alex Gonzalez, who was a defensive genius when Dombrowski signed him as a kid for the Marlins in 1994 and later helped Florida win the 2003 World Series. But alas, at 37, he isn't the same player, and certainly not a starting shortstop, as the Tigers quickly determined before releasing him.
Lately, they've been mostly using Andrew Romine, an athletic but unproven player who came from the Angels in a small spring deal. They also recently called up Danny Worth, who had been originally sent down to make room for Gonzalez. However, it would seem unlikely that Romine, a career .231 hitter, or even Worth, is the answer.
So far, Tigers shortstops have a .503 OPS, .184 batting average, -0.3 WAR and –O.9 UZR. While they have firepower elsewhere, that kind of production can get to become a drag on the offense. The lack of range is also a worry with slugging rookie Nick Castellanos manning third base.
By comparison, Drew had a 3.4 WAR in 2013 and a 5.3 UZR, ranking him among the top eight shortstops in both categories.
The other offensive issue is that the Tigers look like they need a bit of help against right-handed pitchers. With Prince Fielder and Jhonny Peralta gone, and Andy Dirks out, the Tigers have started only 8-8 vs. right-handed pitching compared to 6-1 vs. lefties. While the Tigers hitters have a superb .818 OPS against lefties they're only a middle-of-the-pack .708 vs. righties. (Peralta is a righty swinger but was productive against all pitchers.)
And while the lefty-hitting Drew, who hit 13 home runs with 67 RBI last year and batted .254,  isn't exactly a slugger, he'd help. His OPS vs., righties the last two years is .802, including a stellar .878 last year.
Like a majority of divisions, the AL Central also happens to be stocked with right-handed starters, with only the White Sox rotation lefty strong, with three southpaw starters. The top four starters in the rotations of Indians, Twins and Royals are all right-handed at the moment. Romine, meantime, is batting .161 vs. righties.
Perhaps Dombrowski believes Romine will be the answer. But maybe he simply sees his superb team as good enough to win the division despite a year-long shortstop issue. It's also possible he still holds out hope Iglesias could return in time to help the team through the playoffs, though the latest word seems to suggest that's a longshot.
Drew is the obvious option that could give the Tigers a certainty at shortstop. He helped the Red Sox win the World Series in 2013, and overall, he's a fairly comparable player to Peralta, the Tigers shortstop before they declined to sign him following a drug suspension and the quick acquisition of Iglesias, their shortstop of the future.
The Tigers could try to wait until after the June 5 draft to sign Drew in order to save their first-round pick, especially if they build a nice lead in their division, but their pick is only pick No. 23, and they run the risk of losing him to another team should they choose to wait for the draft.
The Red Sox, who may start to think they won't receive a first-rounder should Drew sign elsewhere anyway, are having difficulties lately on the left side, with rookie Xander Bogaerts looking less comfortable at shortstop early than he did at third base last year. The Yankees and Blue Jays are among other logical possibilities for Drew, though there's no evidence of movement on those two fronts at the moment.
Ilitch always has been willing to spend whatever it takes to win and has made many deals in the past with agent Scott Boras, who represents Drew. However, as Ilitch has gotten older in recent months he appears to be receding a bit into the background. Ilitch signed Ivan Rodriguez, Magglio Ordonez, Prince Fielder and other Boras clients to lucrative deals when Dombrowski might have drawn the line a bit lower, or gone in another direction altogether.
Dombrowski is said to be in constant dialogue with Ilitch, though it certainly seems as if Dombrowski is driving the ship even more nowadays. The team remains in good hands with Dombrowski, though the shortstop calls to date seem curious.
The Astros scored seven runs in Game 6 after scoring nine runs total in Games 1-5

The Astros are still alive, and Justin Verlander is the reason why

With a six-run lead in the ninth, the Astros used closer Ken Giles for 23 pitches
On Saturday night in Houston, it'll be CC Sabathia against Morton

The ALCS will go the distance after all with the Astros offense coming back to life in Game...

Verlander's stuff was insane during Game 6 of the ALCS