Tampa, Detroit TV stations trade jabs over David Price trade
Sounds like two Fox affiliates have a healthy rivalry going over the blockbuster trade that sent David Price from the Rays to the Tigers.
Related: 2014 trade deadline 'awards show'
As you're presumably aware, the Rays of Tampa Bay sent ace David Price to the Tigers of Detroit on Thursday in a blockbuster three-way swap. That led Fox 13 Tampa Bay to send out this opening salvo on Twitter (screencap to follow, since original tweet was deleted) ...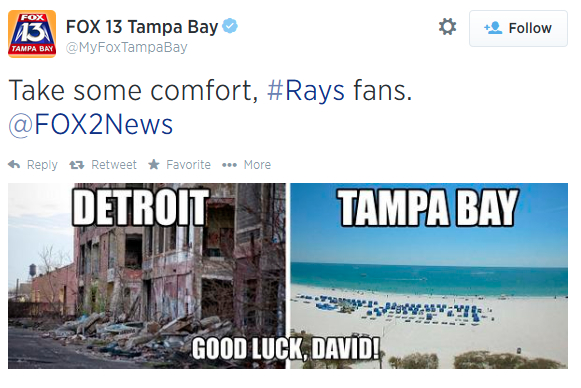 Noted! Not long thereafter, Fox Detroit picked up the gauntlet ... 
.@MyFoxTampaBay pic.twitter.com/XpPPHCjBAN

— FOX 2 News | WJBK (@FOX2News) July 31, 2014
Also noted! 
I'll take Detroit in this one.