Tanaka cleared to resume throwing, tests on arm come back clean
Yankees right-hander Masahiro Tanaka has been given the okay to resume throwing after tests on his sore arm came back clean.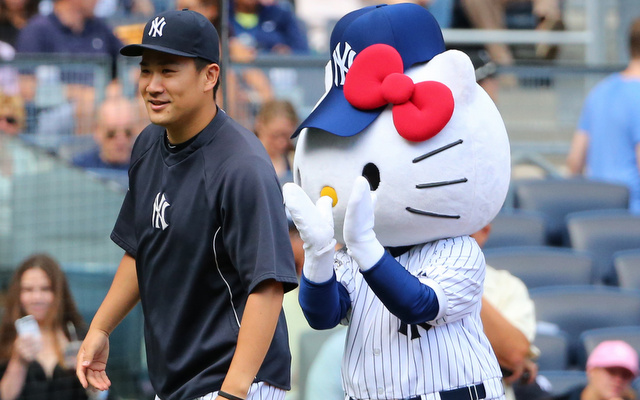 Yankees right-hander Masahiro Tanaka has been given the green light to resume throwing, manager Joe Girardi told reporters on Tuesday. Tests on his sore right arm came back clean and he has been diagnosed with fatigue.
Tanaka, 25, was shut down late last week with "general arm soreness" as he continues to work his way back from a partially torn elbow ligament. He told reporters at the time that he felt it was essentially a dead arm phase in his rehab, nothing more.
Before the soreness kicked in, Tanaka had thrown two simulated games and stretched his pitch count up to 49. He played catch at Yankee Stadium on Tuesday and is slated to throw a bullpen session later in the week. If that goes well, Tanaka will then throw in another simulated game.
Both the Yankees and Tanaka continues to say they hope he can return to the mound this season, but the clock is ticking. The team has only 27 regular season games left and they are four games back of the second wild-card spot.
Tanaka, 25, is 12-4 with a 2.51 ERA (153 ERA+), 1.01 WHIP and 135 strikeouts against only 19 walks in 129 1/3 innings.