Tanaka derby: Cubs, ChiSox seen (by others) as threat to beat Yanks, LA
Both Chicago teams are said to be strongly in the mix for the star right-hander Masahiro Tanaka.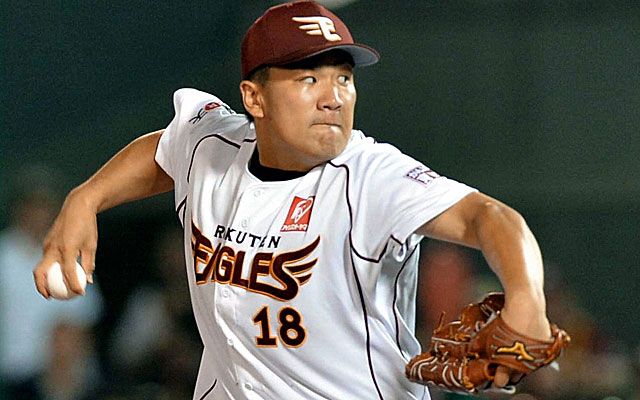 Both Chicago teams are starting to be viewed at least by their competitors as serious players for star Japanese pitcher Masahiro Tanaka, though the deep-pocketed Dodgers and Yankees, as well as others, remain seriously interested and cannot be counted out in what promises to be a spirited derby for the international star.
The Cubs and White Sox were two of the five known teams reported here back on Jan. 9 to have had meetings scheduled with Tanaka at a secret location in the Los Angeles area, so it shouldn't come as a surprise they are seriously involved. The Yankees, Dodgers and Diamondbacks were the other teams believed to have had meetings planned at that time, though only the White Sox publicly confirmed their meeting did take place.
The Cubs have long been known to be a player in the Tanaka sweepstakes, and he makes perfect sense for the team that desperately needs pitching to go with its stash of very good positional prospects, and also favors young players due to their timetable and philosophy. Ken Rosenthal of Foxsports.com reported Thursday on the Cubs and the widely held belief they are ramping up their efforts in this regard.
Two competing executives went so far as to suggest the Cubs seem confident and one said he had heard of a belief that Tanaka was "theirs to lose," though Cubs people aren't saying anything of the sort. Cubs president Theo Epstein declined to address the rumors when contacted by CBSSports.com, chalking them up to Twitter speculation by folks not in the know.
The White Sox have made clear their intention to add youth to their roster, and Tanaka's age (25) is a big plus for them in a winter where they added several under-30 position pieces, including Jose Daniel Abreu, Adam Eaton and others. White Sox GM Rich Hahn declined comment, as he promised to do in his original statement affirming the LA meeting.
The Dodgers have said they intend to remain a player for Tanaka, who went 24-0 for Rakuten this past season, even after signing superstar left-hander Clayton Kershaw to a record (for a pitcher) $215 million, seven-year contract, and they are always a threat. Yankees people are said to intend to be "aggressive." The Yankees have said they would prefer to stay below the $189 million luxury tax threshhold, and a Tanaka signing would seriously jeopardize that hope.
Some have suggested the Dodgers and/or Yankees might be Tanaka's first choice, but that isn't known. A Dodgers person suggested they don't necessarily take extra confidence from Tanaka's choice to meet teams in LA.
The Angels and Blue Jays are among other teams thought to be involved in the derby, at least to some degree. The Mariners have interest but financial constraints following the $240 million signing of Robinson Cano make them a question here.
Estimates for Tanaka's eventual deal have ranged from about $120 million to $140 million but at least two executives on interested teams suggest now it's possible someone may go as high as $175 million. Tanaka's team Rakuten will get $20 million from the winning bidder.
Things are said likely to start heating up this weekend, as bids come in. The deadline for the deal is next Friday, with the likelihood of a deal coming on or close to the deadline. Tanaka took a physical for teams in LA.
Once Tanaka signs, things should start sorting themselves out for top MLB free-agent pitchers, with Matt Garza, Ervin Santana, Ubaldo Jimenez and Bronson Arroyo four top-flight starters still available. The Angels, Diamondbacks and Twins are among teams to show interest in Garza, with the Jays expected to be a player for Santana and/or Jimenez.
The club made the announcement on Friday

Plus the Tigers will make a change in the dugout and all of Friday's action

The Rockies are clinging to the second NL wild card spot at the moment
Plus Matt Olson and Kevin Kiermaier heroics, a look at Zack Greinke's dominance and more

Plus the Indians are now 27-1 in their last 28 games. Here is everything you need to know from...

The soon-to-be 43-year-old Dickey said he wants to spend more time with his family