Team president says Masahiro Tanaka may not be posted
If there's a new posting agreement for Japanese free agents, will the coveted Masahiro Tanaka remain in Japan?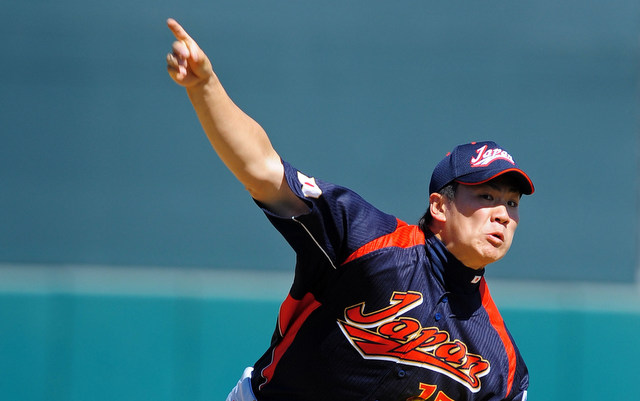 MORE: FA tracker: position players | FA tracker: pitchers
As recently detailed by my colleague Matt Snyder, MLB and NPB may be on the verge of a new posting system that would limit posting fees to no more than $20 million. Needless to say, this would lower the costs of acquiring frontline Japanese free agents and would increase stateside competition for their services. The unintented consequence? Japanese teams, faced with a lower return, may be hesitant to post their top talents. 
And that brings us to the case of highly regarded right-hander Masahiro Tanaka. The 26-year-old Tanaka is as coveted as Yu Darvish was when he made the leap, and any number of teams figure to pursue him. However, the president of the Tokohu Rakuten Golden Eagles, Tanaka's present club, says his team may be disinclined to put his top star on the market at the rumored going rates. Here's what Yozo Tachibana said to Japenese newspaper Sponichi, by way of the Los Angeles Times:
"We have an obligation to explain to our stakeholders whether it's fair.

...

"There's a possibility we won't take the next step."
The "next step," of course, would be posting Tanaka so that he could pitch in the U.S. major leagues starting next season. 
To be sure, this could be mere posturing, as team executives in Japan are surely none too pleased by the possible revised posting agreement. With that said, Rakuten brass must decide whether the posting fee --whatever it winds up being -- will exceed what Tanaka would mean to the team if he were retained. To hear Tachibana tell it, that matter is still undecided. 
Then again, three trades in four days might be behind Jerry Dipoto's usual pace

Ohtani is arguably the best hitter and pitcher in Japan

The O's need rotation help, and Cobb is available for hire
The Red Sox and Cardinals are expected to make trade offers next

The free agent first baseman may be a fit in St. Louis

The front office changes in Atlanta continue