Team USA has bats and resolve to win WBC (but are arms enough?)
"We didn't come all the way here to lose,'' Adam Jones said.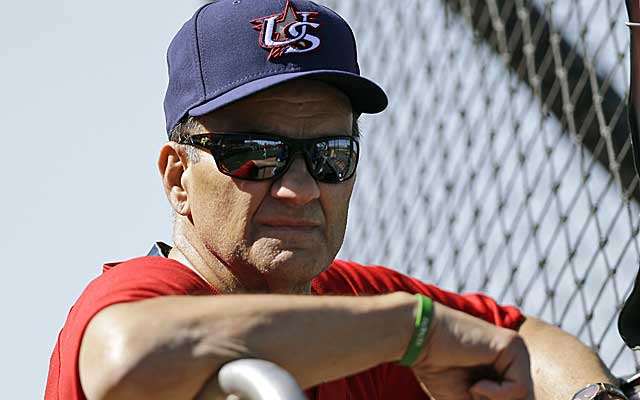 PHOENIX -- Team USA is missing maybe the best five American pitchers -- Justin Verlander, Clayton Kershaw, David Price, CC Sabathia and Jered Weaver -- as it tries to buck its stunningly mediocre World Baseball Classic record and win in the sport America invented.
But say this for this team: They brought a group with an uncommonly patriotic bent. The 27 guys who agreed to play for Joe Torre's team are a supremely focused, determined and even personable group that is talking a great game on the eve of the third WBC event.
"Write this, 'We didn't come all the way here to (bleepin') lose,'" USA outfielder Adam Jones said.
Torre and his veteran group of coaches, including longtime right-hand men Larry Bowa and Willie Randolph, are impressed by the competitive attitude shown by a group led by David Wright, Joe Mauer, Jimmy Rollins and other country-first guys. Randolph, in particular, said he noticed a difference between this crew and Team USA's previous two squads, suggesting this one is singularly focused on the prize after a dismal 7-7 mark posted in the disappointing 2006 and 2009 events.
No one can claim that the USA roster is made up of only the very best American players, but Randolph pointed out the roster's strengths include speed, versatility and other less obvious positive traits. Ben Zobrist gives any team options. Giancarlo Stanton can put a scare into any opposing pitcher.
Torre talked up the table-setting Rollins and Brandon Phillips. Jonathan Lucroy, a .300 hitter, was the ninth-place hitter in one of the exhibitions. The strong and crazy-deep 10-man bullpen, with Craig Kimbrel at the end, would be the envy of any manager.
In a short few days, the staff and its players have bonded. Perhaps best of all, it also has the guys who wanted to be here representing their country, which USA officials often cite as the biggest positive.
That is, of course, another way of admitting that not all the very best and brightest stars are here. In particular, the starting pitching is solid but less than glittering.
Verlander and Kershaw are said to have shown interest in playing, but Kershaw had a hip injury late last season that allowed the Dodgers to discourage him, and Verlander's extra October innings delayed his training start, eliminating him.
Team USA retains outward confidence. But there's concern that Team USA has a bull's-eye on its back. And there's more concern that many of the top starters aren't here.
"The other teams want to beat the piss out of the U.S.,'' one USA official said. '"Until we win, we're not going to get all our (very) best players to come.''
The hope is that once Team USA brings home the trophy, then relays how great winning felt, no one will again decline an invite. Sometimes it's hard to push.
Buster Posey is in the group of late October players from last year. Matt Kemp is returning from a shoulder injury, Derek Jeter an ankle injury.
Mike Trout, the best player in the majors last year, hasn't earned financial security yet. So it's understandable he didn't go. (Word is, he consulted with Bryce Harper, who also didn't make it).
The pitching is the real issue though. Zack Greinke, Matt Cain, Cole Hamels and Cliff Lee are four more that couldn't, or didn't, make it. Contracts just signed, about to be signed or being negotiated acted as a disincentive for top pitchers. Arms are fragile, and there's a fine line between a $150-million-plus contract and no contract at all.
Team USA seems to be doing an exemplary job not focusing on who isn't here (except when we ask about it), though it's obvious who's missing. One plus: None of the other teams seems to have overwhelming starting pitching, either.
Team Mexico, who Team USA faces in its opener Friday, saved its ace Yovani Gallardo for this game. Mexico used journeyman Rodrigo Lopez in its loss to Italy on Thursday. Other teams are similarly thin.
Team USA will start with 37-year-old knuckleballer R.A. Dickey, whose fast knuckleball could be a major weapon, then use Ryan Vogelsong, Derek Holland and Ross Detwiler as starters. It's a very nice group but less than optimal.
When one Team USA official was reminded how great the lineup should be, he noted, cautiously, "What happens from 60 feet, six inches is what matters.''
Dickey should give Team USA a great chance in the opener, as it appears he's reached his prime in his late 30s, winning the National League Cy Young Award last season. He also is very much into it, which counts, too.
"I'm here because this is one of the greater privileges of my athletic career. And that's how I see it,'' Dickey said.
Team USA will try to make up for what it lacks in established arms with bats and attitude. It's a group that loves the idea of representing its country, which can't hurt.
"We are not here to get out of spring training. We're not here to go on a little vacation,'' Wright said. "It's time for us to win. A lot of other teams have been preparing longer. But pride will kick in. We are 0 and 2. We want to be the team that snaps that.''
Randolph, Wright's first major-league manager with the Mets, is thrilled at how the star third baseman has grown into a leader. Others, too, are here because they are excited about it.
New Red Sox outfielder Shane Victorino personally called Torre to beg his way onto the team as a reserve. Royals first baseman Eric Hosmer rushed over from Surprise, Ariz., when Mark Teixeira went out with a wrist injury.
Pride is already starting to kick in.
"It's our game,'' Torre said. "That doesn't mean other teams can't play it. But we're here to win. We're here to get to San Francisco. We're interested in moving on. Our goal is long-term, long range.''
Their hearts and their intentions are in the right place. The only question is whether they have enough arms to do the job.
Boston wants to add two big bats to their lineup, not just one

Even more relievers signed on the final day of the Winter Meetings

Keep tabs on the top 50 free agents right here
The league is not happy Ohtani's medical information leaked

Kansas City and Baltimore were quite busy at the Rule 5 Draft

Piscotty's mother was diagnosed with ALS earlier this year