Team USA needs one more win (and won't need any TQB)
Friday was a bad day for Team USA, but Saturday was much better. Canada's win over Mexico and the American team's 6-2 win over Italy mean that the winner of Sunday's USA-Canada game will qualify for the second round of the World Baseball Classic, with no tie-breakers necessary.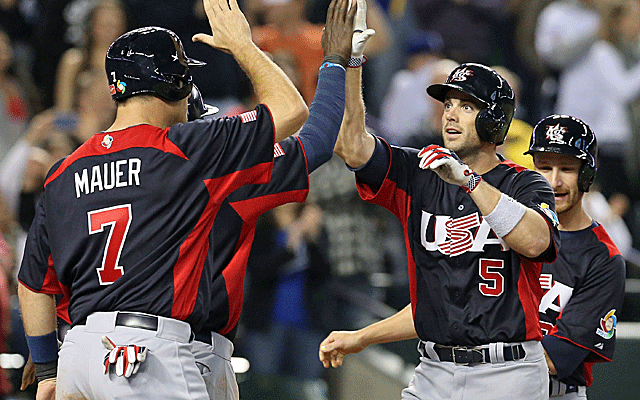 PHOENIX -- Well, that's better.
Better for Team USA. Better for the World Baseball Classic.
At least now, after both Team USA and Team Canada won Saturday, the only thing that will matter Sunday is who wins the game. No need for run differentials, no need to explain TQB, no need to make this any more complicated than necessary.
One game, Sunday afternoon, Team USA vs. Canada, with the winner moving on to the second round in Miami.
More on WBC
Related links
Win Sunday, and the Americans can put their ugly Friday night loss to Mexico behind them.
It's the best they could hope for, at least after that loss.
"If you win it, you earn it," Team USA manager Joe Torre said. "If you don't, you don't."
As of Saturday morning, Team USA faced the possibility that even beating Italy and Canada might not be enough to get them through to the second round. Then Canada routed Mexico Saturday afternoon, and the road to Miami became a little clearer.
It got a lot clearer Saturday night, thanks to David Wright's grand slam, which gave the Americans a 6-2 win over Italy. A loss to Italy wouldn't have eliminated Team USA, but it would have needed to defeat Canada by five or six runs.
Now it's simpler. Win and they're in.
And while that's good news for Team USA, it's also great news for the WBC itself. The tournament already has enough quirky rules. Imagine explaining to people late Sunday afternoon that even though the Americans won by, say, a 5-1 score, they were going home and the Canadians weren't.
A win Sunday is no guarantee for Team USA. Rangers left-hander Derek Holland will start, which should be an advantage against a Canadian lineup dominated by left-handed power.
Jameson Taillon, the talented Pirates prospect, starts for Canada. Taillon was born in Florida and grew up in Texas, but both his parents are Canadian.
Canada's 10-3 win over Mexico was highlighted (lowlighted?) by a ninth-inning brawl, set off when Canadian catcher Chris Robinson led off with a bunt single. Some of the Mexican players were offended by the bunt, but the Canadians were playing for every run they could get, worried about the tournament's tie-breaker rule.
Even tournament officials struggle to understand the rule. They announced after Saturday's first game that Mexico was still alive, even though at the time there was no mathematical way it could advance. WBC officials also weren't able to provide an immediate answer as to whether the Americans would need a five- or a six-run win over Canada if they didn't beat Italy Saturday night.
The Italians, who officially qualified for Miami as a result of Canada's win, actually did take a 2-0 lead over Team USA. But Giants right-hander Ryan Vogelsong, the Team USA starter, settled down, and the American offense finally got going -- a little.
"Vogey gave the offense some momentum by putting up some zeroes," Wright said. "That [fifth] inning, it seemed like guys had good at-bats. But it starts with putting zeroes on the board."
Who knows what would have happened without Wright's tie-breaking fifth-inning grand slam? The All-Star stacked American lineup struggled before that against mediocre Italian pitching, and Team USA didn't score another run after Wright's home run.
"I experienced how much fun it was in the last WBC, making it to the semifinals," said Wright, a true WBC enthusiast. "It only gets better from here."
The Americans can only hope it does get better from here. Tournament officials, who know Team USA success is important for the WBC to succeed in this country, will quietly hope it gets better for Team USA, too.
At least now there are no worries about Team USA losing out on an obscure tie-breaker rule. At least now, no one needs to explain TQB, which stands for Team Quality Balance, but is really just a fancy way of measuring run differential.
No need for that now.
It's absolutely better this way.
The Astros scored seven runs in Game 6 after scoring nine runs total in Games 1-5

The Astros are still alive, and Justin Verlander is the reason why

With a six-run lead in the ninth, the Astros used closer Ken Giles for 23 pitches
On Saturday night in Houston, it'll be CC Sabathia against Morton

The ALCS will go the distance after all with the Astros offense coming back to life in Game...

Verlander's stuff was insane during Game 6 of the ALCS