Team USA's problem? It starts with the starters who aren't here
Team USA was able to assemble an All-Star lineup. But all the top American-born starting pitchers turned down the chance to pitch in the World Baseball Classic. Not surprisingly, it was a bad outing by a starter (R.A. Dickey giving up four runs) that cost the Americans in their opening 5-2 loss to Mexico.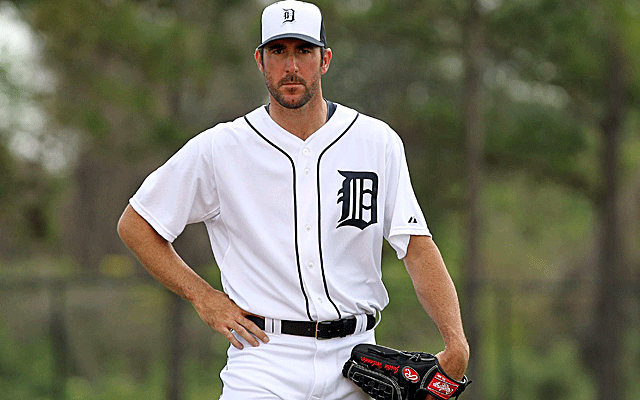 PHOENIX -- Justin Verlander said he would have loved to pitch in the World Baseball Classic. But he's not here.
Jered Weaver said he loves the idea of the WBC. But he's not here.
No David Price. No Clayton Kershaw. No Zack Greinke. No Matt Cain.
More on WBC
Columns

Related Links
No problem, unless it matters to anyone that Team USA take its best shot at winning one of these tournaments.
Team USA prided itself on putting together a lineup full of All-Stars this time around. Baseball officials keep reminding us how many players were anxious to play, and how few of these guys needed any convincing.
For the most part, they're right -- except when it comes to starting pitching.
The best starting pitchers aren't here. None of them.
R.A. Dickey won a Cy Young Award last year. But let's be serious. When you start naming the best American-born starting pitchers in the game, Dickey isn't first ... or second ... or fourth or fifth.
When he gave up four runs in the first three innings Friday night against Mexico, were you shocked?
Dickey put Team USA in an early 4-0 hole, and the Americans never recovered. Not Friday night, when they ended up losing to Mexico 5-2, and possibly not in this tournament, where they now need two consecutive wins over Italy and Canada (and may need two lopsided wins to qualify via the tiebreaker).
"During the course of the season, you're going to have games like this where it's not your A-plus knuckleball," Dickey said.
Ryan Vogelsong starts Saturday night against Italy. Derek Holland starts Sunday against Canada. They're not bad, not at all.
But they're not exactly Verlander, Price or Kershaw.
"It's well documented that some guys turned it down," said Team USA third baseman and WBC enthusiast David Wright. "I want the guys who want to be here. It's an odd time of year for pitchers to be ramping it up.
"By no means are we complaining about our pitching staff."
It's easy to understand that this tournament is different for starting pitchers than it is for hitters. It's more of a challenge for starting pitchers to build up to competitive speed earlier in the spring, and potentially more damaging to their regular-season success.
Some other countries dealt with the same issue. Yu Darvish isn't pitching for Japan this time around, and Felix Hernandez turned down Venezuela. Japan overcame Darvish's absence to make it through the first round and win the second-round opener. Venezuela, without Felix, was routed by the Dominican Republic in its WBC opener Thursday night.
But it's the Team USA pitching absences that are so glaring, because there are so many of them.
American officials said they accepted the excuses. Manager Joe Torre mentioned Verlander specifically, and commissioner Bud Selig also said he understood Verlander's absence.
All the pitchers had reasons. But Yovani Gallardo had the easiest of reasons to skip the tournament, after he had to be scratched from a spring training start with the Brewers last week because of tightness in his groin.
Rather than use the injury as a reason to pull out of the tournament, Gallardo did everything he could to stay on the Mexico team -- and then allowed one run in 3 1/3 innings to beat the Americans.
You could tell what it meant for the Mexicans (and the Mexican fans) to win this game.
Would any win in the WBC mean as much to Americans? Would any loss mean so much that pitchers would want badly to avenge it four years later?
Jimmy Rollins says it's the other way around. He says that if Team USA wins it all, then recruiting would be easier in 2017.
"Winning it is the tough part," he said. "Defending it is the fun part."
Winning it without any of your best starting pitchers is toughest of all.
A beardless Wilson says that he tried to outrun the police on the second day he had his driver's...

The Diamondbacks outfielder was not impaired, he was just going way too fast

MLB can unilaterally implement rule changes, which will also include limits on mound visit...
If the MLBPA wants to fix MLB's economic system, it should push for more money for young p...

Fans aren't happy Gerrit Cole and Andrew McCutchen have been traded away

Acuna is arguably the best prospect in baseball