Teams are calling about Porcello, but Tigers shouldn't be answering
Detroit should keep right-handed starter Rick Porcello rather than create an issue about the starting pitching depth by trading him for a closer.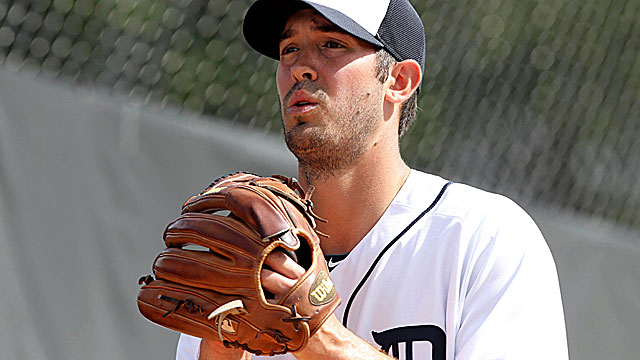 LAKELAND, Fla. -- No surprise, Detroit Tigers general manager Dave Dombrowski can hardly answer the phone fast enough.
Word has it, Dombrowski might consider trading Rick Porcello , a young veteran starting pitcher having a terrific spring, presumably to secure a proven closer if he can. When a pitcher this young, and this good, might be moved, that'll cause GMs to call.
"We are not looking to move Rick Porcello," Dombrowski said. "We have received many phone calls. In fact, I got a couple phone calls today.''
While one Tigers connected person suggested a trade remains a real possibility for Porcello, executives with two interested teams said they are under the impression he likely won't be traded. And while Porcello hasn't yet established himself as a star, he's now making $5.1 million (and big springs can be misleading); the Tigers would be wise to keep Porcello.
The temptation might be there to try to see if they can find a closer in return, but as badly as Tigers rookie closer candidate Bruce Rondon is struggling (and he continues to struggle; he couldn't throw a breaking ball for a strike Saturday and allowed a two-run home run Ben Francisco in the Tigers' 10-6 victory), there's no sense weakening themselves in the rotation.
Porcello and lefthander Drew Smyly give the Tigers two excellent candidates to fill the No. 5 starters' job. But if they trade Porcello, they become paper-thin in the depth department. Youngster Casey Crosby  and injury-plagued veteran Shawn Hill are among the top reinforcements. Better to have Smyly waiting in the wings.
"Really, one of our big needs is starting pitching depth," Dombrowski said. "If we trade one of these guys [either Porcello or Smyly], then we hurt ourselves more in that area."
There's a question about whether they could get a proven closer for Porcello, anyway. While they didn't ask the San Diego Padres for Luke Gregerson or Huston Street for Porcello, it was suggested San Diego wouldn't make that trade, anyway. The Texas Rangers and Baltimore Orioles are among other teams that have been connected to Porcello, while the Cleveland Indians , Milwaukee Brewers , Los Angeles Angels also could have interest in a starting pitcher.
And while there's still some angst in Tigers camp over who will close -- "I'm always more comfortable if I can name a surefire closer,'' manager Jim Leyland said -- they do have a stockpile of excellent arms in their pen. Beyond Rondon, they have Phil Coke , Joaquin Benoit , Al Alburquerque , Octavio Dotel and Brayan Villarreal , giving them a multitude of closer possibilities -- though no one obvious.
Dombrowski isn't as eager to find a set closer as Leyland is.
"A manager and a general manager are in two different spots. I understand from a manager's perspective, he'd rather have one guy he can point to on a daily basis," Dombrowski said.
Leyland said Saturday it's a "possibility'' he doesn't name one closer, and it's hard to imagine he could name Rondon after his wild and inconsistent spring. More likely, it seems, he goes into the year without picking one closer, and they handle it much the way the Cardinals did in 2011, when they never named youngster Jason Motte the closer: He just became the closer.
Dombrowski said he recalled when Leyland mixed and matched successfully in taking the Pirates to the playoffs without one set closer, and he feels good about the number of excellent arms they have in their pen.
"I don't feel an urgency," Dombrowski concluded.
Without a sense of desperation, it's hard to see how they move Porcello, who's been a consistently serviceable pitcher in the big leagues but now may be finally ready to make a move to the next level. Spring stats can be misleading, but it doesn't hurt that he's 3-1 with a 2.50 ERA, 0.78 WHIP and has zero walks and 18 strikeouts in 18 innings. Smyly is also having a nice spring, with a 4-0 record and 3.38 ERA in 21 1/3 innings, and he could give the Tigers a lefty in the rotation or needed depth.
Porcello, who's won in double digits all four years in the big leagues but struggled at times last year when he posted a career-high 1.53 WHIP, said he's made adjustments in the winter to smooth out and simplify his delivery. But while he simplified his mechanics, he noted the irony in that it's too complicated to explain.
"It's simple," he said, "but it's hard to explain."
Some folks expected more from him considering he debuted at 21, but he said he can't regret what he's accomplished at such a young age. He said he won't look back, and only wants to aid his future by making the right changes.
If one of those changes includes a new team, he'd deal with it.
"I love playing for the Tigers. Obviously, it's a really good ballclub to be around, a great group of guys ... and this is all I know," Porcello said. "But if I did get traded, I'd have to adjust accordingly."
While a trade for Porcello remains possible, the Tigers would be wiser to keep him and not wreck their depth.
They still would much rather grab the AL East, however

Sale becomes the first AL pitcher to reach 300 strikeouts since 1999

Steve Balboni's long-standing record of 36 has finally fallen
Several players called for the netting to be extended down the base lines following Wednesday's...

Maria made landfall as a Category 4 on Wednesday

The players are trying to do their job and don't want to see anyone hurt