Ted Lilly agrees to continue minor-league rehab assignment
Dodgers lefty Ted Lilly, after initially refusing, has agreed to make an additional minor-league rehab astart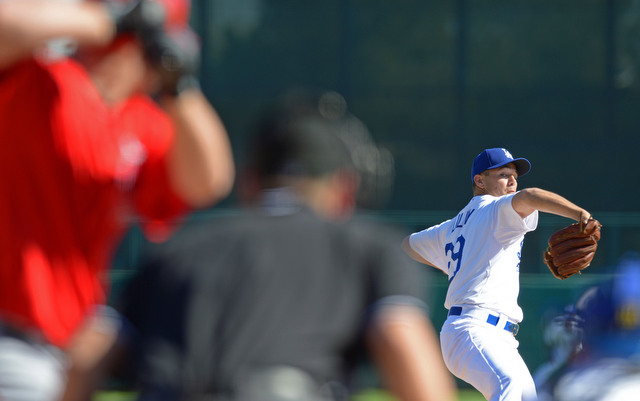 More MLB: Scoreboard | Standings | Probable Pitchers | Sortable Stats | Odds
UPDATE: Ted Lilly has agreed to continue his minor-league rehab assignment at the Triple-A level, . He'll make his next start Tuesday. 
Thanks to their offseason spending spree, the Dodgers came into the season with eight starting pitchers for five spots. One of the extra starters was traded away (Aaron Harang) while another (Chris Capuano) has moved into the rotation following Zack Greinke's broken collarbone.
Left-hander Ted Lilly opened the year on the DL after having shoulder surgery last summer, but he is now healthy and ready to be activated. The team asked him to continue his minor league stint over the weekend, but Lilly initially refused (MLB.com's Ken Gurnick). Now, however, Lilly has agreed to make one additional rehab start at the Triple-A level, tweets Dylan Hernandez of the Los Angeles Times. That start will come Tuesday night.
That's a good thing from the Dodgers' standpoint, as manager Don Mattingly made it clear the team doesn't think he's ready to return to the show:
"We laid out a plan and, obviously, he just didn't like the plan," said manager Don Mattingly, who put Chris Capuano in the starting rotation, and not Lilly, to replace the injured Zack Greinke. "From a baseball standpoint, we felt he wasn't quite ready for what we want him to do, to start."

"We laid out a plan and Teddy doesn't want to be part of the plan. It's out of my hands. We didn't feel he was ready to pitch at the Major League level. For me, it's a baseball decision. It's nothing personal in any way, shape or form. We're giving him our baseball thoughts, what we think is best for him and the team."
Lilly is owed $12 million this year and will become a free agent after the season.
The Dodgers are currently carrying seven relievers -- they had been carrying eight before the Harang trade -- and could option right-hander Shawn Tolleson or left-hander Paco Rodriguez to Triple-A to make room for Lilly when the time comes. Rodriguez has been very effective so far, but Tolleson was just called up following Greinke's injury. There is bullpen space available.
Lilly hasn't pitched in relief regularly since 2002 or at all since 2003, so shifting to the bullpen would be an adjustment. The Dodgers could also put him in the rotation and stick Capuano back in the bullpen. There are options. Pitching depth is precious, though, so holding onto Lilly at least while Greinke is out makes sense for a contending team. It seems unlikely they'll get much in a trade anyway.
Dodgers manager Dave Roberts on Sunday announced his World Series rotation for the first four...

How should the Astros play it when one of their two aces isn't on the mound against the Do...

The former big-league infielder also worked as GM of the Puerto Rico national team
The Indians pitching coach would be getting his first MLB managerial job

In the last several years, lots of droughts have ended in MLB

The most likely scenarios are Dodgers winning in five or six games