Ten candidates to play hero or goat in the World Series
Here are the difference makers in double digits.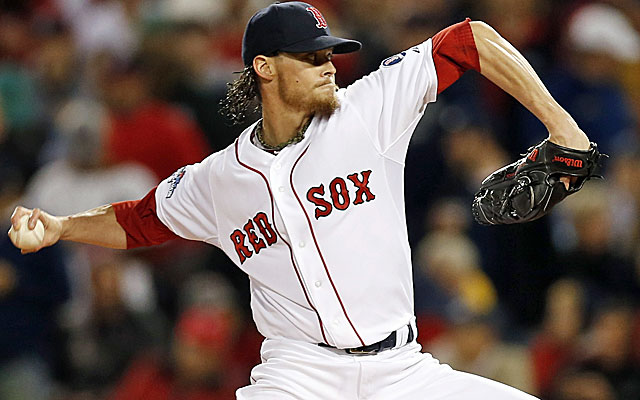 ST. LOUIS – Five games to go, and plenty of opportunity for a World Series hero or two to emerge.
Or, quite possibly the goat(s).
The way this one's gone so far, that could well be the case, too. Considering these are baseball's two best teams, can't say it's been the smoothest two games so far.
The Cardinals, for instance, could have had five errors in Game 1, though officially they only were charged with three. As one N.L. scout noted, "These teams are good, but they aren't exactly the best defensive teams in baseball."
Umm, no, they are not.
Here is a rundown of potential heroes and goats …
1. Jacoby Ellsbury, Red Sox. Boston's igniter is one of the more underrated players in the game, and paradoxically, he's about to become one of the game's most overpaid. He starred in the 2007 postseason as a kid, and he is doing it again. A tough out, he'll be on base a lot. One thing: he's neutralized to a degree by the game's best throwing catcher Yadier Molina and quick-to-the-plate Cardinals pitchers like Adam Wainwright and Michael Wacha.
2. Clay Buchholz, Red Sox SP. Boston is still maintaining they expect him to pitch Game 4 after pushing him back from Game 3. Still a mystery how he could have a "dead arm" considering he took three months to rest his shoulder, as the Red Sox did the prudent thing. He was accused by a Blue Jays announcer of loading up the ball earlier this year, though the Cardinals aren't ones too complain, as we saw after a brilliant Jon Lester was caught with green goo in Game 1. The explanations were priceless, as he and Red Sox manager John Farrell combined to mention that he needed rosin because he "sweats like a pig" and the green junk looked like a "booger." The way they say it, the issue wasn't cheating but hygiene. If anyone truly looks a little sloppy, it's actually Buchholz, who was nominated by David Ross for having the team's worst beard (there's a lot of competition there, including from Ross himself, who cops to looking like "an old coach.")
3. Trevor Rosenthal, Cardinals RP. His postseason numbers are no less than overwhelming, and there's a reason for that: his stuff is overwhelming. It's hard to get used to facing the 100-mph thrower with control, especially if you haven't seen him much (or at all). Lifetime in the postseason he's allowed zero runs and struck out 27 batters in 16 2/3 innings with a 0.54 WHIP, not bad for a 21st round draft choice. Boston whiffed three times in three at-bats in its first attempt. They will hope not to get too many more tries at him.
4. Koji Uehara, Red Sox RP. He deserves equal billing. The ALCS MVP is a tough one for hitters who haven't seen him, as you just don't see 90-mph splitters. Was the most dominating pitcher in the regular season (0.57 WHIP), and he showed why vs. Detroit.
5. Mike Matheny, Cardinals manager. This guy is good. And give the Cardinals credit for going with an untested guy for the job. They knew him well, and rolled the dice. Great call. Just look at Game 2. He inserts game 1 goat Pete Kozma as a pinch runner, and Kozma initiates a double steal that leads to two runs in the key three-run seventh inning. He sticks with rookie Carlos Martinez vs. David Ortiz rather than go to lefty Randy Choate, and Martinez limits Ortiz, Boston's best clutch hitter, to a single. (This was different than when Detroit messed up and used OK righty Joaquin Benoit against Ortiz with the bases loaded, and should have saved lefty Drew Smyly for Ortiz for that possibility. Martinez is a vastly superior pitcher to Choate.)
6. Stephen Drew, Red Sox SS. Fans are already calling for his benching in Boston, no surprise since his offensive numbers are dreadful in the postseason. This, of course, would be lunacy since he is the stabilizer at shortstop, and the Red Sox aren't about to put rookie Xander Bogaerts in at shortstop (at least I can't imagine it). Anyway, Drew's been about the worst offensive player this October (four for 42) and quite possibly the best defensive player. His struggles in October aren't a shock. SABR president Vince Gennaro did a four-year study and found that among playoff players this year, Drew had one of the greatest differentials in his performance between "top" (top third in OPS against) pitchers and "bottom" (bottom third) pitchers over the last four years. For those following along, it's pretty clear the Cardinals will be using ZERO "bottom" pitchers. Meanwhile, Drew's defense is superb, maybe even better than when he was in Arizona. In all, he has contributed to the very low-scoring October, on both sides of the ball no less.
7. Carlos Beltran, Cardinals RF. His 1.163 postseason OPS is the best ever for anyone with 175 plate appearances. I know Mets fans may have a different memory, but he has provided consistent power for the Cardinals, and before that the Astros. No surprise, he qualified as one of the game's best hitters against top pitchers in Gennaro's survey. A bigger plus: he didn't look diminished in Game 2 after suffering badly bruised ribs while making the Cardinals' one positive play in Game 1, an over-the-wall grab off Ortiz. Looking more and more like a Hall of Famer from here.
8. David Ortiz, Red Sox DH/1B. Who else? How he's hit five home runs when teams are pitching around him in October is truly amazing. Overall he hasn't been quite as great as Beltran in the postseason, but he's had more enormous moments. And almost all have come with teams trying to avoid him. Another one looking more and more like a Hall of Famer. Things are adding him for to be in "that club in Cooperstown" as Jonny Gomes put it.
9. Yadier Molina, Cardinals C. It'll be interesting to see if pinch runner Quintin Berry tests his perfect (28 for 28) lifetime stolen base record. Or A.L. stolen base leader Ellsbury gives it a try. Boston has pretty good speed, and John Farrell is a very aggressive manager in terms of taking the extra base, but realistically, the rest of 'em can forget about it.
10. Jake Peavy, Red Sox SP. He's waited a career for a chance like this, and while his stuff still looks good enough, he hasn't exactly been what one might call effective in the postseason this year (8.31 ERA). Was moved up to the No. 3 spot due to Buchholz's issue, so he's slated to get the call if there's a Game 7.     
Does the Jackson signing mean the Giants are out on Lorenzo Cain?

Acuna edged out Shohei Ohtani and Vladimir Guerrero Jr.

There's no reason to run over the cases for and against Bonds, so let's have fun instead
The coveted right-hander would certainly be a fit in Milwaukee

We rate the best mustaches from random baseball cards because, why not?

Colon wants to break a Dennis Martinez record