Ten notable players who stayed put at the trade deadline
In the last couple of weeks it seemed the likes of Matt Garza, Joe Blanton and Chase Headley would be wearing new uniforms in August, but the trade deadline and those and many others didn't get traded.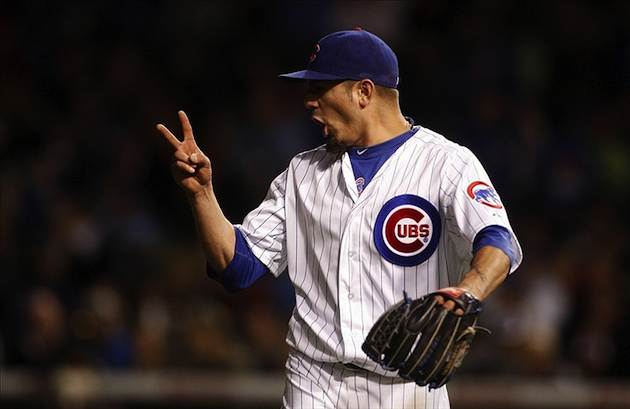 An injury at an inopportune time means Matt Garza is still a Cub. (US Presswire)
With the trade deadline done, plenty of players have changed teams, but we've also had many players most believed would be traded still in the same uniform as Tuesday's game began.

So, who did we think was going to be traded and wasn't? Here's five pitchers and five hitters who are staying put (at least for now).

Pitchers
• Matt Garza, Cubs -- Ryan Dempster was scheduled to start Tuesday's game against the the Pirates, but he was sent to Texas. Meanwhile, the Cubs' most valuable trade piece is staying put. Garza was rumored to land with nearly any of the 29 other teams, but instead an arm injury cooled the interest and the Cubs decided to keep the 28-year-old right-hander -- at least until this offseason. Garza is a free agent following next season.

• Josh Johnson, Marlins -- Maybe the Marlins were hoping someone (like the Rangers) would get desperate and give them a Mark Teixeira-type haul. With nobody stepping up to the plate with the kind of deal, the Marlins didn't bite. Still, the fact that a pitcher the caliber of Johnson was being dangled on the market made for an interesting rumor mill.

• James Shields, Rays -- Expect there to be plenty of rumors leading up to next year's trade deadline about Shields, just as there have been the last two years. Once again, the Rays held on to the 30-year-old right-hander. Last year they were glad to have him as they came back to snag the wild card from the Red Sox. In the last two months of the season, Shields went 7-3 with a 2.43 ERA. The Rays entered Tuesday's games just three games behind the A's and Angles in the wild card standings, so it's way too early for them to give up on 2012.

• Jason Vargas, Mariners -- There were sexier names supposedly on the market (like Cliff Lee and Josh Beckett), but Varagas seemed like a guy destined to move. The 29-year-old left-hander is entering his final season of arbitration, making him a more than a rental, which brings in a better return. Vargas is 11-7 with a 3.76 ERA heading into Tuesday's start against the Blue Jays.

• Joe Blanton, Phillies -- Sometimes there's one rumor that gets repeated so much that you're surprised when you hear there wasn't a trade. Blanton to the Orioles is this year's version. I'm guessing the Orioles PR staff had already gotten a Photoshop version of Blanton with a bird on his hat ready to send out when the deadline passed and Blanton remained in Philadelphia. Blanton's seemingly been on his way out of Philadelphia since the Phillies signed Lee, yet he's still there. He may not be much longer, as the 31-year-old right-hander is a free agent after the season.

Hitters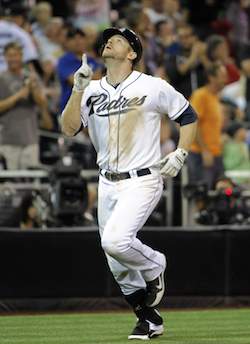 Chase Headley is still a Padre, but he may be traded in the offseason. (Associated Press)
• Chase Headley, Padres -- Under team control through 2014, Headley seemed to be one of the best position players available on the market. A switch-hitter, the 28-year-old Headley is hitting .268/.369/.424 with 12 homers for the Padres this season and his numbers away from the cavernous Petco Park are even better -- .279/.392/.484 with nine home runs. The Padres may be ready to hand the everyday gig over to Jedd Gyorko, who is hitting .337/.385/.590 with 17 home runs at Triple-A Tucson and has 23 homers overall in the minors this season.

• Shin-Soo Choo, Indians -- While it always seemed like a longshot that the Indians would move Choo, he was one of the most intriguing names on the market. Choo has one more year of arbitration available, but he doesn't seem long for Cleveland. The Indians have talked to Choo about a long-term deal in the past, but it's unlikely a Scott Boras client will not explore free agency at this point. After a disaster of a season in 2011, Choo is back to his usual form, hitting .291/.378/.484 with 12 home runs and 11 stolen bases. He's a career .291/.383/.474 hitter with Gold Glove-caliber defense in right field, including one of the game's best outfield arms. There had been rumors the Pirates were interested and he could have made Andrew McCutchen's life a whole lot easier. Alas, he's staying put for now.

• Justin Upton, Diamondbacks -- Unlike Choo, there were plenty who believed Arizona would actually move Upton -- or at least it was seen as a better chance than 2010 when similar rumors popped up that the team was shopping their immensely talented right fielder. Upton, 24, isn't having the year he had a year ago and was actually booed at home this year. Still, he's hitting .270/.360/.399 with eight home runs this season. His averaged and on-base percentage are down just slightly from a year ago, while his slugging has fallen off. Last year he slugged .529 with 31 home runs. He's signed through 2015 and would bring back a king's ransom if dealt, which could still happen in the off-season.

• Alfonso Soriano, Cubs -- Perhaps it was a wishful thinking that the Cubs could find someone to take Soriano and his $36 million over the next two seasons off their hands. But it was a heck of a wish. They'll certainly put him on waivers, but it's doubtful anyone would claim him. The 37-year-old is having his best season in years, hitting .274/.324/.504 with 19 home runs before Tuesday's game. That's good, but it's not $18 million good.

• Stephen Drew, Diamondbacks -- It's pretty safe to say that Drew won't be a Diamondback in 2013. Diamondbacks owner Ken Kendrick blasted Drew in June for what many felt was Drew's slow return to the field from injury. The team's first-round pick played in just 24 games before the trade deadline, hitting .193/.261/.253. But he's a shortstop and has talent, so there was interest. He's in the second year of a two-year deal and there's a mutual option for 2013 and the feeling may be mutual that Drew is better off elsewhere next season.
For more baseball news, rumors and analysis, follow @EyeOnBaseball on Twitter, subscribe to the RSS feed and "like" us on Facebook.
New Mexico broke the school and WAC single-game run record with a 39-0 victory over Mississippi...

It's the first Saturday slate of spring training games, and Ohtani will be taking the mound...

The Tigers are very early in their rebuild and they're counting on Miguel Cabrera to rebound...
The Grapefruit League and Cactus League seasons started on Friday

Data will be collected and then used to determine whether humidors are necessary in 2019

Spring training play began on Friday, and the Stoneman Douglas tragedy was on the mind of MLB...