Ten teams that could be in on a Jeff Samardzija trade market
The timing just isn't right for unlucky star pitcher Jeff Samardzija to stay on the North Side of Chicago.
For eight consecutive starts, Cubs hitters failed the team's ace starter Jeff Samardzija. In his last start, there was a new twist: it was Cubs fielders who let him down.
Almost unbelievably, Samardzija has posted a 2.3 WAR, third best in the National League for pitchers, while also posting an 0-4 record. The Cubs are 1-8 in his starts even though, in theory, he should be almost 2.5 wins to the good.
It hardly seems possible but he has a league-leading 1.62 ERA to go with those zero wins. This is historic stuff.
Samardzija and the Cubs always had the makings of a wonderful marriage. He's northern Indiana sports hero from Merrillville who starred as a wide receiver at Notre Dame. He also happens to be the very sort of pitcher they need -- a gutsy, hard-throwing ace with no injury history.
Unfortunately, the timing isn't right.
His best years may well be this year and next at a time the Cubs continue rebuilding and struggling. His great pitches and games seem to be wasted at Clark and Addison.
One rival National League GM opined recently that he believes the Cubs have no choice but to do everything in their power to try to lock up Samardzija to a long-term deal, and that's obviously one reasonable alternative. There's no sense at all in just keeping him for a year and a half and letting his Cubs eligibility expire, so that leaves only two realistic options -- signing him to a big deal (as that GM suggested) or trading him.
Despite that GM's opinion, dealing him in July seems to be the more sensible approach. And in all likelihood, that's where they're headed (at least that's what most rivals assume). As much as the Cubs would like to keep Samardzija into their projected improvement, as much as they love his arm (an upper-90s thrower with very limited wear and tear), his competitiveness and his youth (he's only 29), it's fair to conclude he's much more valuable to a number of others teams now. Ten 10 teams are listed below as possible landing spots (and there are others).
The Blue Jays, rumored as a suitor for a while, might see themselves having a chance in a tight AL East that doesn't look quite as tough as folks figured. The Yankees, in the same division, already have lost two starting pitchers and have an admitted desire to find a suitable replacement; their farm system looks quite a bit better than a year ago, aiding their trade viability.
Samardzija was facing the Yankees on Wednesday at Wrigley Field in what could be a test run.
The field of interested teams should be strong considering there are many would-be contenders in a season of parity, and only a few viable starters expected to hit the trade market. Samardzija's rotation mate Jason Hammel likely will be another, but he's more a middle-of-the-rotation guy.
Samardzija's value as a trade chip should be enormous.
While there's no word that the Cubs are already sending out feelers, the GM of one interested team already knows what the asking price will be: "They'll want top, top guys," he said, suggesting he isn't sure his team has enough prospect firepower to compete.
While it's true Samardzija is the very sort the Cubs could use, the issue/impediment for them is he's due to become a free agent after the 2015 season. By many accounts, that's about the time the Cubs could become a contender. It's hard to see it happening before then.
Samardzija is said by friends to have a desire to test his value on the free-agent market (or at least be paid market value), and he's also said to have an even stronger desire to win. If anyone should understand the Cubs' current lack of viability as a short-term winner, it has to be him.
It won't be soon The Cubs have as many top-tier positional prospects as just about anyone, including infielders Javier Baez, Kris Bryant and Arismendy Alcantara and outfielders Jorge Soler and Albert Almora. But Baez, the closest to the majors of the lot, is struggling at Triple-A Iowa following what some believe to be serious sulking after not making the team following a nice spring. The plan is for the slugging Bryant to spend at least a full year in the minors, and the others are also seen as that far away, or farther.
It's also hard to see the Cubs locking up Samardzija based on previous contract talks. The parties have had dialogue or at least an open door beginning a year and a half ago, so that's a plus. However, there's no evidence there's been anything close to a meeting of the minds.
The most official offer is believed to have come awhile back, and while there's nothing to prevent the Cubs from trying again before trading him, the sides aren't believed to have been in the same area code, much less the same ballpark. While no offers have come out publicly, it's believed team officials were at least looking at the deals Texas made first with Derek Holland ($28.5 million) and Matt Harrison ($55 million) as rough, early guideposts.
Meanwhile, Samardzija was always looking toward the future market with the belief he'd become a star and prices would continue to rise thanks to a paucity of great pitching.
Samardzija, it has been noted by people close to him, has an amazing belief in his own ability. He also has the $10 million nest egg from a beefy signing bonus negotiated when the NFL was another option.  
In any case, Samardzija looks like he's about to win his big bet.
He's pitched like a star so far this year, the year before his walk year, while the price of big-time starters has risen even more sharply than just anyone could have believed. Even before the Reds' hard-throwing young Homer Bailey signed a deal that guaranteed him $105 million over six years, Samardzija had an idea his market would go there. Now he's likely sure of it.
"Samardzija is a better pitcher than Homer Bailey, there isn't any doubt about that," one rival GM said.
Samardzija is so good, he's virtually being wasted on the Cubs.
That 2.3 WAR hasn't translated to real wins through no fault of his own.
While presumably he'd help them win some extra games the next year and a half, it's hard to see them being meaningful games, so his value to them is mostly as a trade piece.
Cubs people aren't saying it's like Matt Garza, who was a just about a guaranteed goner this time last year. They are saying they have alternatives, and they do. But the best option is to trade him this summer, and maximize his trade value.
The Cubs did extremely well to get third baseman Mike Olt, pitcher C.J. Edwards and others for a half year of Garza. In this case, the supply of available pitchers shouldn't be much greater and the demand may be much higher. Even better, the belief in Samardzija is that much higher.
While Samardzija has three times more time left than Garza, one interested GM suggests the Cubs shouldn't expect to get three times more value. But even if they get twice the value, it would be worthwhile doing.
Fairly, he should be worth quite a bit more on the market.
Unlike Garza, Samardzija has zero injury history, and by breaking in as a reliever he has far fewer innings under his belt than most any other ace pitcher his age. Plus, he still has a year and a half to go before he can become a free agent, which gives any acquiring team three times longer with him than Texas had with Garza.
Not only that, and this is no small thing, the new team would have the benefit of being able to extend a qualifying offer to Samardzija, which would give them an extra coveted draft choice.
For many reasons, Samardzija looks like the best trade chip this summer. The Cubs have no choice but to take advantage.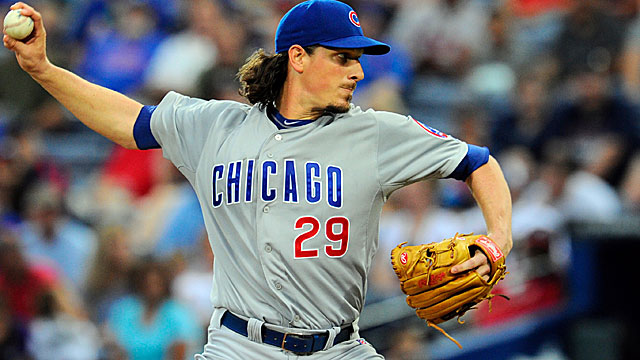 Here's the field of possible trade partners …
1. Yankees: They no doubt have the need, and now they are said to have the ammunition. Dellin Betances, who's dominating as a set-up man, isn't one the Yankees would presumably want to deal, but Manny Banuelos is back healthy and a nice new stash of hopefuls includes Luis Severino, Abi Avelino plus the usual strong catching selections and three No. 1s from last year with potential -- pitcher Ian Clarkin, slugger Aaron Judge and third baseman Eric Jagielo.
2. Blue Jays: Toronto has been linked before to Samardzija, and it has strong young arms in Aaron Sanchez, Marcus Stroman and others. The AL East looks winnable at the moment, too.
3. Red Sox: Boston obviously has terrific pitching prospects, including Henry Owens, Allen Webster, Matt Barnes and Anthony Ranaudo. Pitching isn't their main big-league issue, but Clay Buchholz and Felix Doubront may still be a little tired from last year's heroics, and in fact Doubront reported experiencing some shoulder fatigue Tuesday night.
4. Dodgers: They obviously have the wherewithal to lock up Samardzija, and it doesn't hurt that they still have top-tier prospects like Zach Lee, Corey Seager and Joc Pederson. Pitcher Julio Urias, only 16, looks like a distant future star.
5. Rockies: Who knows? Their offense is special, and one veteran pitcher could provide the boost they need. They possess two great pitching prospects – Eddie Butler and Jonathan Gray, but little reasonable expectation they'd part with either.
6. Mariners: There's a lot of pressure for them to win now, and if they get close perhaps they could be tempted to include top pitching prospect Taijuan Walker, though they wouldn't deal Walker for David Price, so maybe not. They do have a good number of young position players they'd be more willing to deal.
7. A's: They aren't as stocked with prospects as some but seem to be able to find a way. Right now kids Sonny Gray and Jesse Chavez plus Scott Kazmir provide a formidable top three, but their depth was hurt by Tommy John surgeries for Jarrod Parker and A.J. Griffin.
8. Braves: They've been in talks for Samardzija before, but remarkably, they somehow have six starters going very well now. As long as they have an extra starter, they wouldn't seem to be a logical player.
9. Rangers: They've dealt with the Cubs before, and they obviously have had a series of rotation injuries. Of course, in such a seemingly unlucky year they very likely wouldn't want to trade from their prospect largesse at the moment.
10. Marlins: Don't laugh. Miami has done a terrific job early this year, they have plenty of young arms and Samardzija certainly would make a nice 2014 replacement for rehabbing starter Jose Fernandez. The obvious drawback: they'd have little to no chance to lock him up.
CBS Sports HQ Daily Newsletter
Get the best highlights and stories - yeah, just the good stuff handpicked by our team to start your day.
Please check the opt-in box to acknowledge that you would like to subscribe.
Thanks for signing up!
Keep an eye on your inbox for the latest sports news.
Sorry!
There was an error processing your subscription.
Eight others were not voted in by the Today's Game Committee

We'll keep you in the know for everything happening on the eve of winter meetings

What signings, trades and Scott Boras quotes will we see in the desert?
The 2018 Heisman winner plans to play for Oakland A's after the Sooners' season ends

The Dodgers will try to find the pieces to push them over the World Series finish line

Here are Saturday's hot stove rumblings from around MLB