Terry Collins attempting to rein in Matt Harvey
Mets ace Matt Harvey is itching to get back on the mound. Meanwhile, manager Terry Collins is trying to convince him to slow down in his rehab, with the goal of having Harvey healthy for 2015.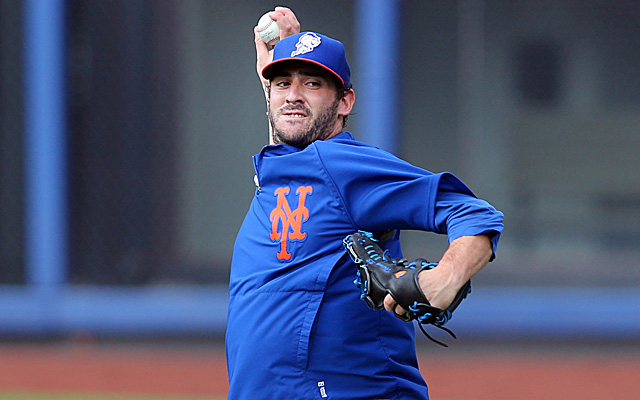 More MLB: Power Rankings | Expert Picks | Latest news & notes | Fantasy news
Mets manager Terry Collins had a conversation with ace starting pitcher Matt Harvey over the phone Thursday, per reports, and the message was basically to settle down -- both on the mound and on the radio.
Via ESPN New York, here's the main message from Collins:
"He wants to try to get back here to help," Collins said about Harvey. "And I explained to him, 'I understand that. But ... you have got to understand the big picture. And the big picture is 2015. So back off.'

"Now, unless I'm standing next to him, I can't control it. You guys think I can. I can't. It's impossible. This guy will hire somebody to go throw with him. That's the way he is. That's just how he is. I just said, 'You've got to be smart about this. And, by the way, stop doing radio shows during the ballgame telling everybody you're throwing 95 mph. That isn't going to help us up here.'

"He gets it. He said, 'Yeah, I just wanted to let them know I'm fine.' I said, 'Yeah, but there's a phraseology you could use to say, hey, look, I'm doing fine and I'm making progress.'"
That's the tightrope that managers need to walk with dynamically talented competitors like Harvey. I can't think of a single reason that Harvey wanting to get back on the mound as soon as possible is a bad thing. He's a beast on the hill and part of the reason he is so good is his competitive fire.
On the flip-side, his competitive fire doesn't help him if he's not healthy -- and if he rushes back to what appear to be meaningless games in September and injures himself, that puts the 2015 season in jeopardy. So Collins and other Mets brass are tasked with trying to convince Harvey to dial it down. It sounds like a tall order.
Harvey, 25, was 9-5 with a 2.27 ERA (158 ERA+), 0.93 WHIP and 191 strikeouts in 178 1/3 innings last season, his first full season in the bigs. He started the All-Star Game and may have finished better than fourth in the NL Cy Young voting had he been able to pitch in September. He's going to miss all of the 2014 season as he recovers from his October Tommy John surgery.