Texas will keep its biggest stars, but markets strong for Rios, Soria
The Rangers fielded calls on Yu Darvish and Adrian Beltre, but Texas isn't prepared to totally remake its team.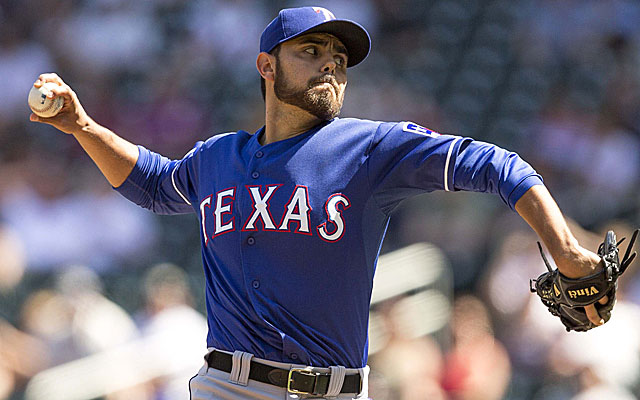 More MLB: Power Rankings | Expert Picks | Latest news & notes | Fantasy news
The Texas Rangers are conducting a sale of some premium players and are involved in discussions concerning very good players, such as re-emerging bullpen talent Joakim Soria and .300-hitting outfielder Alex Rios. But stars Yu Darvish and Adrian Beltre and very likely even cornerstone shortstop Elvis Andrus, too, won't be going anywhere.
Teams have called about all three big-name players but the Rangers are understandably considering this year an injury-riddled aberration. Since the Rangers intend to compete again next year, they have decided it's pointless to spend time on trade talks involving Beltre, the team leader as well as an All-Star third baseman, and Darvish, one of the game's best pitchers.
It probably isn't a surprise Texas intends to keep its core together. Andrus in particular had been viewed as a more likely trade candidate since the Rangers are well-stocked with young middle infielders, including Luis Sardinas, Rougned Odor and Jurickson Profar, but beyond Profar's upsetting, even exasperating, year-ending injury, the Rangers view Andrus as instrumental to their clubhouse, and in any case want to guard against selling low. Word is, he is "very likely" staying now.
The Tigers are said to be one main pursuer of Soria, who has turned his career around following a second Tommy John surgery (with some irony, he is a rare healthy Ranger now), and who would fit Detroit as a top set-up man and possibly late replacement for veteran closer Joe Nathan, who has shown signs of a drop-off this year. The Pirates, Dodgers and Giants are among other teams that could potentially fit Soria.
Rios, a rare available right-handed bat, should have a nice market, too, with the Mariners, Giants, Blue Jays and Royals among teams that fit. The Mets, who are playing better, are another team that could make sense, if they move into buying mode. One complication: Adding to the year's injury woes, Rios left the game Friday with an ankle sprain, and it's uncertain how long he may be out.
The Mariners, needing a right-handed bat, are said to be discouraged at the moment about their chances in talks with Texas, and while they aren't on his six-team no-trade list, friends say he would prefer not to go so far as Seattle. Rios' agent Paul Kinzer also expressed concern that all the trade rumors may be affecting Rios, who had been among leaders in the .330s a few weeks ago.
Texas, which already has traded reliever Jason Frasor to the Royals, signaling the start of its sale, fully intends to pick up reasonable club options for 2015 on both Soria and Rios. Soria, who makes $5.5 million this year, has an option for $7 million, with a $500,000 buyout, while Rios, who makes $13.5 million this year, has an option for $13.5 million, and a $1 million buyout. Those options add to the value of the players, even Rios, who for years was seen as overpaid (even when the White Sox surprised folks by claiming him on waivers).
Soria's worth also may have gotten a boost with the deal to send Huston Street to the Angels, which has narrowed the market by removing at least Street and reducing the chance that Joaquin Benoit is traded. San Diego has mentioned to teams a reluctance to gut its whole bullpen back-end, which could leave Soria as the most appealing reliever on the market.
Neal Cotts, who staged a great comeback in Texas the past couple years, is another Rangers bullpen piece with value.
No, you're not imagining things. This MLB offseason has been very slow compared to the last...

Francesa will retire from radio next month, so he'll have plenty of free time next summer

Get your sports fans something that they'll wear all year
Get 15 percent off any order of more than $75 at CBS Sports Shop

The Twins need help in the rotation, and they may look to the trade market to find arms

Here are the bullet-points of what went down Tuesday regarding MLB and the Braves' punishm...