The 10 best moments of the first half of the 2013 season
With the second half set to begin, let's a take quick back look on the first half that was and recall the best moments it provided.
More MLB: First-half awards | Heyman's picks | Prospects to watch in 2nd half
The first half of the 2013 season? Dead, embalmed and set ablaze in a Viking funeral. It has not, however, been sufficiently mourned and remembered. So let us get to doing just that.
In order to accomplish this solemn goal, let us take a brief walking tour of the 10 best moments of the first-half, which is now peaceful and composed in its death-state. These will not be ranked in any particular order because enough with all of that.
Onward ...
Yasiel Puig's auspicious debut
The Dodgers' Cuban phenom grabbed eyes and headlines during the early hours of his major-league career. In his big-league debut, Puig went 2-for-4 at the plate, but it was his throwing arm that made the biggest impression ...
The very next night, Puig would hit a pair of homers against those Padres.

Bryce Harper, Mike Trout and Manny Machado make history
The vaunted rookie of class of 2012 shall not be outdone by the likes of Puig! On opening day, Harper became the youngest player in MLB history to hit two homers in the first game of the season. On May 21 against the Mariners, Trout became the youngest player in American League history ever to hit for the cycle. As for Machado, the slick-fielding third baseman (who's presently on pace for 66 doubles this season) is now the youngest player ever to tally 125 or more hits before the break.
At this point, it bears mentioning that the first half of the 2013 season was longer than most, as some teams threatened the 100-game mark before the break. So, if you must, discount these first-half "counting" milestones accordingly. 

Homer Bailey, Tim Lincecum toss no-hitters
After the excesses of 2012, "no-hitter numbness" became a bit of a thing, but it's still pretty cool to see one unfold. On July 2, Homer Bailey of the Reds crafted his second career no-no by keeping the Giants hitless. Then 11 days later Tim Lincecum -- the losing pitcher on Bailey's big night -- tossed a no-hitter against the Padres.

One day, two games, 38 innings of baseball
Breaking: Two MLB games typically span a total of 18 innings. On June 8, though, expectations were slowly tortured ...

and ...

For good and wholly unnecessary measure, the Twins and Nationals also contributed an 11-inning game of their own on that same day.

Angel Pagan's walk-off rarity
Can you guess what this example of Hot Sports Action is?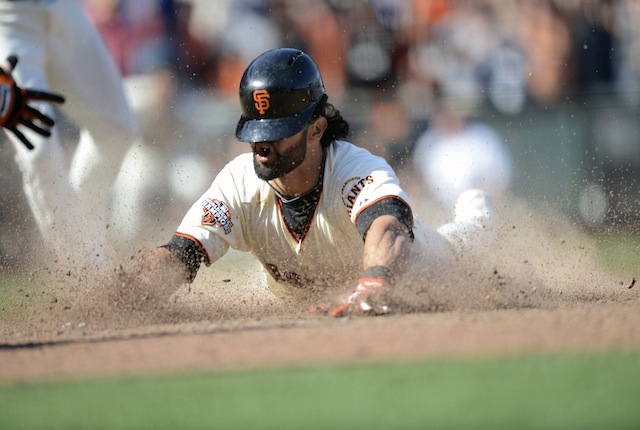 That's Angel Pagan of the Giants putting the finishing touches on the first walk-off inside-the-park home run since 2004. His 10th-inning dash on May 25 gave the Giants a 5-4 win over the Rockies.
Dioner Navarro hits like someone other than Dioner Navarro
There's nothing especially rare about a player hitting three home runs in one game. It's happened more than 500 times over the last century of play, and in 2013 alone it's happened five times. But when Cubs backup catcher Dioner Navarro achieved the feat on May 29 against the White Sox, it was something to behold, possibly from a safe distance. Navarro, you see, came into that game with only 44 career home runs across parts of 10 major-league seasons. He'd also never before logged a multihomer game. Unlikely, is what they call that.
David Ortiz gets defiant
Just prior to the first game back at Fenway after the murderous Boston Marathon bombings, Red Sox philosopher-king David Ortiz brought the crowd to its feet with a timely and well-delivered profane utterance.
Since we dare not expose thine ears to such ungentlemanly talk, we'll instead show you a picture of David Ortiz saying a naughty word for purposes of civic uplift ...
Andy Pettitte, CC Sabathia, Tim Hudson and Roy Halladay
On June 8 (the very date of the forced marches noted above), Andy Pettitte became the 47th pitcher in major-league history to win 250 or more games. Drop down one tier, and Roy Halladay (April 14), Tim Hudson (April 30) and CC Sabathia (July 3) each joined the 200-win club in the first half. Sabathia, it should be noted, would seem to have a real shot at becoming our next 300-game winner.

Miguel Cabrera and Chris Davis make first-half history
Coming into the 2013 season, no player had ever tallied 30 or more homers and 90 or more RBI before the break. Now, we have two who have pulled it off.
Mr. Cabrera, let us hasten to mention, is capable of doing this to an unconsenting baseball.
Yu Darvish just misses perfection
In his first start of the season, Rangers ace Yu Darvish utterly dominated the Astros: 8 2/3 IP, 0 R, 1 H, 14 K, 0 BB. Most notably, he came within a hairsbreadth of throwing a perfect game ... 
Yep: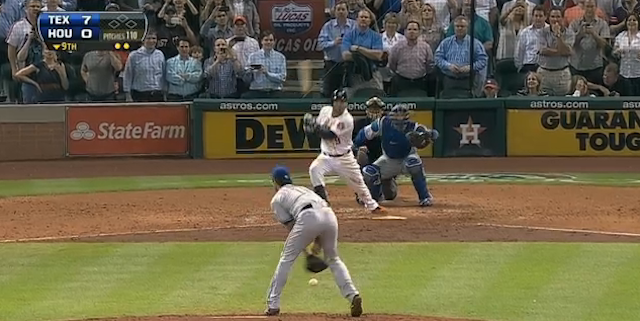 Scant inches from history.

Happy second half, baseball enthusiasts.
Fans aren't happy Gerrit Cole and Andrew McCutchen have been traded away

Acuna is arguably the best prospect in baseball

Kent had a good career, particularly with the bat
This would undoubtedly be the worst trade in Miami Marlins history

The Pirates recently shipped Gerrit Cole and Andrew McCutchen to Houston and San Francisco,...

Surely, Martinez and his agent are holding out for more