The 2013 Eye On Baseball Bloggies, Part I
Let's hand out some blog-centric awards for the 2013 MLB season, shall we?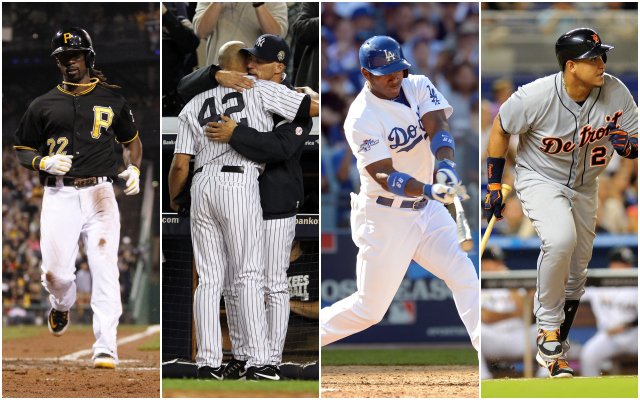 MORE: Part II of the Bloggies, including funniest, most bush league and boneheaded moments

The year 2014 is upon us, so now it's time to cast an eye back upon the year that is soon to be buried in a shallow grave. That would be 2013. For our noble purposes, that means handing out fake, vaporous hardware for the best "bloggable" moments and characters of the 2013 MLB season. 
We'll reveal the nominees for each championship category and also reveal how each of your Eye On Baseball bloggers -- Mike Axisa, Dayn Perry and Matt Snyder -- voted in each of those categories. You, in turn, should feel free to pronounce your own selections and otherwise cast personal aspersions at us in the comments section. Whatever. 
Without further throat-clearing ... 
Best Moment(s)
Nominees
•The Pittsburgh Pirates make the playoffs. It had been since 1992 that the Pirates notched a winning season and also since 1992 that they made the postseason. In 2013, Andrew McCutchen and company barged to 94 wins, a wild-card berth and to within one game of the NLCS. Who among us saw that coming? 
•"Puigmania." The Los Angeles Dodgers ' firebrand import rookie announced his presence in a big way and never stopped sucking up the bandwidth. For good or ill. 
• Derek Jeter and Andy Pettitte take the ball from Mariano Rivera . It was Mo's final appearance in Yankee Stadium, and even those who loathe the pinstripes had to appreciate the moment. Let's roll tape on this one:
•Boston Strong. After the Boston Marathon bombings, civic pride and defiance was on display at Fenway. David Ortiz 's choice words to the crowd summed things up quite fittingly. 
•The Texas Rangers ' Yu Darvish comes within one out of tossing an opening night perfect game against the Houston Astros .
• Homer Bailey throws another no-no. In fact, Bailey spun a no-hitter on July 2, and at that time he had thrown the last no-hitter, which came on Sept. 28, 2012. 
Our picks
Mike Axisa: Mariano
Dayn Perry: Pirates
Matt Snyder: Pirates
Worst Moment(s)
Nominees
•All things Biogenesis. Tiresome storyline distracts from the game, entails ugliness on all sides and leads to soul-crushingly bad "opinionating" from far too many quarters. Go away already. 
• Matt Harvey blows out his elbow. For much of the season, the New York Mets ' young phenom looked like a serious Cy Young contender, but then his UCL pulled up lame. After worst-case scenarios came to pass, he's now on ice for all of 2014. Even if you're not a Mets fan, it's never good to see such a promising young hurler go down with a serious injury. 
• Tim Hudson 's season-ending injury. The Atlanta Braves ' veteran stalwart saw his 2013 season end in gruesome fashion in late July when Eric Young Jr. of the Mets accidentally stepped on and fractured his leg during a play at first base. The only positive was the classy and genuine display of concern by Young. 
•Bobby Valentine's 9/11 comments. To hear Valentine harrumph it, the Mets did more in the wake of the 9/11 terrorist attacks than did the crosstown New York Yankees . Of course, some thoughts are better left unsaid. Or never thought in the first place. 
•The Dodgers- Arizona Diamondbacks "bean brawl." Although it was in some ways nifty to see so many All-Stars from 25 years ago grabbing one another by the collars, there's no excuse for headhunting. Ever. Talking to you, Ian Kennedy . 
Our picks
Axisa: Biogenesis
Perry: Biogenesis
Snyder: Biogenesis
Best Game
Nominees
•Game 3 of the World Series. What game was this? This one ... 
And it was then that the obstruction rule entered the national consciousness. 
•Game 1, NLCS. High stakes baseball between the St. Louis Cardinals and Dodgers, and it took 13 innings to arrive at a 3-2 verdict in favor of St. Louis. The Cardinal bullpen was the hero, as six relievers combined to toss seven scoreless frames. 
• Henderson Alvarez 's "walk-off" no-hitter. Yes, it really was a walk-off no-hitter. 
• Oakland Athletics and Los Angeles Angels go 19 innings. Three center fielders got injured running to first base. Sort of says it all about this oddball game. 
•Game 4, NLDS, Braves-Dodgers. This was the Juan Uribe homer game, and it sent L.A. to the NLCS. Craig Kimbrel may still be warming up. 
Our picks
Axisa: Game 1, NLCS
Perry: Game 1, NLCS
Snyder: Game 1, NLCS
Biggest Milestone
Nominees
•Ichiro's 4,000th hit. Yes, that tally includes his NPB hits, but it also speaks to the breadth of his career. 
• Raul Ibanez 's home run on Sept. 21 was the 300th of his career, and it also tied Ted Williams's 1960 record for most homers in a season by a player age 41 or older (29). 
•Andy Pettitte earns win no. 250. On June 8, Pettitte topped the Seattle Mariners by a score of 3-1 and became just the 47th pitcher ever to win 250 or more in his career. 
•Bruce Bochy earns win no 1,500. In the dugout, we're talking. Just 20 other managers have reached that benchmark. 
• Juan Pierre becomes just the 18th player ever to steal 600 or more bases in his career. 
Our picks
Axisa: Ichiro
Perry: Ichiro
Snyder: Ibanez 
Best Tweeter
Nominees
• Brandon McCarthy (Twitter feed)
• John Axford (Twitter feed)
• Adam Jones (Twitter feed)
Jones is notable because he on occasion threatens a loaf of meat with bodily harm:
Bout to smash some meatloaf

— Adam Jones (@SimplyAJ10) July 28, 2013
• David Price (Twitter feed)
• Brett Anderson (Twitter feed)
Our picks
Axisa: McCarthy
Perry: McCarthy
Snyder: McCarthy 
Best Viral Video/GIF
Nominees
• Jose Fernandez blows Troy Tulowitzki 's mind ... 
• Chad Qualls ... falls. 
• Miguel Cabrera hits all the pitches. All of them ... 
•Yu Darvish throws all the the pitches. All of them ... 
• Jonathan Villar of the Astros executes a most unfortunate slide. 
• Casper Wells , an outfielder, seems to have a pretty solid breaking ball. 
• Jean Segura steals ... first base. 
Our picks
Axisa: Miggy
Perry: Fernandez-Tulo
Snyder: Miggy  
Best Catch (Outfield)
Nominees
• Aaron Hicks is most unkind to Carlos Gomez ... 
•Gomez pays it forward at the expense of Joey Votto .
• Juan Lagares of the Mets covers much ground. 
• J.B. Shuck makes a snare at great personal hazard ... 
• Will Venable lays out for a clutch, 12-inning job ... 
Our picks
Axisa: Gomez
Perry: Shuck
Snyder: Gomez 
Best Throw (Outfield)
Nominees
• Yasiel Puig pulls off the game-ending double play. 
• Carlos Beltran earns major clutch points for this heave ... 
• Josh Reddick will have none of this tagging up nonsense. 
• Marlon Byrd make this ... the opposite of a close play. 
•Jeff Francouer, on the fly. 
Our picks
Axisa: Puig
Perry: Beltran
Snyder: Puig 
Best Infield Play
Nominees
• Jose Iglesias takes the laws of gravity and uses them to smash the space-time continuum. Or something like that ... 
• Manny Machado channels Brooks Robinson. 
•Joey Votto channels Magic Johnson. 
• Adrian Gonzalez with the nifty 3-2 scoop job.
• Nolan Arenado ... oh, just watch:
• Jason Kipnis with the ranging, behind-the-back flip.
Our picks
Axisa: Iglesias
Perry: Iglesias
Snyder: Arenado  
Best Sacrifice of Body
Nominees
•So, yeah, we're nominating J.B. Shuck of the Angels (see "Best Outfield Catch" above) for this one, too. See it again for the first time.
• Alex Gordon fears not the wall.
• Josh Donaldson of the Fightin' Athletics is very often glimpsed fightin' with the tarp ... 
•We'd of course be remiss if we didn't mention Torii Hunter versus the Fenway bullpen in the ALCS. 
• Brayan Pena takes the lick and holds on. 
• Tony Sanchez cares not for his personal well being ... 
Our picks
Axisa: Donaldson
Perry: Sanchez
Snyder: Shuck 
Coming Wednesday: Bloggies, Part II