The 2014 MVPs (Most Valuable Pitches) so far
Whose fastball, curve, changeup, slider, etc. has been the most valuable thus far in 2014? Let's explore that very question.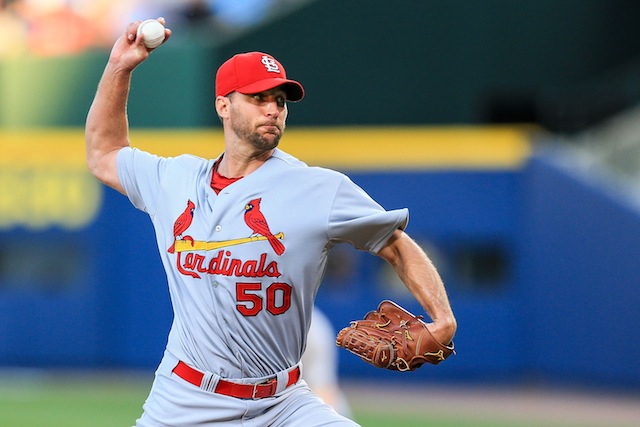 More MLB: Power Rankings | Expert Picks | Latest news & notes | Fantasy news
As noted in the headline, we're here to speak airily about MVPs. In this instance, the acronym refers to the most valuable pitches of the 2014 season to date. No, the towering "P" does not stand for players or even pitchers. Pitches, as in what we call the baseball's frolicsome journey from slab to plate. 
To do this, we're going to divide up pitches into their traditional classifications based on speed, direction of spin, break, etc -- you know, hard stuff, breaking balls, offspeed pitches and whatnot. In the end, we're going to declare -- from on high and while pounding a sturdy conference table -- which pitch from each specific class has provided the most value to date. 
We'll do so with an essential assist from the pitch linear weights data available at FanGraphs and the multitudes therein. Using linear weights (which are the average run values of events that take place in a baseball game), FanGraphs assigns a run value to each pitch. The figure then becomes how many runs that pitch has saved (or failed to save, in the case of negative numbers) over the time span in question. 
One key takeaway is that this is more of a value-oriented stat that some kind of forward-looking tool. That is, it's useful in looking back over a period of time and noting which individual pitch has been the most effective. It's not something that should be used to project into the future. Since this is an exercise in assessing value, that works for us. Also, think of it as a counting stat like innings pitched or home runs allowed. The more you pitch, the higher your best pitches will register in this regard (unless all your pitches are bad, in which case you're probably not long for the bigs). It's easy enough to rank individual offerings on a per-pitch basis, but we're concerned with total amassed value. 
With all that throat-clearing out of the way, let's unveil our current leaders in each category ... 
FASTBALL: Johnny Cueto, Reds, 18.4 runs saved
Shining example ...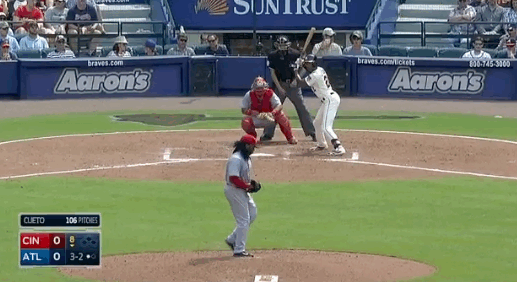 That's a 94-mile-per-hour two-seamer, and that's not easily handled, especially with that bit of late action on it. This season, opposing hitters are batting .203 against Cueto's four-seamer and just .114 on his sinker (the fastball linear-weights category appears to have both four-seamers and sinkers folded into it). He's going to one of those two offerings more than 50 percent of the time in 2014, which helps explain why he tops this particular pitch category. In a related matter, Cueto has been one of the best pitchers in all of baseball this season. 
Runner up: Ian Kennedy, Padres, 12.9 runs saved
CHANGEUP: Stephen Strasburg, Nationals, 10.1 runs saved
Shining example ...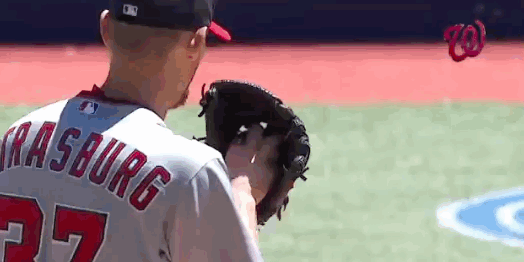 The brilliance of Strasburg's changeup is no secret, of course. It's probably one of the best single pitches in all of baseball when it comes to neutralizing the opposite side. With the sinking action and arm-side you see above and nice "velo gap" relative to his fastball, it's not hard to understand why that's the case. This season, Strasburg is going to his changeup more than ever against left-handed batters, and they're slugging just .140 versus that pitch. 
Runner-up: Chris Sale, White Sox, 7.7 runs saved
CURVEBALL: Sonny Gray, Athletics, 9.2 runs saved
Shining example ...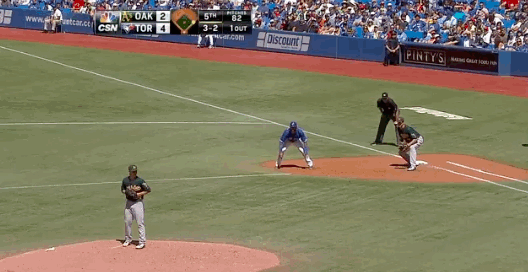 Regarding the topic of great curveballs and before anyone flips out and starts using Real Ultimate Power on their enemies, keep in mind that Clayton Kershaw has made just seven starts this season hasn't quite been himself in a number of those starts. So he does not top the curveball category. 
As for Gray, please do admire that drop-off-the-table number above. Although the curve is one of the hardest pitches to command, Gray's very adept at burying it low in the zone ...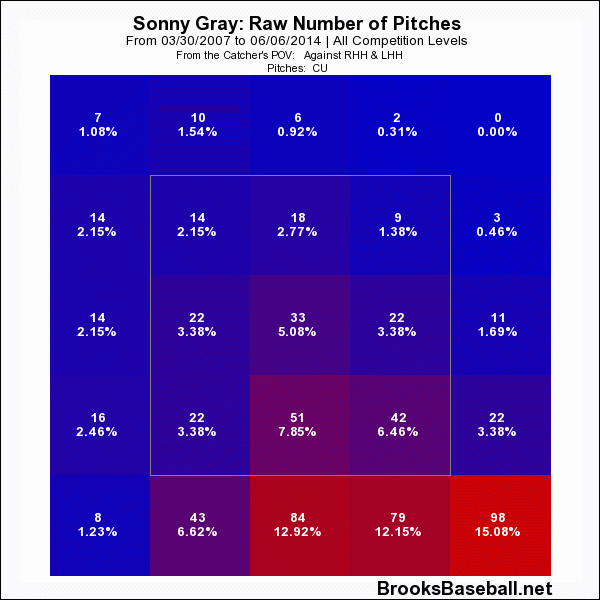 No surprise, then, that Gray gets a nice percentage of whiffs on his curve, and when it is put in play a healthy majority of those batted balls are on the ground. Oh, and he hasn't given up an extra-base hit on his curveball all season. 
Runner-up: Josh Beckett, Dodgers, 6.2 runs saved
SLIDER: Kyle Lohse, Brewers, 9.8 runs saved
Shining example ...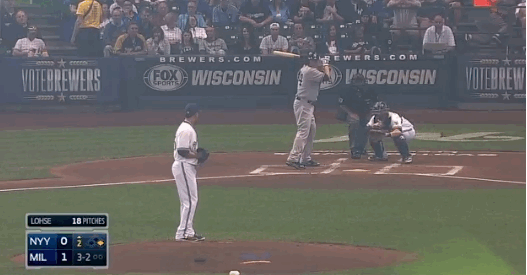 This is the third straight season in which the slider has been Lohse's go-to secondary pitch (i.e., he throws only his Dave Duncan-refined sinker more often). In 2014, Lohse is going to the slide-piece almost a third of the time, and he even throws it to lefties almost a fourth of the time. When Lohse goes to his slider this season, it's resulted in a line drive or fly ball less than 10 percent of the time. That's ... good. 
Runner-up: Dellin Betances, Yankees, 8.5 runs saved
CUTTER: Adam Wainwright, Cardinals, 10.5 runs saved
Shining example ...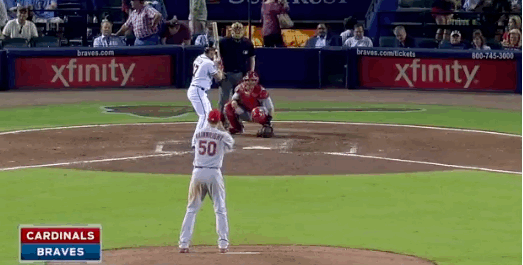 Wainwright has a lot of plus offerings and is probably best known for his curveball, but the cutter is his staple these days. In fact, he's on his to throwing it a plurality of the time for a second straight season. It's not unlike the slider in terms of movement, except the cutter is typically harder and somewhat less prone to platoon weaknesses. In 2014, hitters are offering at Wainwright's cutter more than half the time, but they're batting just .204 against it. 
Runner-up: Corey Kluber, Indians, 8.7 runs saved
SPLITTER: Masahiro Tanaka, Yankees, 10.1 runs saved
Shining example ...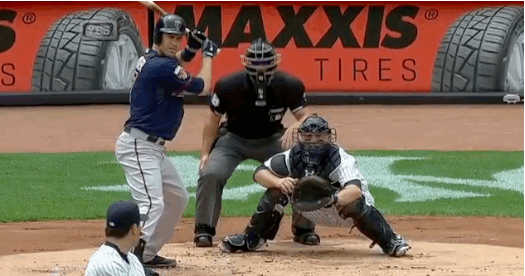 It comes in looking like a fastball at the knees, and as it reaches the plate it burrows a hole in the ground. Tanaka's splitter is a true wipeout pitch, which is perhaps why he throws it roughly 25 percent of the time in all counts but roughly 43 percent of the time with two strikes on the hitter. Hitters are whiffing on Tanaka's cutter at a rate of about 30 percent, and two-thirds (!) of his splitters that are put into play are on the ground. Hitters are also batting .135 against Tanaka's split-finger in this, his rookie season. 
(Runner-up: Hisashi Iwakuma, Mariners, 9.1 runs saved)
And there you have it. We'll be sure to revisit these numbers later in the season and see how the hierarchy has changed. 
(Sources: FanGraphs, Baseball Savant and Brooks Baseball -- essential, wonderful and handsome resources, all.)
The Orioles, Blue Jays and Rays have star players they should use toward rebuilding for the...

The Yankees may not be done collecting stars

The team could instead use a closer by committee approach
Both Seung-Hwan Oh and Trevor Rosenthal are free agents

The Yankees may plug their third base hole with a familiar face

Darvish's poor World Series hasn't scared the Dodgers away